The French thinkers spreading anti-Muslim hatred across Europe
The fine line between hate speech and physical violence is being crossed more and more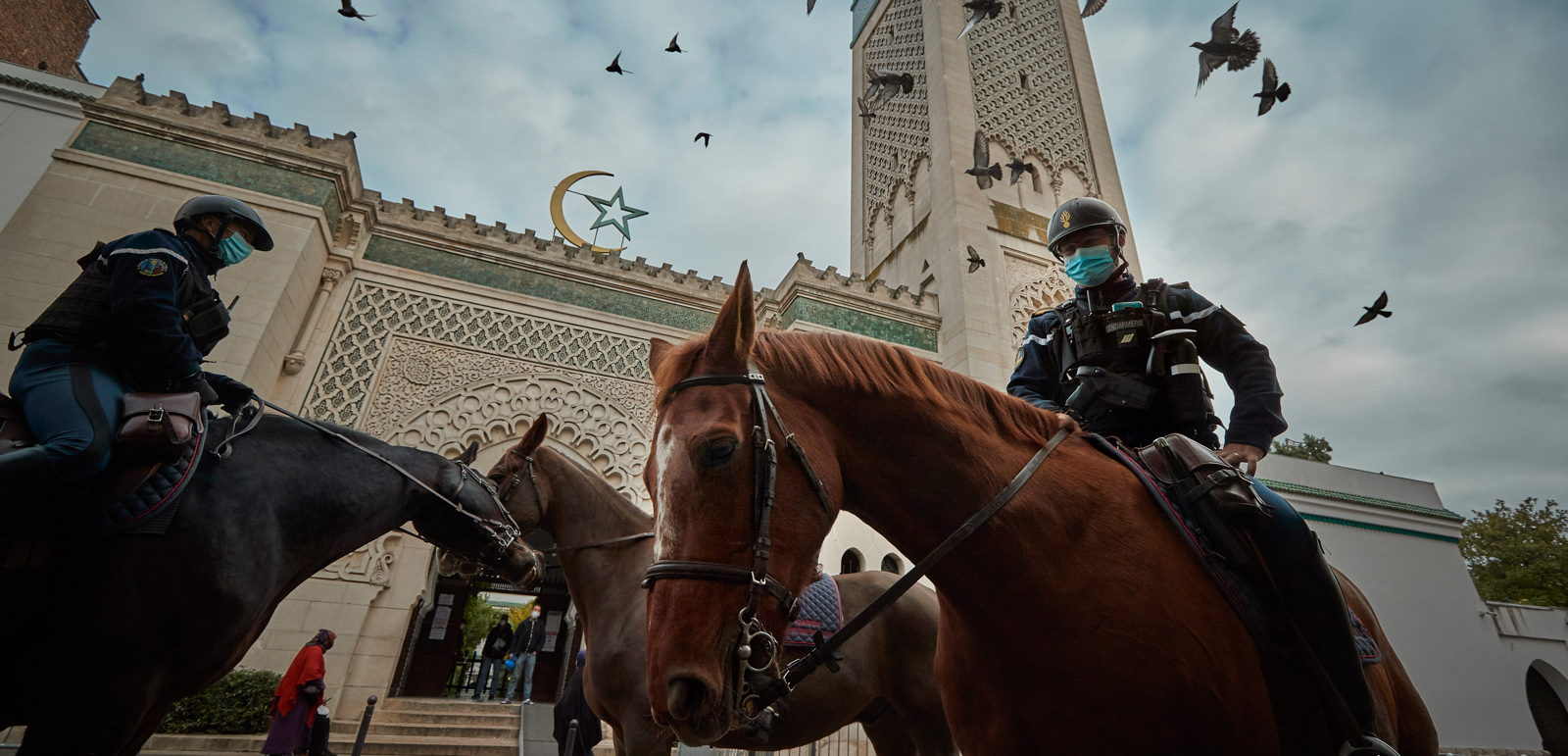 The beautiful courtyards, Arab gardens, horseshoe arches and towering minaret of the Great Mosque of Paris are surrounded by a perimeter wall that makes the complex one of the most secure in the French capital. Those offered sanctuary here by Muslims during the Second World War included Jews escaping the Holocaust, and British airmen who also risked being exterminated by the occupying Nazis. Its heroic history of resistance grips me every time I visit, perhaps more so because of my Algerian background.
It was fighters from Algeria – then a French colony – who protected the persecuted. The mosque is built on caves linked to a network of tunnels that provided escape routes during Gestapo raids. Jews threatened with being sent to concentration camp gas chambers were also given fake documents stating they were Muslims from the Maghreb – a Semitic community that Adolf Hitler's Germany did not choose to murder.
Sadly, these are the kind of stories that are barely mentioned when the mosque is discussed in France today. Instead, the current polemic surrounding the century-old place of worship focuses on allegations that the estimated 5.7 million Muslims living in France are becoming so numerous and aggressively powerful that murderous violence against them is inevitable.
The mosque authorities threatened legal action after the poisonous claims were made by Michel Houellebecq, the prize-winning French novelist. In December last year, he told the populist magazine Front Populaire (Popular Front), that "when entire territories are under Islamic control, I think acts of resistance will take place. There will be attacks and shootings in mosques, in cafés frequented by Muslims".
Referring to the Bataclan music venue massacre of November 13 2015 – when three suicidal misfits pledging allegiance to the nihilistic terrorist cult I will refer to as Daesh slaughtered 90 people, including many Muslims – Houellebecq predicted that there would be a "Bataclan in reverse". The atrocity was part of a night of barbarity across Paris, in which a total of 130 were killed and hundreds more wounded by explosives and gunfire.
Beyond proving that a leading French author has been radicalised, the really frightening aspect of Houellebecq's comments was that they were made during a discussion between two men widely described as intellectuals, and even philosophers. Houellebecq was being interviewed by Michel Onfray, the Front Populaire editor.
Both are part of an increasingly prominent group of mainstream French opinion formers that also includes Renaud Camus, Alain Finkielkraut and Éric Zemmour. All are well-known for weaponising anti-Islam discourse in a country where discrimination against Muslims is regularly uncovered in education, employment and housing, as well as in numerous acts of day-to-day racism. Specific restrictions on Muslim life even include bans on certain types of women's clothing – from the simple hijab to the burqa.
In his talk with Onfray, Houellebecq went on to embrace the so-called Great Replacement Theory which professes that immigrants have far more children than white Europeans, and so will end up dominating them. In France, those from North African Muslim backgrounds are viewed as the biggest threat, despite making up less than 8% of the 67 million-plus population.
"The Great Replacement is not a theory, it is a fact," said Houellebecq, while ignoring the data, as well as centuries of colonisation by the French, who used force of arms to kill and enslave millions of perceived aliens, including a whole nation of Algerian Muslims and Berbers. Nationalist rebels in Algeria fought a war of liberation which, after eight years, ended in victory in 1962. Algerian civilian deaths were estimated at more than 1.5 million, compared with some 28,000 French settlers and soldiers who were killed.
Houellebecq believes that France – a country that prosecuted savage but unsuccessful wars to try to hang on to colonies like Algeria – has gone soft. It has imported "woke culture" from America, Houellebecq alleges, and "our only chance of survival would be for white supremacism to become trendy in the United States" is his warped logic.
France's populist philosophers are similar – white, middle-aged, male and unafraid of criminal prosecution in a country where court treatment of hate crimes is notoriously ineffectual. When Houellebecq ended up in the dock for calling Islam "the most stupid religion" in 2002, he told magistrates his words had been twisted out of recognition and was acquitted.
Houellebecq's most famous book is Soumission (Submission), the 2015 novel which portrays an Islamist being elected President of France. Its fiction includes the Sorbonne University in Paris recruiting only Muslim academics and sacking everyone else. In other words, he envisioned a France not just run, but overrun by Muslim zealots.
Asked in 2020 if the Great Replacement details in Soumission could come true, Front Populaire editor Onfray said: "It's indeed what demography – a science hated by the politically correct because it tells the truth about reality with irrefutable projections – tells us. The drop in the birth rate of French people which can be compared with the high birth rate of recent populations from the Muslim world – where having children is a religious imperative – makes it possible to conclude that Houellebecq's novel shows what's going to happen in this century."
As far as the latest legal complaint was concerned, Houellebecq persuaded Chems-Eddine Hafiz, rector of the Great Mosque, that he would "correct" his comments made to Onfray. The threatened court action for "incitement to violence" was – as so often happens – promptly dropped.
Even before the rector backed down, there was a pushback from French media outlets. Le Figaro, for example, ran a piece by the essayist Robert Redeker who said "the legal proceedings against Michel Houellebecq" are "an attack on freedom of thought". When the complaint was withdrawn, it appeared to many that Houellebecq had been vindicated. At the time of writing, there has been no attempt by anybody, least of all his publishers, to censure Houellebecq.
Foremost among those who have been convicted is Renaud Camus, who titled a 2011 essay Le Grand Remplacement (The Great Replacement). After the far-right Norwegian terrorist Anders Breivik murdered 77 people on a single day in his home country the same year, he cited Camus's writing as a motivation.
Beyond describing France as being the country most exposed to "Islamisation" and "jihadist revolts", Breivik also quoted Alain Finkielkraut, the French "public intellectual" notorious for saying that most rioters in France "identify with Islam" (try telling that to the legions of overwhelmingly white Gilets Jaunes, or Yellow Vest, agitators who smashed up the Champs-Élysées for months on end). Finkielkraut also claimed that France's best footballers make up a "black-black-black team everybody laughs at all over Europe" (except when they win the World Cup!).
Mass murderers who have rehearsed such pseudo-intellectual venom in their own writing include Brenton Tarrant, the Australian gunman who murdered 51 Muslims during attacks on two mosques in Christchurch, New Zealand, in 2019. Tarrant said that "watching invaders" in a French town first motivated him to become a mass killer, and he even plagiarised Camus's The Great Replacement title for his own online manifesto.
When Claude Sinké, a French extreme nationalist, shot and wounded two Muslims during an attack on a mosque in Bayonne, south-west France, in the same year, he too cited The Great Replacement, and said he was "avenging" the fire at Notre Dame Cathedral in Paris which he falsely claimed was started by Muslims.
That Sinké was a former election candidate of the far-right Front National (FN), the party which is now called the Rassemblement National (RN), should not come as any kind of surprise. Marine Le Pen, the FN and then RN candidate who was runner-up in France's past two presidential elections, has frequently evoked The Great Replacement, as have other members of the Le Pen dynasty, including her high-profile niece, Marion Maréchal. In March 2019 the latter said: "I don't want France to become a land of Islam."
Such easily remembered soundbites and increasingly violent acts combine with judicial laxity to cause huge fear among Muslims in France. At the end of last year, a known nationalist racist, William Malet, who had stabbed two African Muslim refugees in Paris, was let out of prison on bail as he awaited trial. He promptly shot three Muslim Kurds dead in broad daylight in Paris before being returned to a cell.
Again, France's judiciary was powerless to stop the ongoing horror. If they can't lock up the men perpetrating physical violence, what can they do about the "intellectual" rabble rousers? Éric Zemmour, another pop philosopher who was a presidential candidate last year, told me during a press briefing in Paris: "Great Replacement is by no means a fantasy. There is plenty of evidence for it." Asked to explain further, he pointed me to his book, The French Suicide – a title that says everything about how Zemmour views his country's future.
Zemmour has four criminal convictions for inciting racial and religious hatred, including one handed down in Paris a year ago after he described unaccompanied migrant children as "thieves", "rapists" and "murderers" live on the CNews TV channel, where he was a regular punter. The convictions – and certainly the punishments (all fines of €10,000 and less) – were all relatively minor, considering the power Zemmour has among a sizeable constituency which gave him more than two million votes in the first round of the 2022 election. He is a determined media operator who uses his platform to relentlessly attack Muslims.
The Great Mosque in Paris is just a short walk away from the Paris Correctional Court, where 13 other confessed far-right fanatics are currently on trial for allegedly plotting to assassinate French president Emmanuel Macron, while also targeting Muslims. Evidence against the defendants includes secretly taped phone conversations and online messages, as well as confiscated arms such as knives, guns and ammunition.
In turn, their defence lawyers are portraying them as bumbling extremists who spent too much time obsessing about their enemies, and especially Muslims, rather than actually intending to act on their prejudices. Judges and jurors have yet to rule on the gang's guilt or otherwise. All we can be certain of is that the fine line between hate speech and physical violence is being crossed more and more, and it is about time that the French Republic launched some credible resistance.
Topics
Selected stories
From pickles and ferments to jams and chutneys, conserving surplus produce allows us to enjoy fruits and vegetables grown in familiar earth, many thousands of miles away

The western world's largest mosque is a point of pride for the country's Muslims, but its impressive scale and ornate design do not reflect their position in the country as a whole

The challenge for Keir Starmer is to combine control and compassion in efforts to tackle dangerous boat crossings