The hidden mosques of Naples
Despite having a growing Muslim population, the city has no central mosque. This has led to the creation of a number of informal places of worship, often in unlikely locations
The call to prayer hums over rush-hour traffic in Piazza Garibaldi. Around 2,000 people wearing colourful thobes and tunics kneel and then prostrate themselves. Row after row of worshippers cover nearly a quarter of this sprawling space in the centre of Naples. People in passing cars and mopeds glance over, some taking photographs as they wait for traffic lights to turn green.
Naples, a historic port city with around one million inhabitants and the capital of Italy's southern Campania region, has traditionally acted as a staging post for immigrants: a place to stay until the opportunity arises to move to the more prosperous north of the country. In recent years, however, its Muslim community has grown to around 17,000 as more and more people choose to put down roots and stay there.
Despite this demographic shift, Naples does not have a large, central mosque where the community can gather. Accordingly, the question of where people can pray has become increasingly pressing. Among the most visible responses has been the creation of an array of informal places of worship — often in unlikely locations, from former garages to abandoned storage facilities — and large-scale public gatherings during important celebrations, such as Eid al-Fitr.
On a warm spring morning in the middle of Ramadan, I met up with Imam Abdullah Massimo Cozzolino, president of the Islamic Federation of Campania. Sitting in a sparsely decorated office at the rear of the Zayd Ibn Thabit mosque in the south-eastern Pendino neighbourhood, he explained that many Muslim immigrants are choosing to remain in Naples, because the cost of living is much lower than it is in the more affluent north.
"Naples and the Campania region have historically been a transit place for immigrants," he told me. "People would come here and wait to get their permesso di soggiorno (similar to the UK's leave to remain) and then move north, where there are more jobs. So before, there wasn't really a need for a bigger mosque, because there weren't that many Muslims here."
Now, that trend is changing.
As of 2020, nearly half of the city's Muslim population hails from Bangladesh, but there are also pockets from countries including Pakistan, Algeria and Senegal. This is perhaps most visible in Pendino.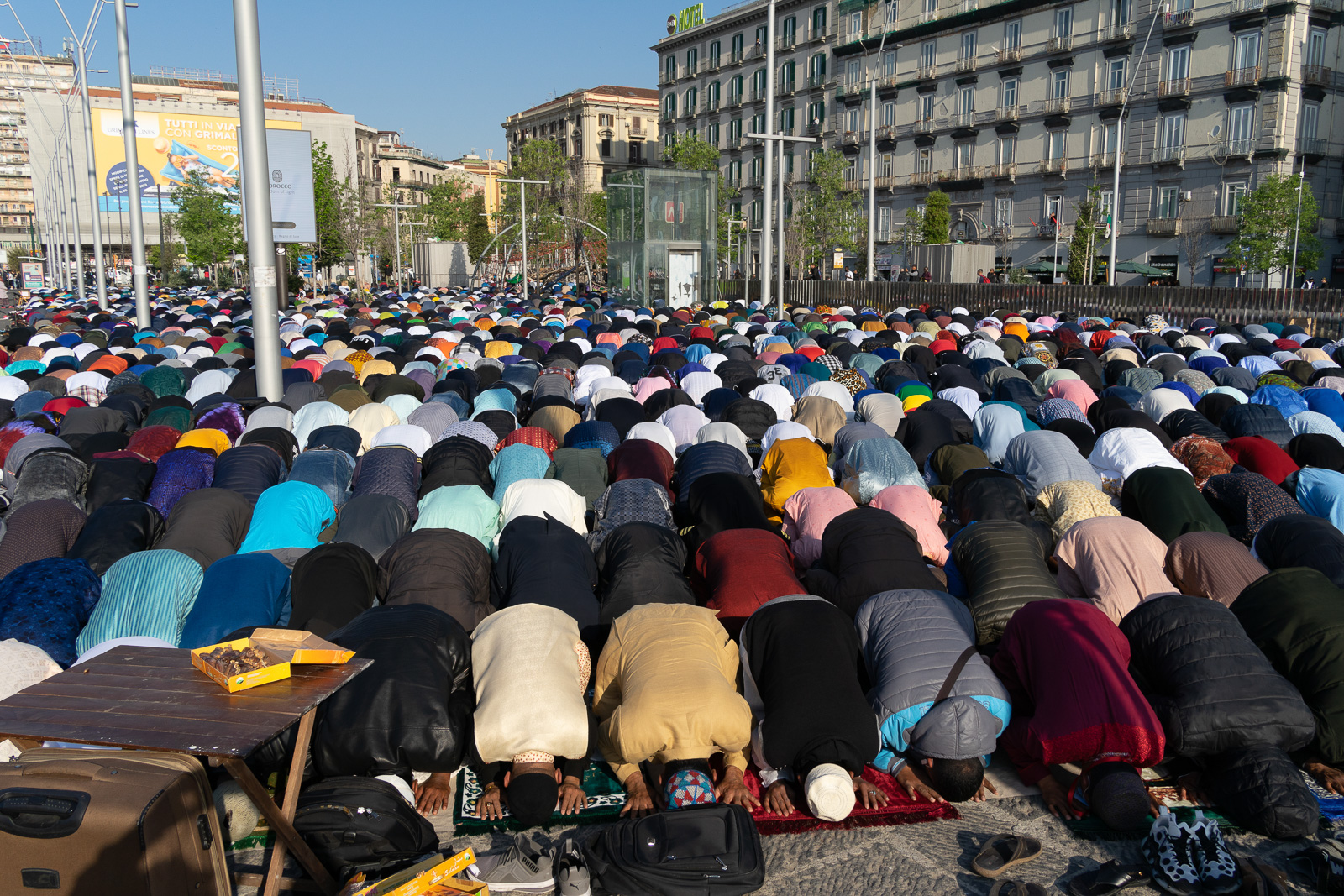 Nestled between the main train station and the port of Naples, the district is home to at least five informal mosques, all situated within less than one square mile. The district's main street hosts an open-air market. Brightly hued umbrellas and awnings offer shopkeepers shade from the spring sun and, all around, the prices of produce and fish are being shouted in the local Neapolitan language, Bengali, Urdu and Arabic.
At the end of the market stands a squat grey building with tall metal doors. There is no sign to indicate its purpose. Only when a line of men, wearing thobes and taqiyah prayer caps, rush to the door and remove their shoes does it become clear that it is not a warehouse.
Stepping inside the Bait el-Falah mosque, which was founded in 2009, visitors are greeted by sights and sounds familiar to worshippers around the world: the running water of ritual ablutions; the snoring of older attendees lying on the carpeted floor; the muffled whispers of people reciting the Qur'an.
The interior consists of one large room, with half a wall separating a study corner. The whole space is about 60 square metres and can squeeze in up to 90 worshippers at a time. The only decoration comes in the form of two digital clocks indicating prayer times and a single bookshelf, tucked away in a corner.
Various members of the community explained that when they first moved to Naples 10 or 15 years ago, the situation in the neighbourhood was tense. Imam Zakir Hussain Zakaria and other Bangladeshi worshippers recalled being slapped in the face by teenagers on motorbikes as they left prayer services.
"Now it's much better. The mosque is always open, I go home and to work dressed like this," Zakaria said, pointing down to his thobe. "I don't have any problems."
Bait el-Falah mosque, like the others in the neighbourhood, is funded solely by its congregation and receives no assistance from local or state authorities. Zakaria explained that he and members of the Bangladeshi community chose the space because it was close to where people had set up clothing or electronic shops. Before they started renting the property, it was a lamp store and, before that, a garage.
Both the Pendino and nearby Mercato neighbourhoods are among the most economically isolated areas of central Naples; part of a city and region that are already isolated from the rest of the country. Campania has Italy's highest unemployment rate, now standing at 19.3%. The proportion of people at risk of poverty or social exclusion is 47.3% — among the highest figures in Europe.
In recent years, many working-class neighbourhoods of Naples have seen a slight uptick in gentrification and tourism, but that trend has largely skipped over Pendino and Mercato.
The suspicion some local residents held towards Muslim immigrants a decade ago has since given way to a relatively peaceful cooperation between the area's various nationalities and ethnicities.
"It is very different now from how it was when we first made the mosque," Imam Zakaria said. "Before, people in the neighbourhood were a little concerned but, as time went on, they would just see people coming here to pray and they understood that there was nothing to be wary of."
Abdul Hameid Nouichi, 51, is a carer for senior citizens. He moved from Algeria to Naples in 2002 with his brother and regularly attends prayer services at Bait el-Falah. He said that although it is easier to find work in northern Italy, he feels more comfortable in Naples because it reminds him of home.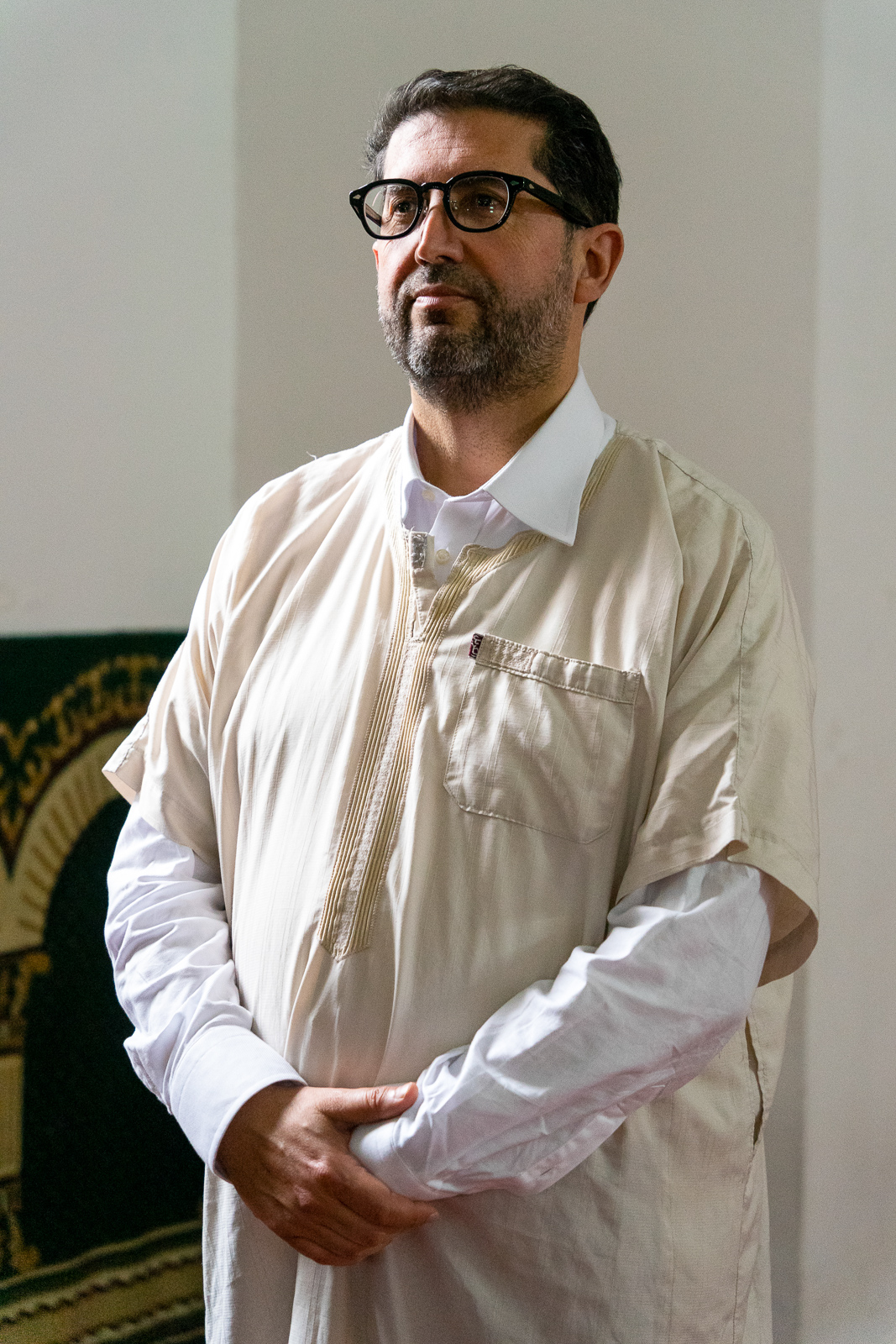 "The weather, the culture, the people, the only difference between here and Algeria is the language," he told me.
Down the street lies another, newer and larger mosque. The Bangladeshi Islamic Cultural Association takes up the first three narrow floors of an apartment building. Before becoming a place of worship in 2012, it was a general store, then an abandoned warehouse.
Miza-Nur Rahman, the mosque's president, would like Naples to have a central place of worship where all of the city's Muslims can pray together. In addition to building a community, he believes that such an establishment could help with the integration of new arrivals. Since most who attend his mosque are from Bangladesh, sermons are generally delivered in Bengali. Having a bigger, more pluralistic mosque would most likely change that.
"If there were to be a big mosque, the languages spoken would have to be two: Arabic — the language of the Qur'an — and Italian," Rahman said. "And if they don't know either, then they will have to learn."
Cozzolino, of the Islamic Federation of Campania, believes that there needs to be more cooperation between the Italian State and the Muslim community. In order for places of worship to be authorised, they need to pass safety and zoning regulations. Cozzolino explained that because this process can be long and bureaucratic, many of these improvised mosques don't have the proper approval and the authorities simply turn a blind eye.
"In Italy you are free to pray anywhere, but you are not free to open a mosque anywhere," he said. "It's a very fine line."
Around the corner from Zakaria's mosque, there is a small store that sells chocolates, canned foods and drinks. It is owned by Maurizio Ferrara, a 60-year-old Neapolitan, born and raised. He told me that improvisation and making limited ends meet are fundamental to the culture of his hometown.
According to Ferrara, the Neapolitan Muslim community's creation of improvised mosques fits neatly into that tradition.
"They have found fertile ground here, because they are also participating in this process of making do," he said. "They have the same social habits as Neapolitans. They are more Neapolitan than us."
Topics
---
Get the Hyphen weekly
Subscribe to Hyphen's weekly round-up for insightful reportage, commentary and the latest arts and lifestyle coverage, from across the UK and Europe
---