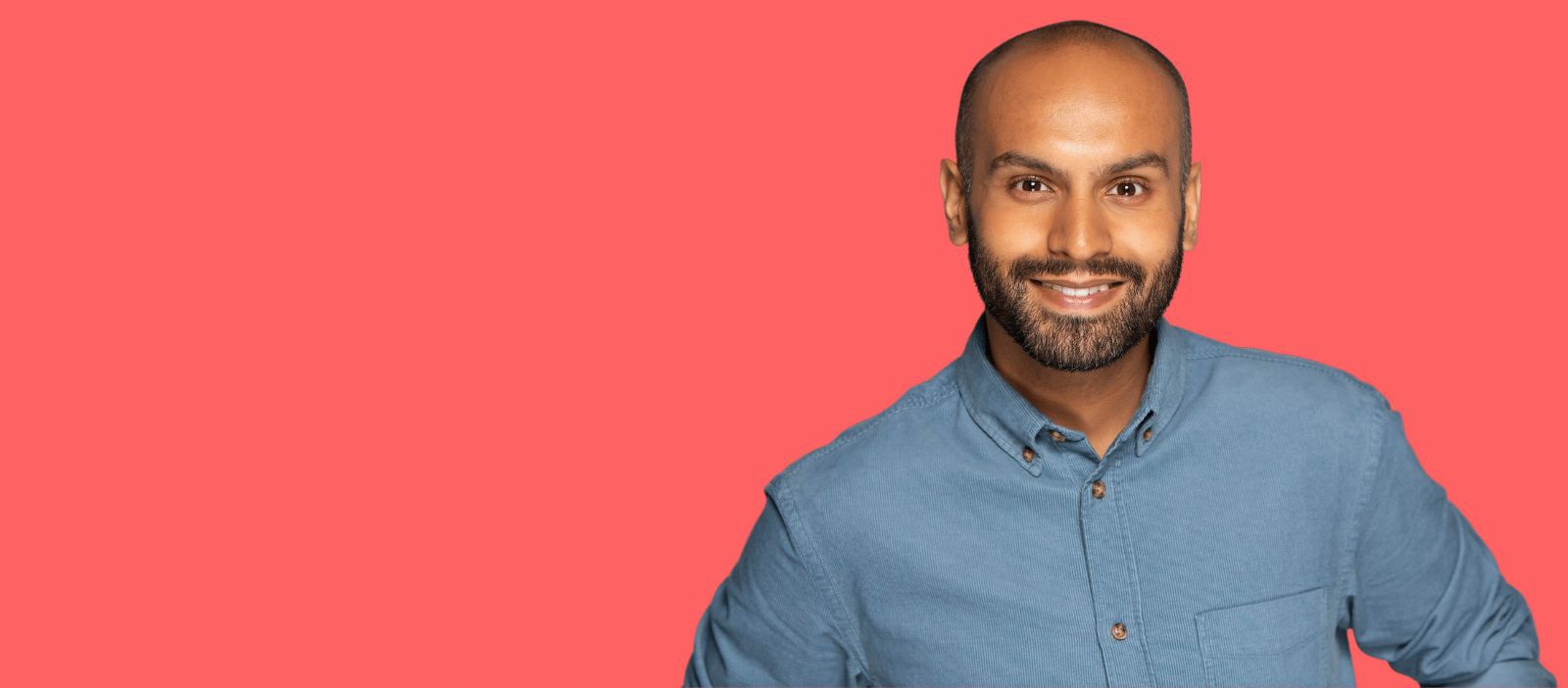 Haroon Rashid Q&A: 'Radio makes people feel part of a bigger family'
Photograph courtesy of Haroon Rashid/BBC/Jamie Simonds
The star host at the BBC Asian Network talks about his new show, and his favourite Bollywood stars
For many British Asians, BBC Asian Network has become a go-to station for both music and cultural conversation. The channel recently celebrated its 20 year anniversary with a night of live music performances hosted in Birmingham. We spoke to Haroon Rashid, one of the channel's star hosts. The 31 year-old from Hounslow, West London, began his journey as an entertainment reporter in 2014 at the BBC then went on to host his own show Beyond Bollywood, where he interviewed star-studded names including Shah Rukh Khan, Alia Bhatt and Priyanka Chopra. This year, he will host the channel's highly regarded Afternoon Show.

This article has been edited for length and clarity.
Tell me about your new show starting in February?
It is a music entertainment show to keep you company with whatever you're doing at that time of day. There's going to be lots of fun chat, great music, and conversations about everything you and I are discussing on a daily basis. Hopefully, it will make your day a little bit easier.
What do you want your listeners to gain from each show?
Radio is still so important because you can build a community of listeners on radio, a community of people who take part in conversations and tell you what's happening in their lives. So everyone feels involved with something and feels part of a bigger family than their own.
You have interviewed many Bollywood stars throughout your career, who have been your favourite interviews so far? Why?
I've interviewed Shah Rukh Khan a number of times, for me he's always one of my favourite people to interview because the guy just has so much effortless charm. He's a very giving interviewee so he will make sure that he gives you everything you want from that interview and more. And of course, every time I'm around him, I feel like I'm a kid again, watching him on screen.
Another one is Ranveer Singh because his energy is so infectious, as soon as you're in the presence of Ranveer Singh you feel a rush of energy because he has so much. You feel like you're constantly trying to keep up with him.
Name one person you'd want on your show this year?
I would love to have Pakistani actress Sajal Ali on the show because she's one person I haven't interviewed yet. I just love what she's doing as an actress. I love everything about her. 
You have been presenting on radio for nearly 2 years. How did you get into broadcasting and why?
I was on a school trip to the BBC when I was 16/17 and I bumped into a presenter at the Asian Network, so I just started talking to them and told them how passionate I was about Bollywood and movies and entertainment. They said, why don't you come and review a film on our show, and that was kind of my gateway into the Asian Network. I asked for some work experience, then asked for an internship. I asked for as much work experience as I could possibly get which led to me freelancing with the Asian Network, and eventually applying for a proper job. So It is true what they say about once you get your foot through the door don't ever leave.
How do you keep up to date with film and music?
There's so much content that gets released, there's so many songs, there's so many shows, there's so much new music released every week, and it's hard to stay on top of it all. But I think social media is really helpful in helping you recognise what British Asians are connecting with primarily.
What's your favourite new song of 2023 and why?
There's one song that's on loop for me at the moment and that's Besharam Rang from the movie Pathaan which will be released at the end of January. I love that it's a clash of different music genres. It's got a very dark vibe to it, but it also sounds a bit like an old school with this techno beat going on. It also has very playful lyrics, a perfect example of clashing cultures.
How do you balance your work, home and social life?
I am single at the moment, which is why I can balance my life. I see all my friends and my cousins completely losing balance as soon as they tie the knot so I'm going to hold off on that for a little while longer. Another thing is the pandemic and lockdown. It gave everybody a little bit of a reset on life and how they prioritise work life and home life, and finding the right balance. I think that was definitely true for me. I found there's so many other aspects in my life I want to explore like travelling, fitness and taking up new things.
You recently went to Dubai, what were your highlights from that trip?
Dubai is one of my favourite holiday destinations. When you live in a dull, grey UK you just want escapism and that's exactly what Dubai gave me. It was beaches and great food and just chilling out and enjoying myself. For me that time is everything to rejuvenate yourself and come back and deal with rainy miserable London.
Talk to me about one of the biggest challenges you have faced being a South Asian in the industry? How did you overcome it?
One of the biggest challenges in this industry as a South Asian male is the fact that for many people, there was only one idea of what a British Asian male is like, and particularly a British, Asian, Muslim male. There is quite a stereotypical image of what that man's interests are, what his hobbies are, what his lifestyle is like and what he looks like. I don't really conform to any of those notions, so to stay true to who I am, to try to ignore that noise of what people want me to be like was the biggest challenge. The way I got over that was to realise that my individuality is my biggest strength.
What's the best advice you've ever received and who gave it to you?
Presenter Noreen Khan, who's slot I'm taking over, said to me to work with blinkers on and not pay attention or listen to a lot of the noise around you. Because within any industry, there are a lot of people who try to influence you and have nothing better to do than to just talk about anything and everything. If you're true to the work that you do, and stay grounded, it will definitely help you in the long run.
Topics
Selected stories
Is the Gaza truce a turning point in the Israel-Hamas war? Our panel discuss this and other topical issues. Plus, a look at the Muslim renters dealing with London's housing crisis

The filmmaker on her life, work and why telling women's stories is more important than ever

From Ramadan dates to Christmas pudding, food can encapsulate specific times of year and remind us of the circular rhythms of life