Jawahir Roble Q&A: 'One day I'll reach the World Cup'
Photograph courtesy of Jawahir Roble/Nick Andrews
The Black female football referee, who was awarded an MBE last month, on her favourite team and pushing for change for all women
Jawahir Roble, 29, is the UK's first Black, female, hijab-wearing referee. Last month, she was awarded an MBE (Member of the Order of the British Empire) in the 2023 New Year Honours list for her services to football.
Roble, known as "JJ" by her family and friends, discovered her passion for football in her home country of Somalia, playing football in the streets with boys from the local area. The sport remained central to her life when she moved to England with her parents and eight siblings as a refugee aged 10.
While Roble did not pursue a career playing professionally, she focused her efforts on making football more accessible to all. She began officiating the game in 2012 and was recognised in 2017 at the Football Association's Respect Awards for her work with Football Beyond Borders, an education charity which helps children from low socio-economic backgrounds who are passionate about football stay engaged in school.
This conversation has been edited for length and clarity.
Congratulations on being named in the New Year Honours List. How did you celebrate?
Thank you. It's the best news I've ever received on New Year's Eve. My parents couldn't believe it. I was so shocked I didn't know how to celebrate, so I just watched the fireworks. But I'll celebrate properly after I collect the medal.
How are you feeling about meeting a member of the royal family?
I hope I get to meet King Charles. I would love that. I'm not sure he knows anything about refereeing, but don't worry, I'll give him a crash course.
How did you come to be a referee and what do you love most about your job?
A very good friend of mine said I should give it a go and paid for me to take the FA Referee course. The course was about £170, which I would never have paid back then, but she did that for me, and now I've made it into a career.
I love being there for the teams. Without the referee there is no game, and that sense of responsibility feels good.
The players also appreciate my work, and they show me a lot of respect. That makes me happy.
Do you think a visibly Muslim, Black woman on the football pitch can change attitudes?
I hope I can be an inspiration to all girls. If a Muslim girl is struggling to do a job in a man's world, or that her parents might not like, she can use me as an example.
I'm more than happy to keep going and pushing for change, because no one should stop any girl from achieving what she wants.
How does it feel to referee men's football games? Is it ever uncomfortable?
The first time I refereed a men's game, I was scared. It was also the first time I brought my whole family along to watch. It was great to have their support, but I also felt an added pressure to prove myself and showcase what I could do.
Luckily, the players were so welcoming, and I realised I had been scared for no reason.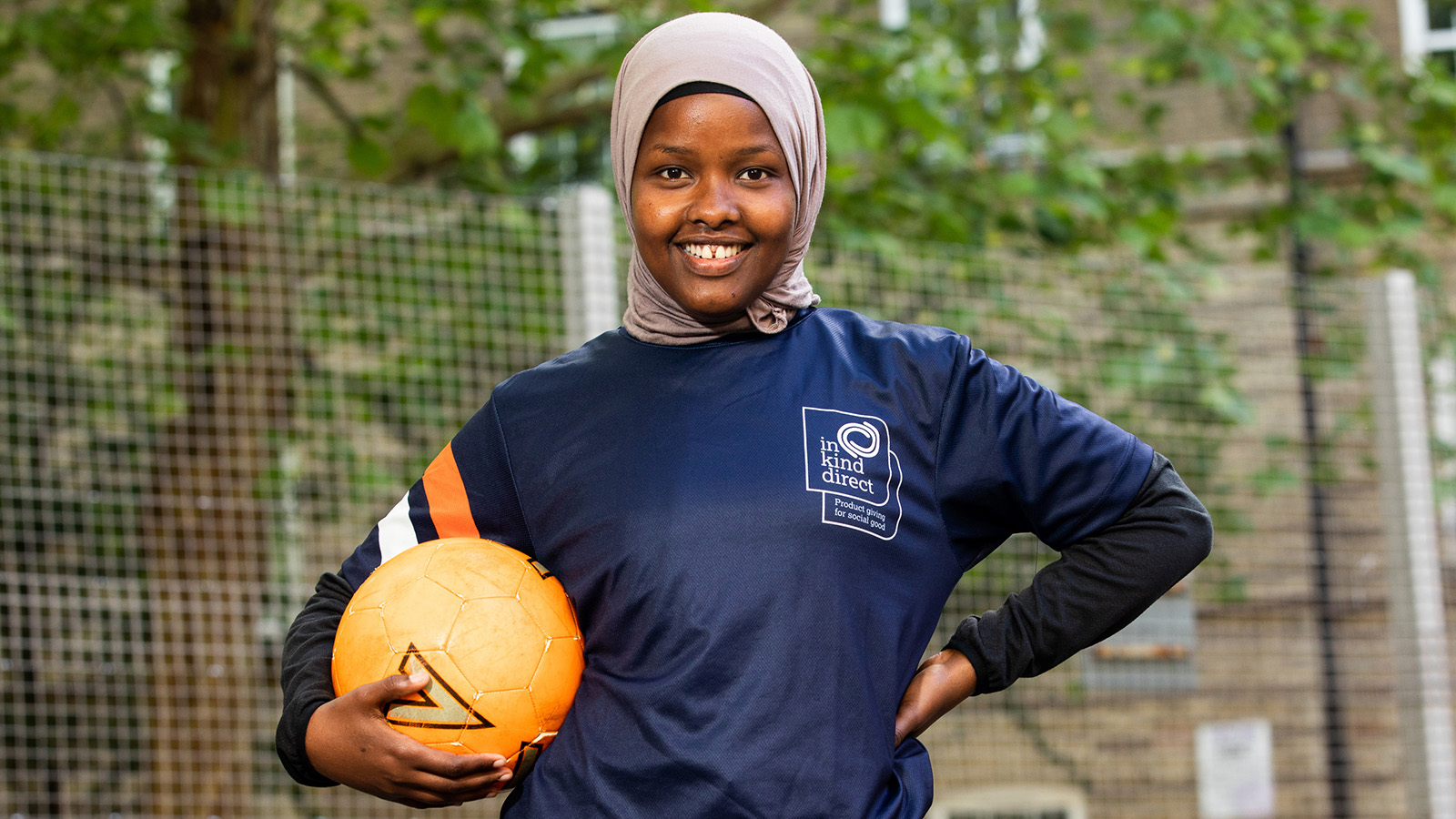 As someone who wears the hijab, have you faced any discrimination or Islamophobia?
Thankfully, I've had a positive experience overall. There was one time I refereed a children's game and a parent contacted me afterward and said they had heard another parent make a racist remark. But I was new to the job and didn't know where or how to report the incident, so I didn't do anything about it.
Last year you became an ambassador for In Kind Direct, a charity that aims to ensure everyone has access to hygiene products, including cleaning and laundry supplies and baby essentials. What is the most important aspect of its work?
In Kind Direct contacts manufacturers and big brands and asks them to donate their unsold products. These are then passed on to various charities, including those working to end period and hygiene poverty across the UK.
Teenage girls often struggle to talk about their periods and those who can't afford products may not ask for help because they feel embarrassed, but In Kind Direct's work makes these essentials more easily accessible.
What's your first memory of playing football?
It was back in Somalia, when I was about six years old. There was a group of boys playing football outside my house and I begged them to let me join. They said, "girls are not allowed to play, can you see any girls here?", and I remember telling them, "I can be the first, please let me play".
I don't think they were very impressed at the time but if they tried me now it would be a different story.
What team do you support?
Queen's Park Rangers, they are an EFL Championship club. I've supported them since I came here at 10 years old. I don't support any team from the Premier league.
What's next for you?
I just want to keep going and work my way through the ranks. Right now I'm a National League referee. My next step is to work in the Championship league, and one day I'll reach the World Cup.
Topics
---
Get the Hyphen weekly
Subscribe to Hyphen's weekly round-up for insightful reportage, commentary and the latest arts and lifestyle coverage, from across the UK and Europe
---