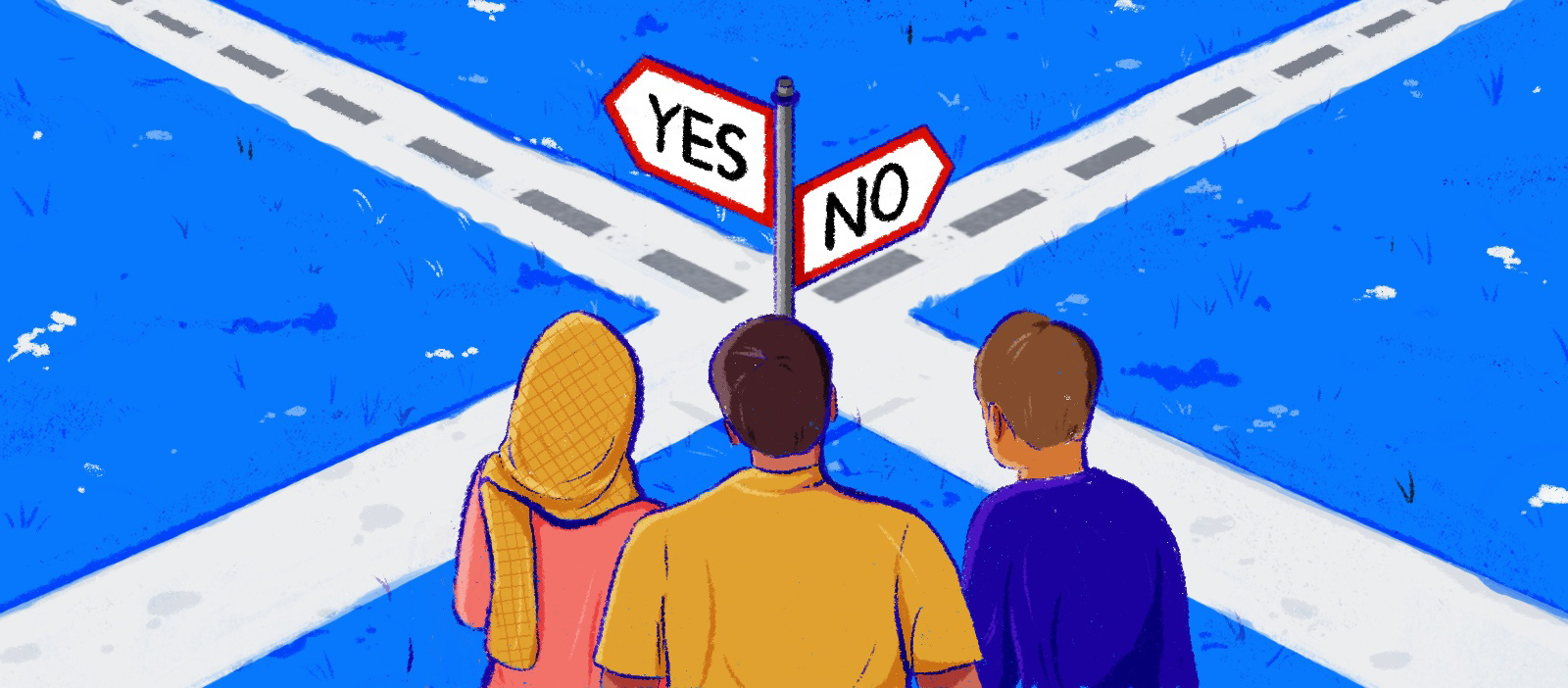 Scottish Muslims weigh up independence once again
Much has changed since the 2014 referendum, with Muslims now in key positions in parties for and against an independent Scotland
A few weeks before Scotland's historic independence referendum in September 2014, a class of 15-year-olds at Dunfermline High School in Fife, on Scotland's east coast, held a debate. The question, as it was on ballots across the nation later that month, was simple: should Scotland be an independent country?
Nabeel Ali listened as his classmates discussed currencies, inequities and foreign relations, but his pencil hovered over the page when the time came to vote. He was overwhelmed by information from both sides, not to mention the heated conversations he had overheard on streets, buses and at home. His class narrowly voted for Scotland to stay in the UK, but the ballot paper Ali eventually slipped into a shoebox on his teacher's desk went unmarked.
Eight years on, Ali, now 23 and studying biomedical sciences at Edinburgh University, is still undecided. "I feel like the only one who's not really sure," he said, shaking his head. "Everyone is very set in their ways now, but I can still see both sides of the argument."
In 2014, 55% of Scots voted to remain part of the UK. While the issue of independence has continued to simmer under the surface of Scottish politics, it came to the fore again last month when First Minister Nicola Sturgeon announced plans for a second referendum. If she has her way, the country will head to the polls once more on 19 October 2023. While debates continue to rage about the validity of such a referendum and whether the UK government will allow it to go ahead, Scots of all political persuasions are once again shifting into #indyref gear.
Muslims make up around 2% of the Scottish population, but that number is growing. Almost two-thirds live in Glasgow and Dundee, cities where support for independence was among the highest in 2014. Scottish Muslims are also disproportionately young, which is another widespread indicator of pro-independence sentiment.
As a result, Muslims continue to play a considerable role in the independence conversation. While their votes are important, particularly in large cities such as Glasgow, their presence as activists and politicians is especially notable. For instance, the grassroots Muslims for Independence group, last active in 2019, has recently been relaunched, while high-profile Muslim politicians Scottish Labour leader Anas Sarwar and health secretary Humza Yousaf of the Scottish National Party have reasserted themselves as important figures on each side of the debate.
Zeyn Mohammed, 29, had just graduated from Strathclyde University with a degree in politics in 2014. He was a dedicated volunteer campaigner for the "Yes" vote for Scotland to break away from the UK. He has since run election campaigns as a staffer for the Scottish Green Party, as well as a brief stint with the UK Labour party under Jeremy Corbyn's leadership. Despite these changing party-political affiliations, his support for independence has never wavered.
"What was pretty clear in the last referendum was a bit of a generational divide," Mohammed explained. "You tended to find that older Muslims who had a strong relationship with the Labour party tended to fall in behind that position of wanting to remain in the UK, while younger Muslims, like younger Scots in general, were in favour of independence."
Mohammed believes the reasons for this to be manifold. "Growing up as a young Muslim in Scotland and within the UK, we saw the diminishing of our living standards and how the UK government had demonised our communities in some ways," he said. "We've seen how UK foreign policy positions impact us, and those are big reasons for me and many others having the position we did in 2014 and now."
Mohammed wasn't completely behind October 2023 as the proposed second referendum date. He would have preferred a longer lead time, in order to plan campaigns and build support. But, he says: "Watching the Tory leadership election play out is making me more sure. It seems increasingly clear it's the right time for us to at least try."
Zianib Ahmad, a former member of the Scottish Youth Parliament for Glasgow Cathcart, is a recent graduate from Strathclyde University, with a degree in politics. She was too young to vote in 2014 but is "delighted" at the prospect of a second chance next year.
"I will be doing everything in my power to get everyone I know to vote yes," said Ahmad, 21. "The opportunity for Scottish people to choose again is a really big thing for politics. The choice should be given, regardless of the outcome."
Ahmad's motivations include a range of issues, but she believes that immigration policy and social welfare are of particular concern to Scottish Muslims.
"Scotland's view is much more inclusive, whereas the UK comes across as arrogant," she explained. "We should also be able to decide our own social security payments, when it comes to Universal Credit, which many ethnic minorities rely on."
As with many of her peers, Ahmad's position on a second referendum is at odds with that of her parents, who continue to oppose independence because of historically negative perceptions of nationalism. According to some political analysts, that perspective was one of a number of deciding factors in the 2014 vote.
"There's obviously a diversity of opinion among Scottish Muslims around Scottish independence," said Peter Hopkins, a professor of social geography at the University of Newcastle, who has studied the political participation of Scottish Muslims. "On the 'Yes' side, the form of Scottish nationalism promoted by the SNP is seen as socially inclusive and quite different from English nationalism, which is very white."
High-profile pro-independence Muslim members of the Scottish parliament such as Humza Yousaf, then a junior minister, also helped Scottish Muslims feel represented within the 2014 campaign, Hopkins added.
On the other side of the coin, Hopkins explained that "some ethnic minorities felt slightly concerned about their futures in the case of independence. They wondered whether they'd be allowed to stay, whether they would have to reapply for citizenship and so on."
Dr Soryia Siddique has been a Labour councillor in Glasgow since 2012. She campaigned for the Better Together campaign in 2014. Now she believes that the cost of living crisis is far more pressing than the question of whether or not Scotland should become an independent country.
"The communities I represent are raising concerns around the impact of the pandemic, energy prices, bin collections, overcrowded housing and poverty," she said. "I am more focused on the issues my constituents are raising."
Recent studies have found that ethnic minority workers are more seriously affected by the cost of living crisis than their white counterparts, and that Black, Asian and minority ethnic people as a whole are more likely to live in poverty and to rely on food banks. "These are issues that need urgent attention, rather than constitutional obsession," said Siddique.
A lack of available data makes it difficult to break down how Scottish Muslims voted in the last referendum and no polling has yet been published about the potential October referendum. The most recent polling of Scots as a whole gives the pro-independence "No" side a narrow lead of 51% to 49%.
"Participation is quite similar to that of the wider population," said Hopkins. "Our research found a small cohort of Muslims who were party political and fully engaged, others who would vote but weren't too bothered more widely, and a lot who weren't interested in party politics but were involved in community activism and protest movements."
But plenty has changed since 2014. Back then, David Cameron was prime minister and Alex Salmond Scotland's first minister. The UK has left the European Union, despite every Scottish council area voting to remain. The pandemic has also adversely affected livelihoods across the country.
At party political level, Muslim representation has improved on both sides of the independence debate since the first referendum. Last year, Anas Sarwar became the UK's first Muslim party leader, with the anti-independence Scottish Labour Party. On the "Yes" side, MSP Humza Yousaf is now Scottish health secretary, while his SNP colleagues Anum Qaisar MP and Kaukab Stewart MSP were elected as Scotland's second Muslim MP and first Muslim woman MSP respectively in 2021.
On reflection, Nabeel Ali says he thinks the time is ripe for a new referendum. "The UK is like a different country since 2014. The decision people are making now is different." This time he will also be old enough to cast a real vote at a real polling station, rather than a mock one in a high school classroom. "It's a big deal to get to vote about the future of your country like this," he said. "I'll make up my mind, one way or the other, before October 2023."
Topics
---
Get the Hyphen weekly
Subscribe to Hyphen's weekly round-up for insightful reportage, commentary and the latest arts and lifestyle coverage, from across the UK and Europe
---