How the cost of living crisis is hitting British Muslims
Rocketing inflation is driving an increasing number of people to food banks — and mosques and community organisations are stepping in to help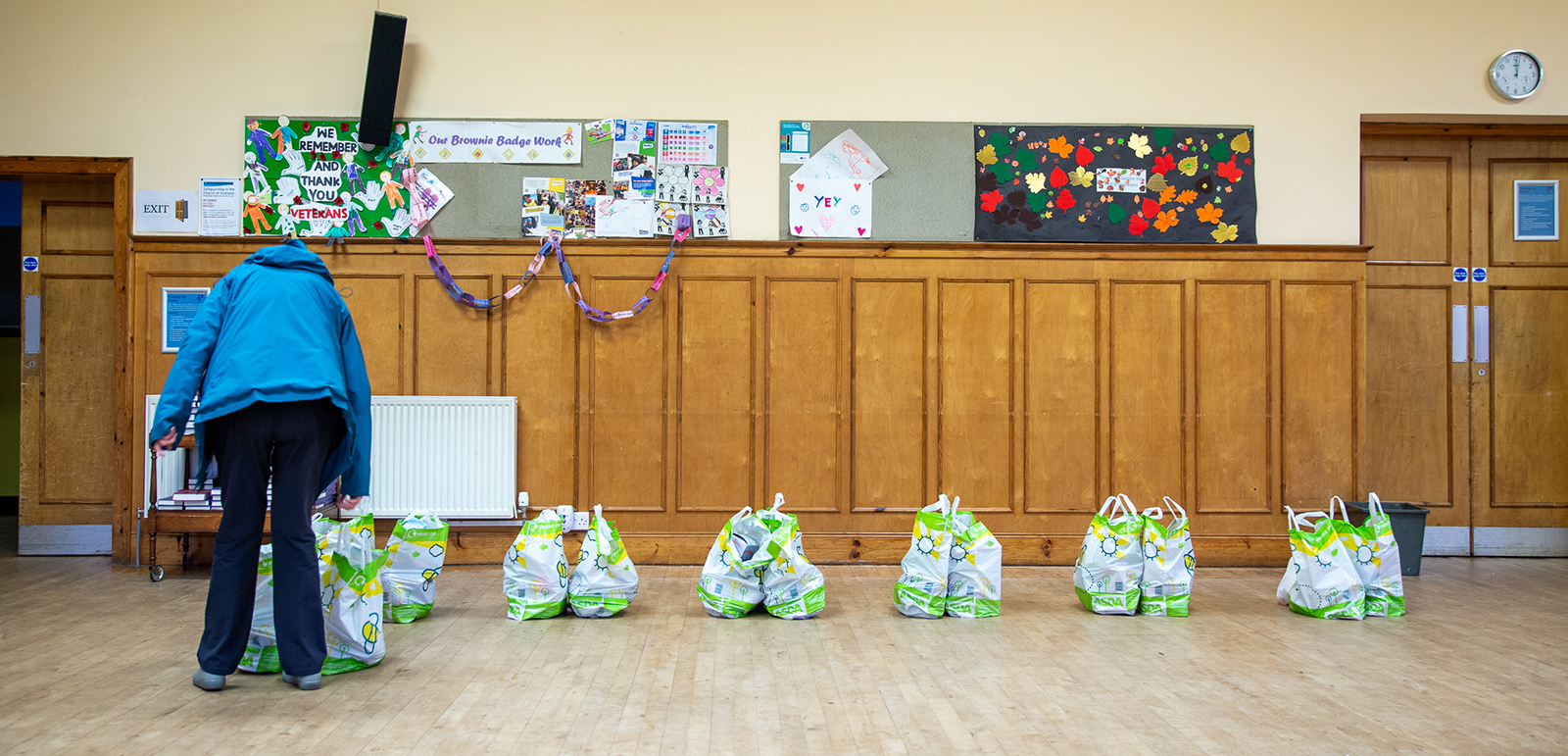 One afternoon in mid-May at Glasgow South West Foodbank, outside Ibrox Parish Church, a queue of people waited in the rain to collect emergency parcels. Zigar, a 33-year-old woman from northern Syria who has lived in the city for six years, arrived with two of her three children. Although she previously made ends meet on a monthly universal credit payment of £700, rising bills are consuming almost all of her income, forcing her to seek food aid for the first time.
"I have no more money," she said. "It is all for bills and food is getting too expensive. I was struggling so much that my friend told me I could be referred to a food bank." She left with four bags of food and toiletries for her family, plus a red Power Ranger toy for her young son.
Zigar and her family are typical of the growing number of British Muslims bearing the brunt of the country's steadily worsening cost of living crisis. In May, inflation hit a 40 year high of 9% and global gas prices soared, owing to pressures on supply following Russia's invasion of Ukraine. In April, a price hike of nearly £700 per year was imposed upon average household energy bills, at the same time as a national insurance increase, rising council tax and rail fares. Meanwhile, a 3.1% boost to state benefits fell short of the 7% rise estimated by the Joseph Rowntree Foundation as necessary to meet basic living costs.
As prices skyrocket and incomes fail to keep up, the pressure is mounting on grassroots volunteer organisations.
"The numbers turning up for food are going up and up," said Claire McCunnie, development manager at the food bank, during a recent phone call. "We're predominantly seeing Muslim households, especially in the past few months. Lots of them were just about managing until this year, but the costs of the basics got too much."
Shortly before Covid-19 swept across the world, Imam Ahmed Ali helped set up a food bank at Al-Ikhlas Centre, a mosque and community centre in Cardiff. When it started, Ali and his team handed out parcels of groceries to around 10 families per week, serving anyone in the local area who was in need. Now, around 180 households depend on the service. Many have asked Ali to increase distribution days from once to three times a week and the project has had to borrow money from the mosque to buy enough food to meet demand.
"Members of our community are genuinely struggling to live," said Ali, during a recent telephone call. "It breaks your heart."
It's a situation set to worsen in the coming months and one that is disproportionately affecting Muslims across the country. Around 50% of Muslims in the UK – around 1.6 million people — live in poverty, according to Muslim Council of Britain analysis of government data in 2016. By Ramadan this year, Islamic charities were warning that the figure could be on the rise. The National Zakat Foundation reported a 70% rise in requests for hardship grants in the 12 months to March 2022.
In response, food banks are having to change the way they work and the kind of products they provide to their clients.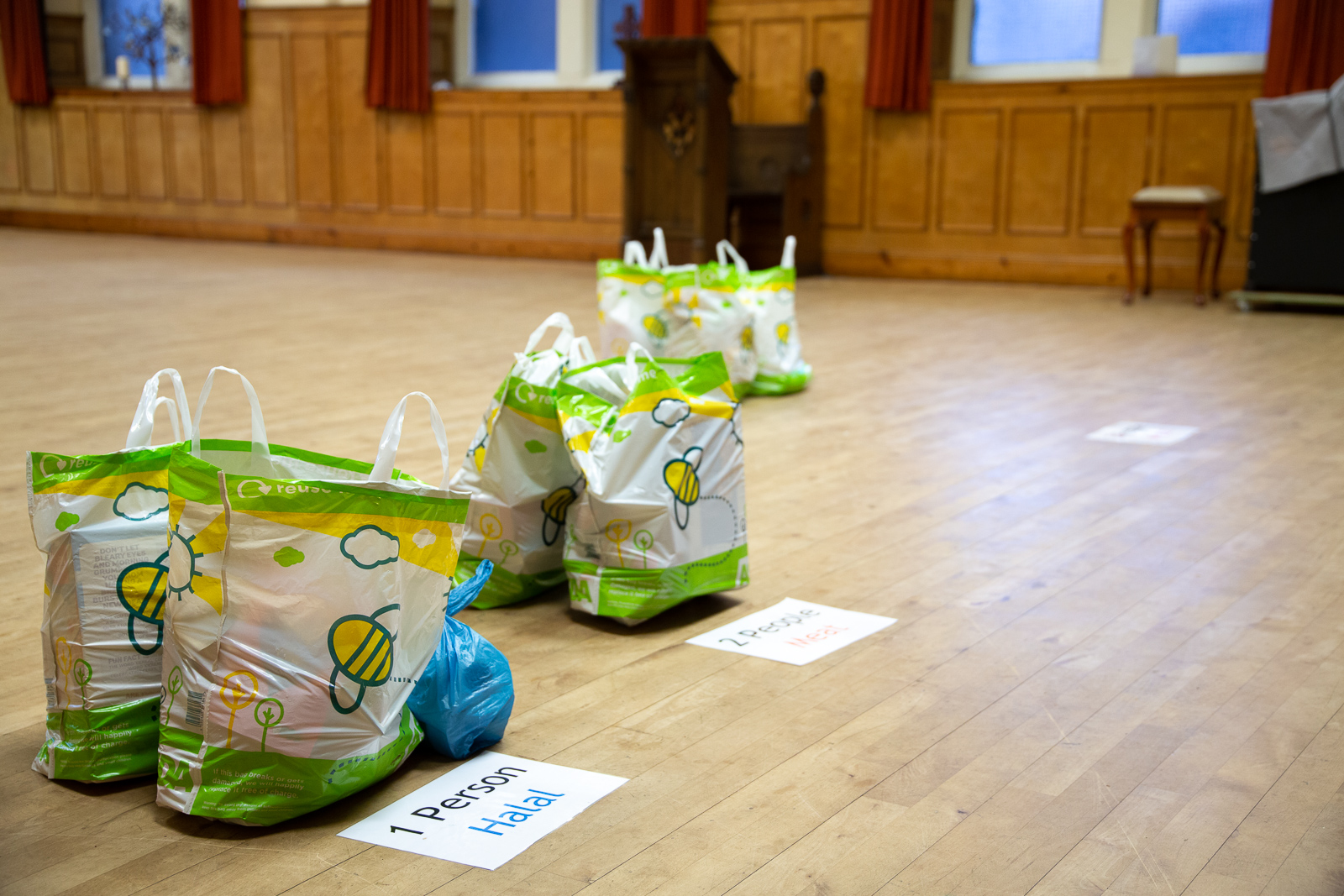 "We had to think about how to provide non-perishable food that someone following a halal diet would actually want to cook," said McCunnie. Glasgow South West Foodbank operates in the heart of Scotland's biggest Muslim community. According to 2011 census data, nearly 19% of residents in the Scottish parliamentary constituency, which is represented in Holyrood by First Minister Nicola Sturgeon, are Muslim.
McCunnie added: "Things like flour and oil, we wouldn't normally put those in parcels. Now we buy them in, if we need to, so they're always available."
People seeking asylum make up a significant proportion of the Muslims who rely on UK food banks. Banned from working, receiving just £40.85 to live on per week and locked out of most other state benefits, individuals in the UK asylum system were already facing destitution. Now the spiralling cost of living threatens to price them out of the few basics they could previously afford.
For people living on low and fixed incomes, even the rising cost of a bus journey can stand in the way of access to culturally appropriate food. "There aren't many halal butchers across the city, so you need to factor in the cost of public transport," says Philippa Roloff, food projects coordinator at Glasgow's Central and West Integration Network. In Glasgow, the price of a day ticket for local buses recently increased to £4.90 — only 93p less than asylum seekers have to live on per day.
At Glasgow South West Foodbank, I also met Manal, a 37-year-old woman who says that she fled political persecution in Kuwait as part of the stateless Bidoon population, and has applied for asylum in the UK. She lives with her husband and two children, but the £40.85 the four household members each receive per week from the government is too little to meet the family's needs.
"Everything was already expensive. Now we cannot afford enough food," she said. "My son, Ali, is four and he is diabetic. That can make it even more difficult to afford the right food for him."
Still, the stigma associated with asking for help and receiving charity remains powerful for many Muslims in the UK.
"Some say, 'Please don't look down on us. Don't think that we are stealing.' We have even had people email and ask if we can deliver food packages to their homes, so they won't be seen using the food bank," said Ahmed Ali in Cardiff.
However, Ali has found that running a food bank from a mosque has made a number of people more comfortable asking for support.
"They come in to pray and they can just pick up their food on the way out," he explained.
Ali has also noticed an increase in working people struggling to afford food. "For some in our community, having a job used to be enough," he said. "But now many families need food packages, even when they're working. Their earnings are just not sufficient when everything is so expensive."
In Leeds, staff and volunteers at the grassroots charity Give A Gift are having to work seven days a week to keep up with the demand for food packages. Rifhat Malik, co-founder of the organisation, describes the present level of need as "unprecedented".
"We thought lockdown was bad enough," she said. "But this is something else."
Berlin Mirre, 34, lives in the city with her five children, aged between two and 14 years old. She has received support from Give A Gift for more than two years, mostly in the form of food parcels and vouchers for halal meat. Now, that help is even more crucial.
"Everything has gone high," Mirre said. "Food, electricity, gas, even water. I pay £83 per week to the council in rent. It's not easy, especially when you have five kids on your own. I'm just trying my best to keep going."
As a single mother, Mirre receives income support and child tax credit, but payments are limited by the benefit cap. Over the past three months, rising bills have pushed her into debt, including energy arrears, a budget loan from the government, and repayments and interest on a credit card she sometimes has to use to get by.
In addition to being unable to cover the cost of food and bills, Mirre has no money to replace the shoes and school uniforms that her children have grown out of.
"You feel like a bad mum when you can't afford what your kids need," she said. "It's hard for me and for them when I have to say no, but most days I wake up and think, 'What bill is going to come today?'"
Now, as large numbers of people face the bleakest of economic realities, community organisations are finding themselves forced to provide costlier and more complex support to their clients.
"Soon handing out food won't be enough on a large scale," Malik said.
She cited the rising average cost of funerals in the UK, currently estimated at an all-time high of £4,400. "There was a child who died, and the family simply could not afford to bury them. Of course, Muslim families can't take a few weeks to save up for that. It needed to be done as soon as possible, so we helped that family with the costs.
"The list of ways people are being affected is endless."
Topics
Selected stories
From pickles and ferments to jams and chutneys, conserving surplus produce allows us to enjoy fruits and vegetables grown in familiar earth, many thousands of miles away

The western world's largest mosque is a point of pride for the country's Muslims, but its impressive scale and ornate design do not reflect their position in the country as a whole

The challenge for Keir Starmer is to combine control and compassion in efforts to tackle dangerous boat crossings