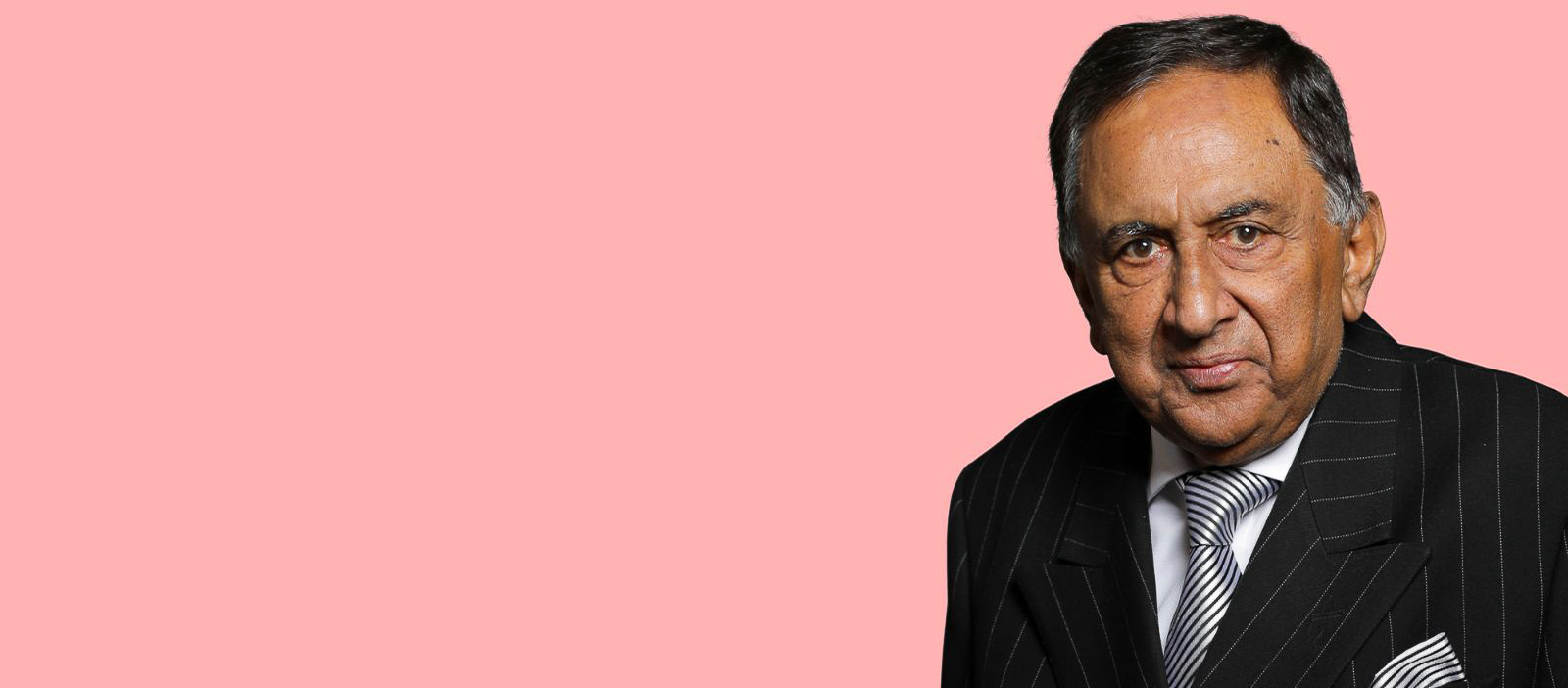 Lord Sheikh Q&A: 'The Conservative party is a natural choice for Muslims'
Photograph courtesy of Lord Sheikh
The businessman and politician says that Britain is welcoming to minorities, but believes there are still issues to overcome
Lord Sheikh was born in Kenya, then part of British East Africa, in 1941 and grew up in Uganda. He first came to the UK in 1962 as part of a generation who arrived to pursue opportunities for education and work. However, the rest of his family were forced to flee Uganda in 1972 and came to Leicester "penniless" when dictator Idi Amin expelled the country's Asian community.
In the following decades, Lord Sheikh went on to build a successful career in the insurance industry, training at Sun Alliance and eventually becoming chairman and chief executive of Lloyd's Brokers.
In 2005, he founded the Conservative Muslim Forum to encourage inclusion of Muslims in the Conservative party and to promote Conservative politics in British Muslim communities. He was made a life peer in 2006 and given the title Baron Sheikh of Cornhill. Lord Sheikh is also an author, and a founding member and chairman of the National Muslim War Memorial Trust.
We spoke as Conservative party members began to receive their leadership contest ballots. While he would not be drawn on who he was supporting, Lord Sheikh has in the past criticised Boris Johnson for his remarks comparing Muslim women in burqas to letterboxes.
This conversation has been edited for length and clarity.
What do you believe to be the main issues facing Muslims in the UK?
I think we must firstly treat ourselves as being British Muslims — that is very, very important — and if there are any issues, let's try to resolve them. I'm trying to get a working definition of Islamophobia produced by the All-Party Parliamentary Group on British Muslims accepted. I'm trying to see what we can do with regards to Prevent and my attitude is that the government must liaise with and talk to the Muslim community, so they get a better understanding of us. As part of the APPG on Islamic Finance, which I co-chair, we are pushing for sharia-compliant student loans and we're trying to make sure that post mortems on our deceased are done quickly.
How do you think discrimination against Muslims should be tackled?
This country has been good to all its minority communities. In the UK, you can wear hijab if you choose, can get halal meat and go to one of the hundreds of mosques. In some other countries, there are restrictions on all of these things. Now, having said that, there are problems. There is discrimination, there is Islamophobia. So, it's not perfect, but I think what we need to do is try to change it from the inside. I have always believed that you have to become part of the establishment. I joined the Chartered Insurance Institute and I became the first non-white president. I then joined the British insurance Association and I became the chairman. So, the point I'd like to make to our community is whatever you do, try to do the best you can.
How do you feel the Conservative party is dealing with Islamophobia?
There are problems in the Conservative party with regard to Islamophobia. And what the party did in 2019 was to commission Professor Swaran Singh, a former Commissioner at the Equality and Human Rights Commission, to do an independent and thorough investigation into the party's handling of complaints into all forms of discrimination, in particular anti-Muslim discrimination. He produced a report called The Singh Investigation in 2021 with 27 recommendations that were all accepted by the Conservative party. There are some Muslim politicians who just were critical of it. I took the view that there are real issues there. It was said that there is a degree of Islamophobia both at Conservative party headquarters and at the grassroots level. Singh made recommendations that had to be implemented over a period of time. I support that, because I feel it's a step in getting the situation right. In the Conservative party, there are penalties for people who are found to behave badly and we have a system for getting the culture right.
Are we seeing a political shift in Muslim communities?
A lot of Muslims came here to work in factories. They were, of course, affiliated to trade unions and, hence, became members of the Labour party. But my own belief is that the Conservative party is a natural choice for us. Because we are hardworking people, we don't want to pay any more taxes than we have to, we create employment and have given jobs to others and in every walk of life we have done very well.
What should be the priorities for the next PM?
The current issues are, of course, cost of living, petrol, cost of food, cost of gas, and inflation is touching 10 per cent. We have about a million job vacancies, so we need people to come in to fill them.
We also need to make sure that the NHS is working, because there are problems there and not everybody can afford private treatment. We need to reduce waiting times in hospitals and ambulances should be quick to respond to people who suffer from strokes or heart attacks. Afterwards, when people leave the hospital, they need to be looked after too.
Why did you set up the Muslim War Memorial Trust?
We founded the trust because the contribution of Muslims throughout British history is not being appreciated. For example, in the First World War there were Muslims who came from India. India produced the largest voluntary army of 1.2 million soldiers and 400,000 of them were Muslim. My next book is about the Muslims who fought for the United Kingdom, France and the Allies in the World Wars. We have also tried to get the national curriculum to include items relating to the contribution of BAME communities. I believe that this is one way to combat Islamophobia.
Topics
Selected stories
Is the Gaza truce a turning point in the Israel-Hamas war? Our panel discuss this and other topical issues. Plus, a look at the Muslim renters dealing with London's housing crisis

The filmmaker on her life, work and why telling women's stories is more important than ever

From Ramadan dates to Christmas pudding, food can encapsulate specific times of year and remind us of the circular rhythms of life