'Melilla massacre' sparks a new reckoning on migrant rights in Spain
Deaths at the frontier of a Spanish enclave in North Africa have galvanised thousands to demand fairer immigration laws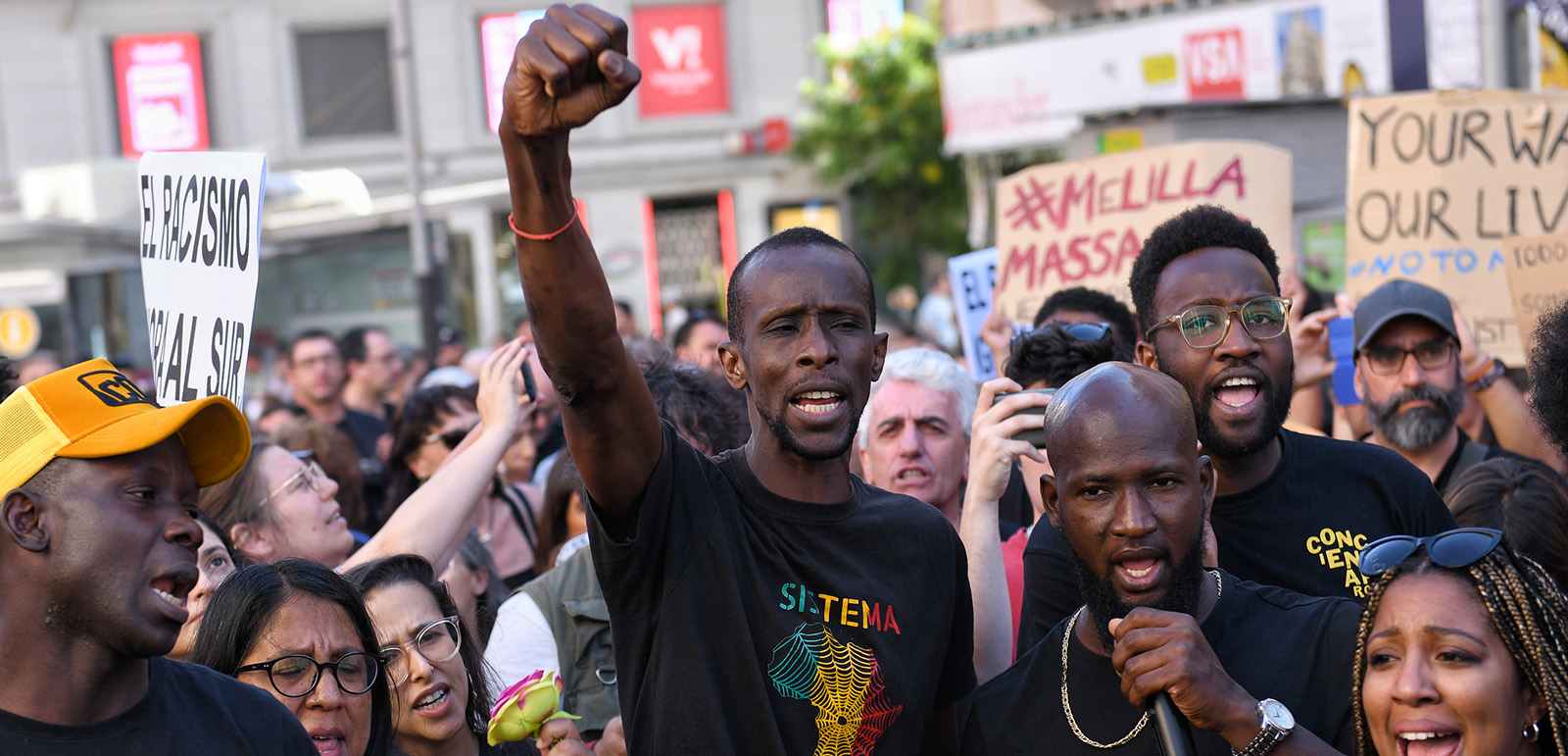 On a hot late-June evening in central Madrid, Serigne Mbaye addressed a crowd of hundreds through a microphone. His words were stark and powerful: "They didn't die – they were murdered!"
Mbaye, who is originally from Senegal, is an MP for the anti-austerity coalition Unidas Podemos (United We Can) in the Madrid regional parliament. In the course of that work, he regularly draws attention to human rights abuses against migrants. Few, however, had seen him as strident as he was at the protest against the recent deaths of 37 people who attempted to cross from Morocco into Melilla, a Spanish enclave on the north coast of Africa.
On 24 June, around 2,000 people attempted to jump the wire fences that encircle the area. Once physically on Spanish territory, migrants should be processed to see if they qualify for asylum, but, according to witness accounts from journalists, Moroccan and Spanish authorities reacted by throwing rocks, deploying tear gas and shooting rubber bullets. Those decisions are alleged to have caused stampedes that resulted in multiple injuries and deaths. They have also galvanised a growing public movement to reform Spanish immigration legislation.
Within hours, videos emerged of around 100 dust-covered people lying side-by-side on the ground. Border guards are seen beating individuals who are not moving. While some are sitting upright, the majority appear lifeless and have visible wounds to their heads and bodies. According to a report by the migrant rights organisation Caminando Fronteras (Walking Borders), NGO medics were refused access to treat the wounded, which resulted in many more preventable deaths.
The following day, at least 21 graves were dug near the Moroccan border. The victims were buried so quickly that not a single body was identified or underwent an autopsy. To explain the circumstances of the deaths, there is only the testimony of witnesses.
"We must open an independent investigation into what happened and who is responsible," Mbaye told me during a recent telephone conversation, reiterating the demands of the migrant rights movement Regularización Ya (Regularisation Now), whose work he openly supports.
Most of the people killed in what activists and much of the Spanish media have referred to as the "Melilla Massacre" were from Sudan, South Sudan and Chad, all countries in which armed conflicts are taking place. Had they made it to Spain, they would have been entitled to international protection. Instead, they met their deaths thousands of miles from home while trying to reach that safety.
"What happened is horrific," said Mbaye. "These massacres and brutalities are something that belongs in the past, but the reality is that they're still happening today."
In reaction, on 26 and 27 June, tens of thousands of people — many dressed in black — took to the streets of Spain, from Madrid to Catalunya, Andalusia, Asturias and Extremadura. Hundreds of protesters lay down on the ground in tribute to the people seen in the videos. While the main purpose of these demonstrations was to demand an official inquiry into the deaths at the Melilla border, they were also used to push for wider changes to Spanish immigration law.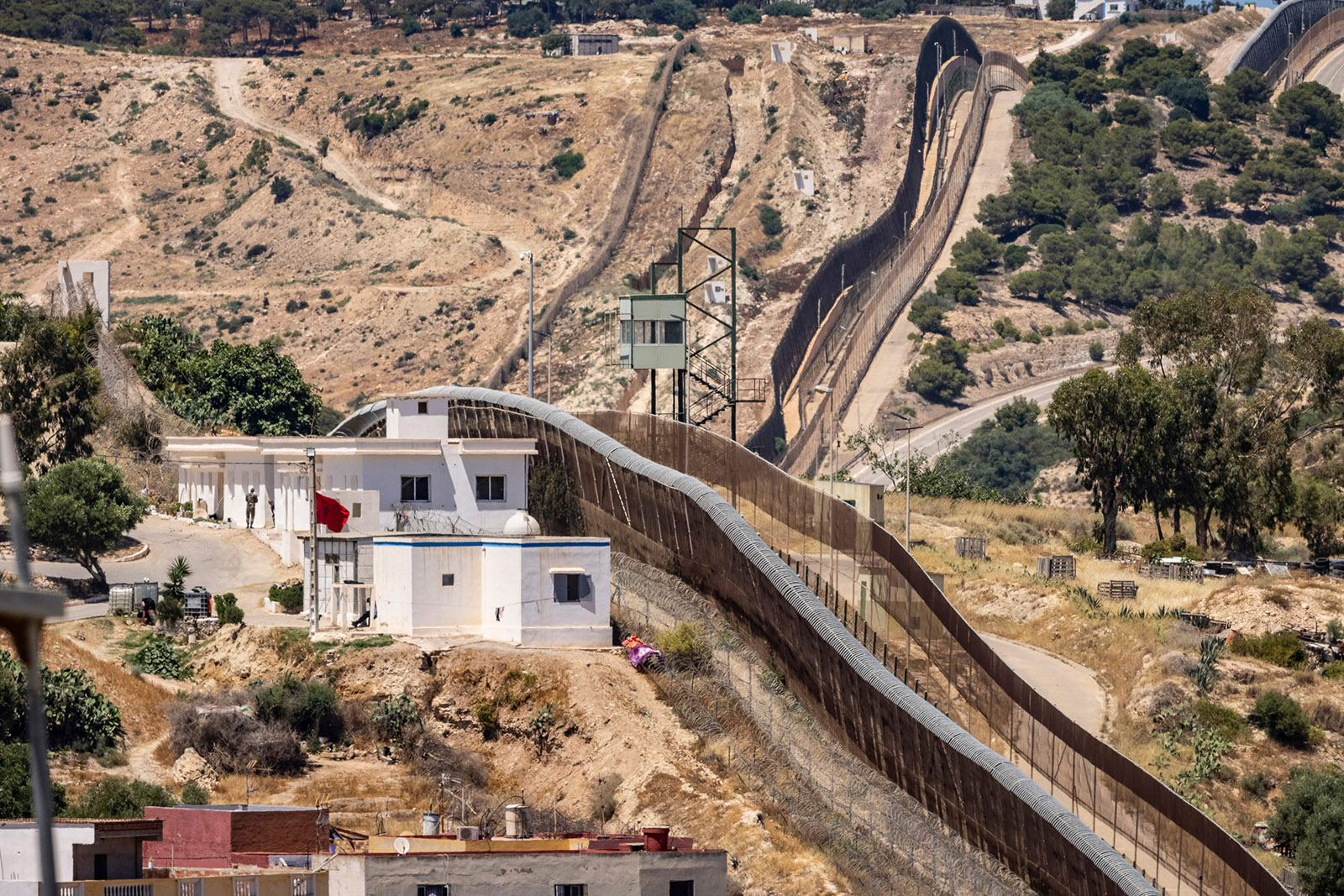 Deaths while crossing into the European Union from Africa are, unfortunately, a frequent occurrence. So far this year, just under a thousand people have died en route to Spain from various points on the African continent — more than twice as many as in the same period in 2021. The calmer weather and seas of the spring and summer months prompt thousands of people to attempt the crossing via some of the deadliest migration routes in the world. The majority are Muslims from the Maghreb and sub-Saharan Africa.
Although what happened in Melilla is extreme, violence and death are not uncommon at the borders of Spain's North African enclaves, which are subject to increasingly militarised management by the EU. In 2014, 15 people drowned while attempting to swim around the seawall at the Tarajal border crossing in Ceuta, Spain's other outpost bordering Morocco. Guards fired rubber bullets "in the direction" of the swimmers but, despite an investigation, were never prosecuted for any part of their actions. In 2019, the EU granted €170 million to Morocco to curb irregular migration. Materials included vehicles, drones, scanners, radars and other technical equipment for border control. Some experts on irregular migration now use specific and foreboding terms to describe what these places have become.
"The terms 'necropolitics' and 'necroborders' describe the reality of borders as places of lawlessness and death," explains Laura Mijares, a lecturer at Complutense University of Madrid whose research focuses on the sociology of Muslim populations in Spain and Europe. "These are spaces in which a police and militarised approach prevails, and in which violence against the excluded and those who have no rights is completely accepted."
The treacherous boat crossing to Spain is also how Mbaye arrived in the country. After arriving on the island of Tenerife, he was held at an immigrant detention centre for five days before being released and making his way to Madrid in May 2006. Once there, he immediately began to work illegally as a street vendor.
Mbaye began his political career as an anti-racism activist. As his Spanish improved, he began speaking at protests and events, detailing his own experiences as an immigrant in Spain. After getting married and officially becoming a Spanish citizen, he was able to run for election in the Madrid regional government with Unidas Podemos. Last year, he became one of Spain's first Black MPs and the first to bring the demands of Regularización Ya to parliament.
"We do not come here to commit crimes. We come to work," he said, speaking of the many people from Africa and beyond who arrive in Spain seeking a better life. "That means contributing to the development of the country, which is a positive thing for Spain."
While Mbaye has become a prominent and respected public figure, life for many other migrants who make it to Spain remains fraught with problems. Even though changes to the country's immigration law — including reducing the time it takes to gain legal status by one year and possibly removing ability to speak Spanish as a requirement — have recently been approved, current legislation still prohibits undocumented migrants from being granted legal immigration status until they have lived in Spain for two years and have obtained a full-time work contract.
These stipulations leave migrants facing long periods with no guarantee of income, housing or access to healthcare. In that time, they are left with little choice but to work in the informal economy which, in turn, makes them frequent targets for law enforcement. Regularización Ya takes the position that this precarious existence makes people vulnerable in many other ways.
The 2018 death of Mame Mbaye, who became friends with Serigne on the boat to Tenerife, catalysed the foundation of Regularización Ya. Four years on, the cause has still not been fully explained. The authorities say that the police officers found Mame, who had been working illegally as a cook and a street vendor, lying unconscious on the ground outside his home, but friends believe that he was chased by officers, triggering an underlying heart condition.
Founded in Madrid in 2020 in the early stages of the Covid-19 pandemic, Regularización Ya initially aimed to pressure the government into fast-tracking the legal status of undocumented residents, enabling thousands of people to access essential healthcare and emergency financial aid.
As the movement has grown, activists have expanded their remit and are seeking guarantees of basic rights for all migrants in Spain, using a mechanism via which citizens can propose new laws. The proposed regularisation of undocumented migrants will be considered in parliament if the movement succeeds in obtaining 500,000 petition signatures from Spanish nationals.
The campaign kicked off with a mass collection of signatures. In February, activists in 30 Spanish cities set up tables in the streets and invited passersby to sign. In the following weeks and months, hundreds of organisations across Spain canvassed members of the public to sign. Following the events in Melilla, a number of larger organisations have joined the campaign. They include Orgullo Crítico (Critical Pride), an LGBTQ+ collective; the Sindicato de Inquilinos (Tenants' Union) of Madrid; and the centre-left regional political party Más Madrid (More Madrid).
Serigne describes this broad-based collaboration with community groups that include white Spanish citizens as "crucial" to the cause.
The deadline for the campaign is 23 September. With just over a month left and with most of the necessary signatures already collected, it has also created opportunities to change the broader narrative around immigration. With an ageing population and one of the lowest birth rates in the world, many of Spain's 600,000 undocumented migrants are, in fact, essential workers. They pick Europe's vegetables, take care of the elderly and build homes.
"But they're paid less than regularised workers," Serigne explained. "Regularización Ya is about nothing more than social justice."
Spain's Bangladeshi community has also played a key role in Regularización Ya. Mohammed Elahi is the chairman of Valiente Bangla (Brave Bangla), an association founded by activists in 2007 after they successfully stopped the deportation of 34 Bangladeshi nationals in Ceuta, Spain's other enclave in North Africa.
One weekend in early August, Elahi and a few of his colleagues from Valiente Bangla put on two tables. "We've collected hundreds of signatures so far and it's only been an hour," he said, even though moments earlier he'd diffused a confrontation from a passerby who disagreed with the campaign.
Serigne, Elahi and Mijares all believe that Muslim immigrants are treated differently in Spain from those from Latin America and elsewhere. Earlier in 2022, 130,000 Ukrainians were granted residence and work permits.
Mijares believes that Spanish laws are formulated according to a general view of Muslim migration as a potential threat to security, where other groups are are not seen in a similar way.
"This establishes a hierarchy, which is justified by referring to the need to fight terrorism, mafias and human trafficking," she said. "It's something we're seeing constantly — that the lives of refugees and migrants don't all have the same value. Some are worth more than others, as the massacre in Melilla shows."
While Regularización Ya waits to see whether its demands will be seriously considered by parliament, its campaigning has already succeeded in one thing: uniting the diverse communities of Muslims in Spain and the wider public.
"Regularización Ya has brought us together," said Elahi. "We're doing this for the next generation. The future can be changed."
Topics
Selected stories
From pickles and ferments to jams and chutneys, conserving surplus produce allows us to enjoy fruits and vegetables grown in familiar earth, many thousands of miles away

The western world's largest mosque is a point of pride for the country's Muslims, but its impressive scale and ornate design do not reflect their position in the country as a whole

The challenge for Keir Starmer is to combine control and compassion in efforts to tackle dangerous boat crossings