British Muslim playwrights take centre stage
Meet three writers who are changing the narrative of British theatre, telling their own stories and carving out space for others to follow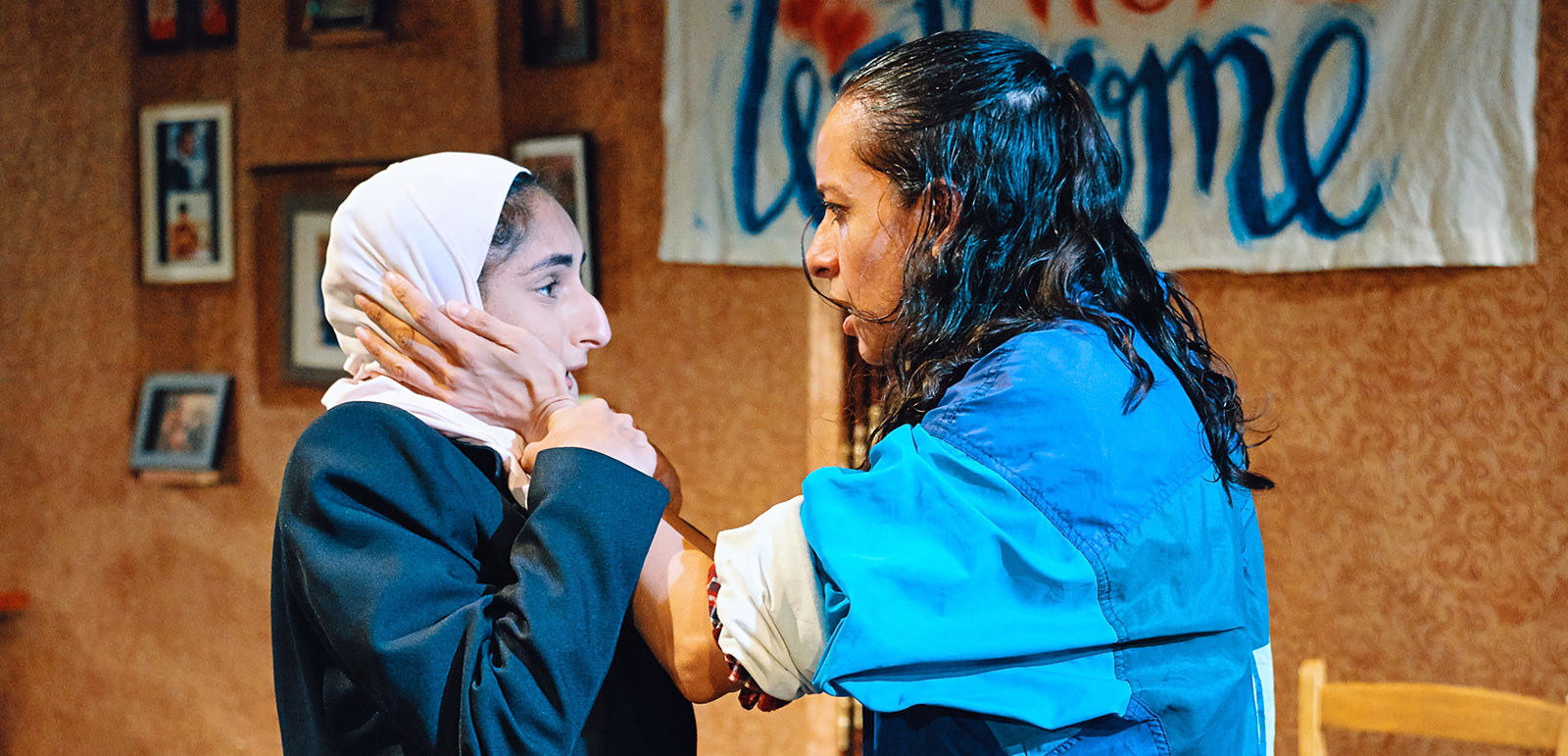 For decades, the cultural scene in the UK, from literature and television to theatre, has not made adequate space for minority voices, characters and experiences. For Muslim women, the situation has been particularly dire. When they have been let in, it has often been contingent on talking about their identity or background. Rarely have they been allowed to produce work that encompasses those aspects of their lives not directly linked to religious belief.
Long presented with a staid and old-fashioned theatrical world in which no one looked like them, young Muslim women have found it difficult to dream of making a career writing for the stage.
Rabiah Hussain's latest work, Word-Play, will be performed at the Royal Court in central London from September. But, growing up in east London as a working-class South Asian girl, she attended a school where exposure to the theatre was minimal.
"I thought theatre was musicals and Shakespeare, basically," she said.
In recent years, however, the cultural landscape has started to shift as underrepresented voices have become more prominent and proactive, setting up campaign groups and networks to highlight the lack of diversity and improve opportunities. Actors such as the Oscar-winning Riz Ahmed and Golden Globe nominee David Oyelowo have been among those calling for increased representation of minority groups across the arts.
In publishing, Muslim women are freeing themselves from the confines of literary fiction and writing across more varied genres. Authors including Ayesha Malik and Uzma Jalaluddin have carved out a space in romantic comedy, while Hafsah Faizal and Sabaa Tahir are bringing a fresh take on fantasy. Meanwhile, television shows such as We Are Lady Parts and Ms. Marvel are placing nuanced Muslim women characters at the centre of the action, detailing their coming-of-age stories, romances and friendships.
In theatre, schemes such as the Royal Court's Writers' Groups and the Arts Council's Sustained Theatre Fund, which ran in 2016 and had a total budget of £2 million, have supported the development of established and emerging Black and minority ethnic theatre makers.
Opportunities like these are vital for Muslim women looking to get a foothold in the industry. Hussain was one of three writers selected for the Kudos TV and Royal Court Theatre Fellowship programme, while Londoner Ambreen Razia took part in the Emerging Writers' Group at the Bush Theatre in Shepherd's Bush, where her current play, Favour, is being performed. Meanwhile, Sabrina Mahfouz, from south London, made her way into theatre through free workshops at the Soho Theatre and the Royal Court Young Writers Programme, specifically its Unheard Voices programme, which ran a scheme for Muslim writers.
Razia wrote her first play, Diary of a Hounslow Girl, after leaving university, while she was teaching and working with teenage girls to create theatre and film pieces at Arc Theatre in east London. Initially she expected little to come of it, but it was picked up by Black Theatre Live, a consortium of eight regional theatres that worked with emerging and established Black, Asian and minority companies and artists across England to commission and tour productions across the country.

"The intention was to put it anywhere and everywhere and to beg, borrow and steal," Razia explained. "I was really fortunate that it got picked up by Black Theatre Live and then had enough funding behind it to go on tour. But the reality was that I was well prepared to do it on top of the pub, you know?"
Mahfouz self-funded her first forays into theatre, although she had the support of the fellow playwrights she had come to know. "I got some good training, for free, but most importantly met other writers who'd become lifelong collaborators and friends," she said.
"It was with these people that I started to get into the DIY of theatre. Writing, performing in, producing and promoting our own plays, with our own money. When I took a show to Edinburgh Fringe, it pretty much bankrupted me, so I wouldn't recommend it, but it was without doubt the turning point in terms of starting to get paid for writing, finally."
Muslim women playwrights still face challenges, chief among them being stereotyped and asked to write only about certain subjects.
"What tends to happen is that because certain stories sell, they're the ones that we are sometimes encouraged to focus on," Hussain said. "We tend to see stories that sit on the extremes. So, either you see Muslim characters as terrorists or, on the other side, we have people ripping their hijabs off and saying, 'I'm liberated!' I think that's where it's so important to recognise that as Muslims, or as people of colour, our stories go beyond just this or that."
Mahfouz was one of the writers for Metamorphoses — inspired by Ovid's powerful collection of Roman myths — at Shakespeare's Globe in 2021, and whose play A History of Water in the Middle East showed at the Royal Court in 2019.

Speaking of the beginning of her career, she said: "There was certainly an expectation placed on me to deliver something reflective of whatever was in the news at that time regarding Islam and British Muslims, or whatever was happening in Muslim countries across the world. Often that would be fine, and at other times frustrating."
Favour, Razia's most recent work, is about three generations of women in the same family, and what happens when the Aleena returns home from prison to her mother Noor and daughter Leila.
Razia's fascination and understanding of the complex yet loving family dynamics between women come from her own experiences.
"The family that I grew up with, which was just roaring women, it was just single mothers who were doing it on their own. There was a lot of arguing and a lot of lioness-type energy roaming around the house. I was watching my family and I was like, 'God, I've not seen that in any TV show.' You know, it's always this two-by-four middle-class, South Asian family that we see on screen."
Hussain's first play, Spun, premiered at the Arcola Theatre, east London, in 2018. In her new production, Word-Play, she examines an enduring area of interest: language. It features a prime minister who goes off script while on television. His words are met with accusations of Islamophobia but also seep into the national conversation.
"What I'm trying to do with it is look at how, when certain language is used at the top by people in power, it has a trickle-down effect," she explained. "You can't just throw words out and expect them not to have an effect."
Despite the success of playwrights like Hussain, Mahfouz and Razia, there is still some way to go for Muslim women in the industry. According to Hussain, improving representation is a task that has to be undertaken at the highest levels.
"These are top-down processes," she said. "We can't expect an individual to just imagine and guess that there's a theatre out there."
Word-Play will be on at the Royal Court from 28 September to 5 November.
Topics
---
Get the Hyphen weekly
Subscribe to Hyphen's weekly round-up for insightful reportage, commentary and the latest arts and lifestyle coverage, from across the UK and Europe
---