A women's running club reclaims the night, one step at a time
With evening park and track races, one London-based Muslim collective is building a supportive community that puts safety first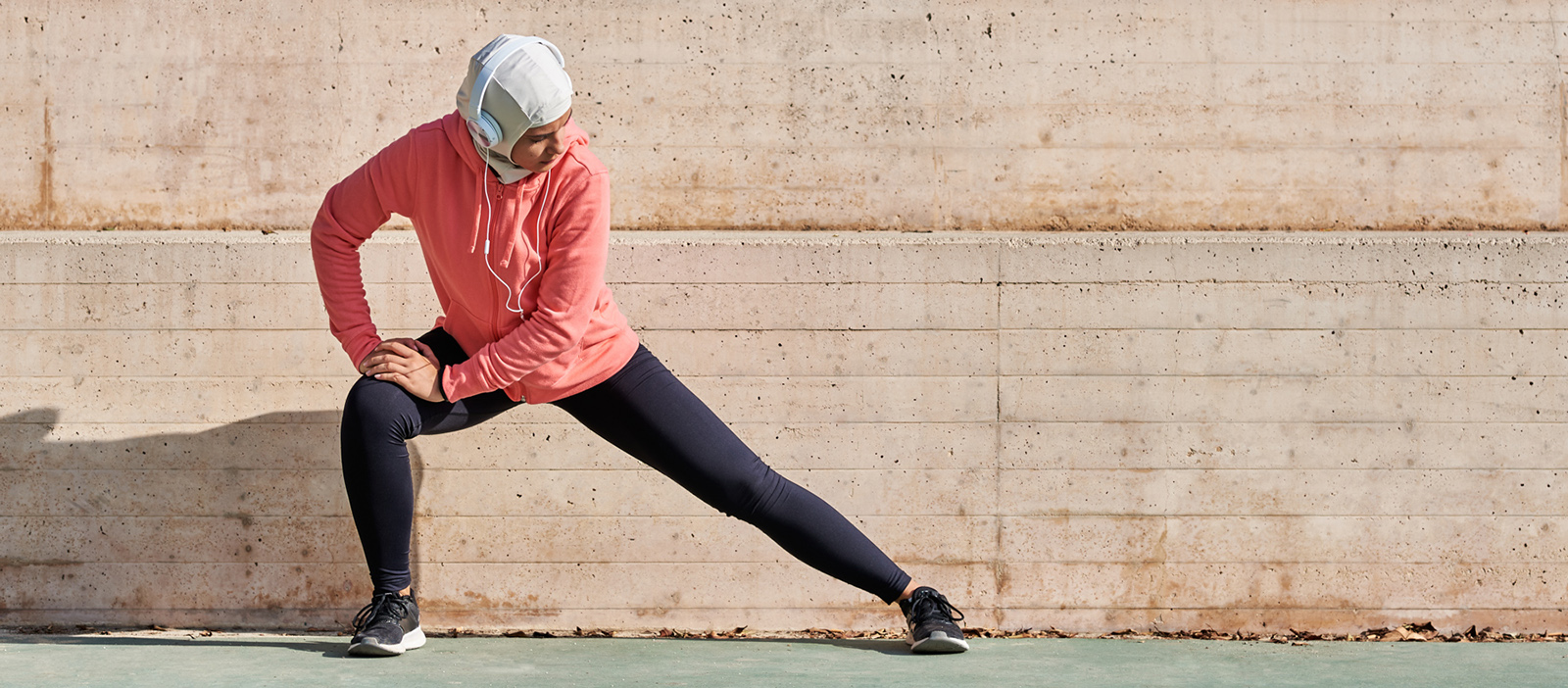 It's a breezy Thursday evening in June and a group of women are gathering at a running track in Stratford, east London. Dressed in headscarves, sports gear and trainers, they greet one another and embrace. Then, someone nods and they're off, racing as one tight unit.
They are all members of ASRA, a running club with a mission to help Muslim women "unlock their inner athlete"
Sahra-Isha Muhammad-Jones established ASRA in 2019. The group's name derives from a surah in the Qur'an that translates into English as the "Night Journey". Her aim was to meet like-minded people, create a "community space" for women runners and rediscover her own teenage love of the sport.
While studying for her A-levels, Muhammad-Jones made a reluctant decision to stop running, in order to concentrate on academic success. During her first year of a comparative literature degree at Queen Mary University, she realised she missed the physical and mental health benefits that regular exercise can provide and began a fruitless search for a free east London-based women's running club.
Surely, other people were looking for something similar, Muhammad-Jones thought. She took to Twitter and Instagram, asked her followers and waited.
"I got loads of responses," she told me. Many of the women who contacted her said that they were hoping to find something more than a group to run with. They wanted a sense of sisterhood.
A high proportion of respondents told Muhammad-Jones that they were frustrated by the treatment they received when running alone. Racism and sexual harassment were common hazards when exercising in hijab, she heard, and many added that they felt unsafe at night.
Harassment directed at women runners is a persistent problem. In October 2020, Running World interviewed around 1,000 women in the UK. More than half of city runners surveyed said that they had personal experience of it, while 27% said they had been followed by someone in a car, on foot or on a bike.
Muslim women face additional hurdles. A 2019 report from Women in Sport found that only 50.7% of Muslim women in England perform at least 150 minutes of moderate activity per week, compared to 72% of women of no religion and 63% of women who describe themselves as Christian. The document cited several reasons, including the fact that a number of governing bodies in the sporting world had banned women from competing while wearing the hijab.
"Lots of women expressed wanting to just see other Muslim women running and checking in with each other and pushing one another to run further. That's what I was personally looking for," Muhammad-Jones said.
In order to maintain privacy, ASRA's organisers book a track for the sole use of the club's members in a different area of London every week. Before the Covid-19 pandemic took hold, the group's running sessions routinely attracted more than 40 people at a time.
Now, ASRA is offering yoga classes, nutritional talks and weekly park and track runs across London. At the end of the 90-minute sessions, runners walk to public transport together to ensure each other's safety.
ASRA relies on 10 volunteer organisers, including a funding coordinator and a social media team. As the club has grown, Muhammad-Jones's role has expanded to brand partnerships, which has allowed her to consult on campaigns to include Muslim women in sport with big organisations such as Sports Direct, Lucozade and the London Marathon.
Part of that job also involves challenging brands when they get it wrong. Last year, a Samsung TV commercial featured a woman jogging alone in London as Big Ben struck 2am. The advert came after a number of murders of women that had taken place after dark, including those of Sabina Nessa and Sarah Everard. Soon after airing, the commercial was criticised as "naive" by women's safety campaigners.
Samsung had failed to consider "how unsafe running at night can be for women," Muhammad-Jones explained.
Now, she hopes to establish a physical space where people can come for ASRA events. This year, the group has offered nutritional guidance for Ramadan and organised a community potluck iftar, where attendees could break their fast together. Muhammad-Jones would also like to see ASRA spread to other countries.
"My family are from Gambia and Sierra Leone," she said. "I have always wanted to start a club there and when I saw interest from runners in Gambia, we decided to partner up. We had the chance to go out there with some of the London ASRA team and had our first run with them back in March."
Access to sport and safe places for Muslim women to exercise have long been poor across the UK. Back in 2010, Women in Sport reported that 34% of Muslim women were physically inactive and that low participation levels were heavily influenced by a lack of attention being paid to cultural sensitivities. Muhammad-Jones and ASRA's members are doing everything they can to change that, one step at a time.
"I always say that we're not extraordinary, we're simply running," she said.
Topics
---
Get the Hyphen weekly
Subscribe to Hyphen's weekly round-up for insightful reportage, commentary and the latest arts and lifestyle coverage, from across the UK and Europe
---