'She's not your typical boxer. She's Muslim. She's wearing a hijab.'
Across the UK, a growing number of women are stepping into the ring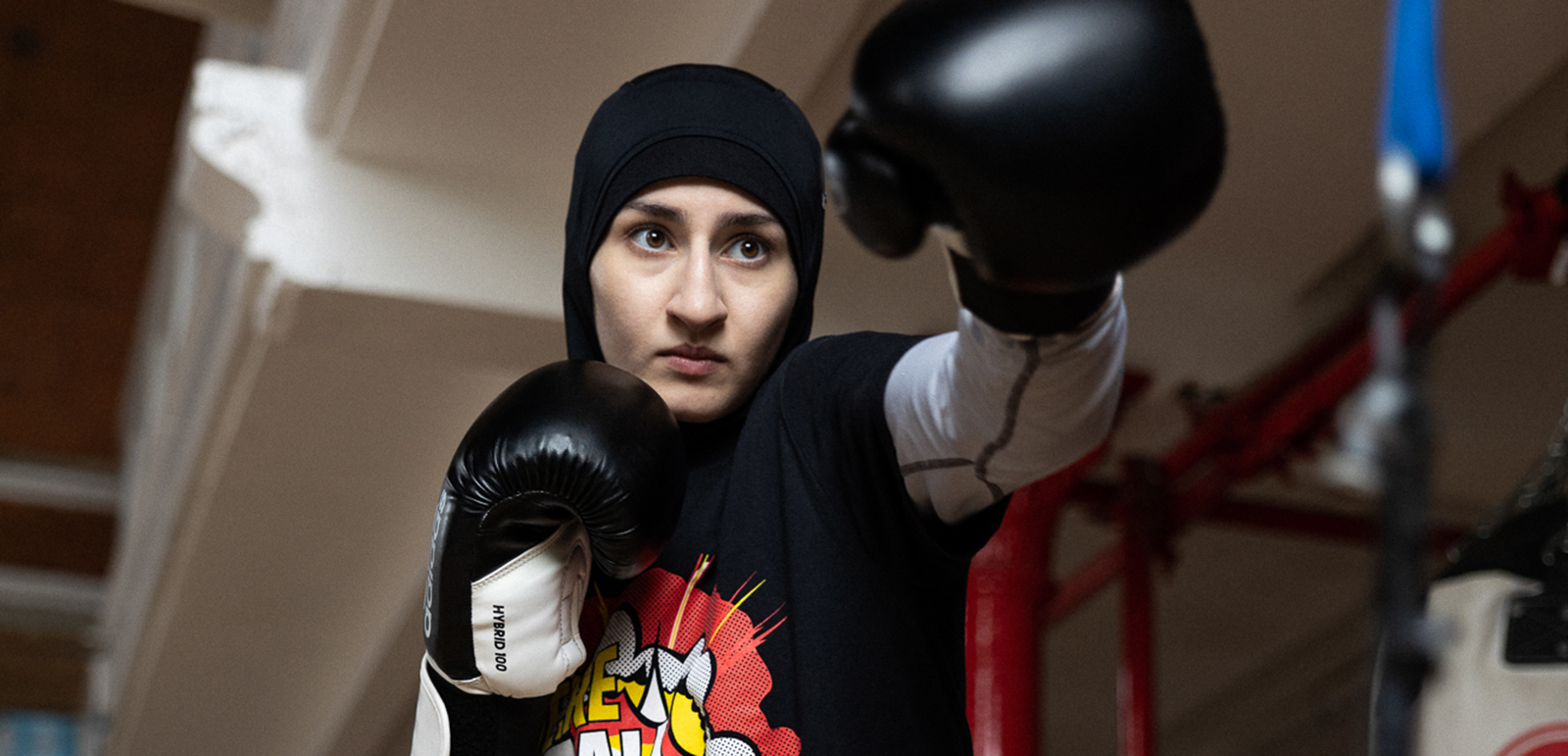 A group of chiselled fighters were working punching bags, jumping rope and sparring in the ring. The sound of pounding gloves punctuated the grime music pumping out of a set of speakers, as beads of sweat flew and hit the floor.
Among those in training was Aya Hijazi, a 23-year-old British-Lebanese law student with a strong right arm. She has become a fixture at the club, preparing for her amateur career to take off.
Just as Hijazi slipped on a pair of gloves to begin her nightly, two-hour workout, her coach delivered some frustrating news. For the third time in as many months, her opponent had backed out of an upcoming bout.
"I've been waiting so long to get out there," Hijazi sighed. "I was excited to finally get a fight."
She has fought just once so far, winning a three-round decision in her under-60kg weight class. But, after five years of sparring, lifting weights and running, Hijazi is keen to compete more often.
"I don't like training without purpose," she said. "I wasn't going to be just another one who came in, hit the bags and went home."
Hijazi is part of growing number of Muslim women in Europe who have taken up boxing over the past decade. Some are keen to compete, while others have a greater interest in fitness, self-defence and the mental health benefits that the sport offers.
They are led by veterans such as Ramla Ali, who won Britain and England titles in 2016 and competed for Somalia in the 2020 Olympics, and Zeina Nassar, a five-time German featherweight champion now gunning to compete in the Paris 2024 Olympic Games.
Nassar made headlines in 2019 when she successfully lobbied the International Boxing Association to allow hijabs, along with fitted long-sleeved tops and leggings, to be worn in international competition.
Like Nassar, Hijazi wears one of Nike's athletic headscarves, which were first seen in 2017. The form-fitting garments were sanctioned for boxing because they do not require pins, which are banned in the ring for reasons of safety.
Owing to the contrast between her choice to wear the hijab and the sport she has dedicated herself to, Hijazi says she sometimes feels like she spends as much time battling stereotypes as she does sparring partners.
"I don't always get positive vibes from people," she said, explaining that some, more conservative onlookers have judged her for participating in a sport that has been dominated by men for centuries. Though Hijazi's parents have never objected to her training with male boxers, the notion can be jarring to some.
"I think people need to get used to the idea that men and women can and should be allowed to mix, as long as it's in the correct — or whatever you perceive as right — way," she explained. "This is the world we live in. It's full of men. I can't avoid one everywhere I go."
Still, Hijazi prefers to concentrate on the many positive responses she receives from within the Muslim community and beyond, both in person and online.
"People are more supportive on social media. You'll find so many others like you who follow you and do similar things, even if it's not boxing," she said. "It could be going to the gym or just breaking the norms of what's seen as an average female Muslim woman."
All Stars Boxing Gym was founded back in 1974 by the Ghanaian Muslim fighter Isola Akay. Based in a converted church on the ethnically diverse Harrow Road, a large photograph of Muhammad Ali hangs on a brick wall behind its ring and images of other boxing legends plaster the club.
When the Amateur Boxing Association began to sanction fights for women in the late 1990s, Akay made a commitment to train them, beginning with 2008 European Championship gold medal winner and British amateur welterweight champion Lesley Sackey.
When Isola died in 2019, his son Muf Akay inherited the club and has carried on his father's legacy, taking on Hijazi as his first female boxing prodigy. While the gym has offered women-only lessons for years, he instituted a new level of privacy for the growing number of Muslim participants signing up.
"Some of the Muslim women approached me and said, 'Can we have a class where we can actually relax and take off the scarf?' Akay told Hyphen. "That's when I made a rule: no men in the building for those classes."
Akay called upon Hijazi to take his place and run the Sunday sessions, which attract more than 20 women each week, about half of whom wear hijabs outside the gym.
"It's very empowering," said Amina Ammour, a 24-year-old law student from north-west London who is a regular at Hijazi's classes. "She's amazing because she's not your typical trainer. She's Muslim. She's wearing a hijab. She's doing it for the ladies."
Following Nicola Adams's second flyweight gold for Team GB at the 2016 Rio Olympics, women's boxing has been on the rise in the UK. Since then, England Boxing has registered a 73% rise in female members.
While the sport's governing body does not keep a record of members' religious convictions, scores of Muslim women are happily showcasing their boxing talents on social media.
Sabaa Hussain is the current English National Youth Development champion in the under-46kg category. The 17-year-old posts hip-hop-soundtracked workouts from Sharky's Boxing Academy in Leeds to a growing fanbase on TikTok and Instagram.
"I want to raise awareness and show that Muslim girls can do what everyone else does," she told me during a telephone conversation.
For Hussain, the continuous messages of support from her followers and the backing of her family are fuelling her goal to represent Great Britain in the 2024 Olympics.
"It makes me motivated to go the whole way. There are a lot of people relying on me to go forward," she said.
While the number of gifted amateur fighters like Hussein is growing, boxing is proving beneficial to an even bigger number of women who have no immediate desire to compete.
Zahra Butt, a 42-year-old single mother of three, took up the sport 13 years ago, after gaining weight and experiencing depression following the birth of her second child. Finding that the sport rapidly helped her get back in shape, she decided to leave her job teaching computer literacy at a local college and qualified as a boxing coach.
"I actually found myself again," said Butt, who is a third-generation British-Pakistani. "It wasn't about what I lost. It was more about what I gained, like my self-confidence and self-esteem."
Butt, who is also a helpline counsellor for victims of domestic violence and "honour"-based abuse, now offers non-profit boxing classes for women in Nottingham. She says she has trained hundreds of women since taking up coaching eight years ago, 90% of whom have been Muslim.
"I was relatable and leading a similar life to them, which drew them in," she said. "When I started, there wasn't anybody that I could reach out to. It was a very isolating experience."
Butt also faced criticism by some members of her local Muslim community for boxing, both in person and online.
"I had to fight battles every single day to justify what I would do, just to go to an exercise class," she said.
For some Muslim women, the conflicts that result from their decision to pursue the sport are more internal.
Fatima Sadiq, 24, trains five days a week at Left Hook Boxing Gym in east London. She was initially concerned about the compatibility of boxing with Islam, owing to a belief held by some Muslims that their religion does not allow them to strike another person in the face.
"That left me in turmoil for a while," she explained. "I thought, 'Is it halal to keep the sport up?' Then I justified it. In amateur boxing, it's not like the pro game, where you try and knock each other out. It's simply point scoring, and if you're at the right club and you have the right coaches around you, then you're in a safe environment."
She added that she believes her dedication to boxing has now made her a better Muslim, encouraging her to organise her priorities in life, which include memorising the Qur'an.
"It shows me that if I want something, I need to stop making excuses," she said.
Despite her enthusiasm for boxing, Sadiq, who is of Somali origin, has been reluctant to tell her parents that she would like to compete — something that Somali-born Ramla Ali also faced.
Ali has often spoken about how being bullied at school encouraged her to take up boxing. She proved talented and rose rapidly through the amateur ranks, winning her first fight in 2012.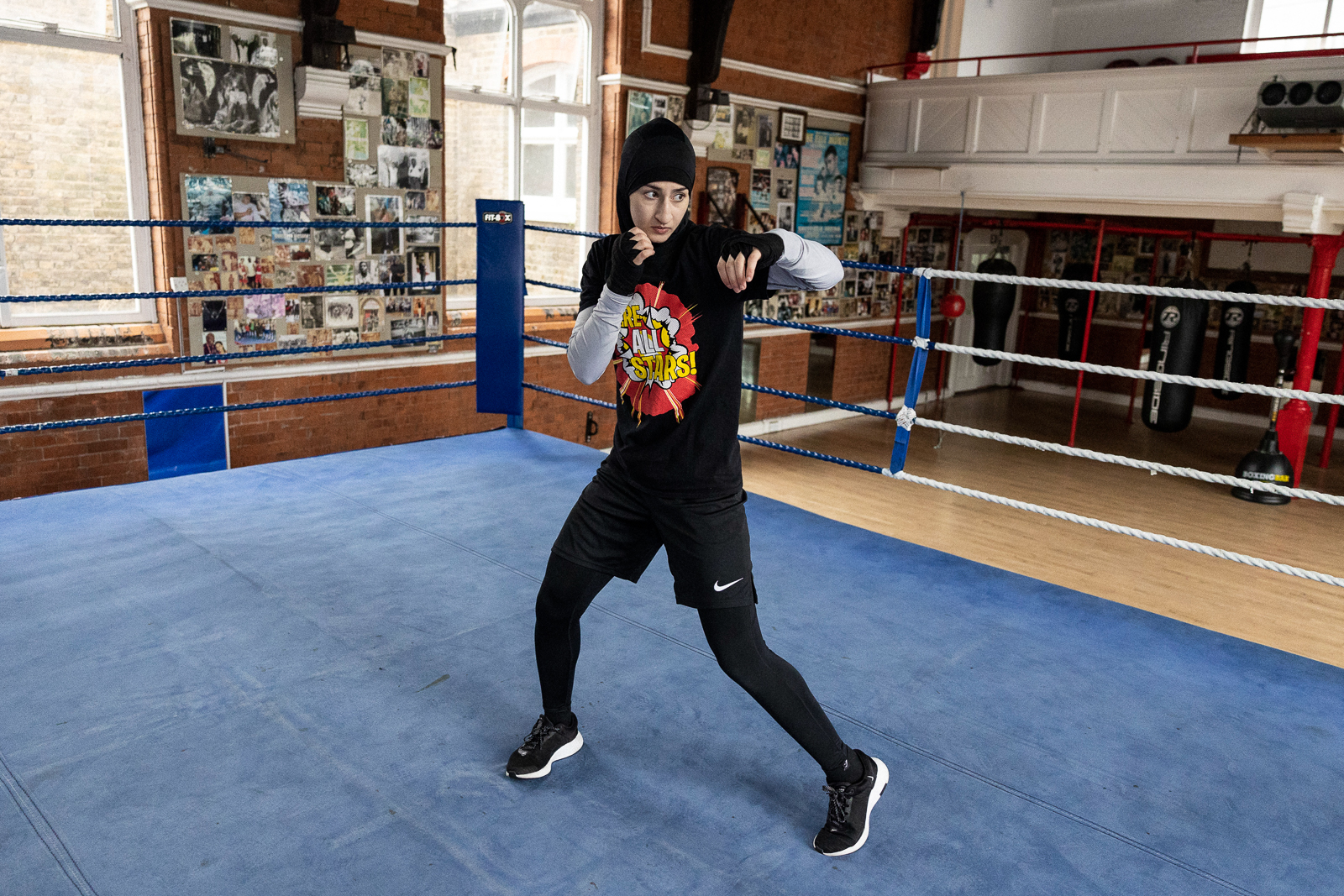 But, coming from an observant Muslim household, she hid her boxing career from her family, who only found out by seeing her fight on TV. Her mum insisted she stop, and Ali relented for six months before going back into the ring.
In 2016, Ali became the first British Muslim to win the British and English national titles. After representing Somalia in the 2020 Olympics, she turned pro. She now has a 5-0 record, after defeating American Shelly Barnett with a technical knockout in Las Vegas in March.
Back at All Stars Boxing, Aya Hijazi was regrouping with her trainer, Muf Akay, hoping to finally find an opponent for her second fight.
After five years of training, she is keen to showcase her skills but, for her, getting into the ring is about much more than just facing an opponent.
"It's 100% about representing all the other women who have ambitions," she said.
In the meantime, Hijazi will keep fighting to promote the sport within her community and break down barriers.
"With boxing, I know how to defend myself," she said. "Maybe that will give parents more confidence by putting their girls into something that has a lot of discipline and conditioning — not only for your body, but also for your mind. That way they can go out and embrace the world and not be afraid of it."
Topics
Selected stories
Hyphen journalists and guests discuss the toxic anti-feminism of Andrew Tate. Plus, our columnist Anna Lekas Miller on her new book about couples who have found love across borders

The director of the Salam Project talks about old-school rap, youth work and the power of positivity

The United Cricket Club spent a decade fighting for the right to compete. Now it's striving for a permanent home