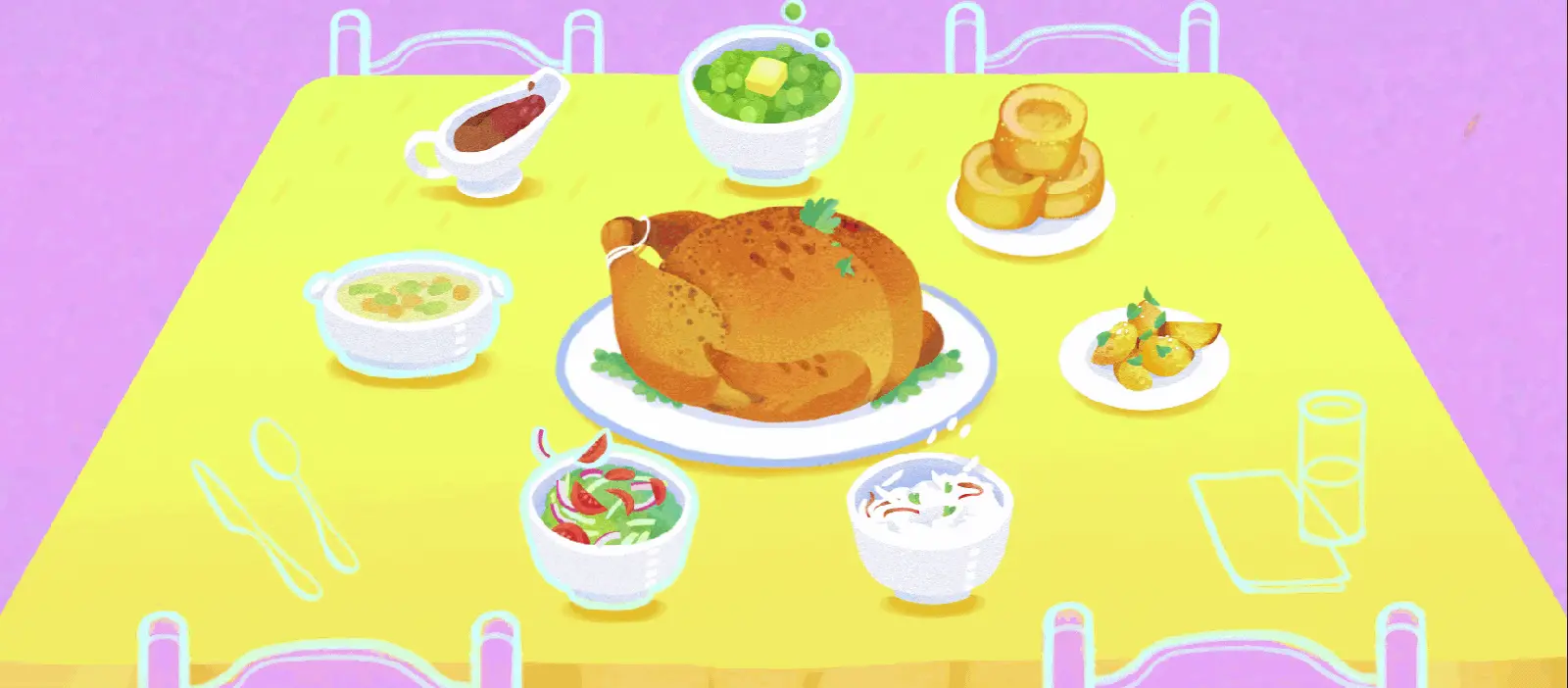 Easy, like a Sunday roast
Traditional British classic, or the most glorious of fusion foods? It's really up to you
"What are you cooking tonight?" my dad asks, hovering as I unpack the shopping he has just brought home. Abbu, as I call him, knows my visit is all too short, and that if he wants something specific for dinner, he needs to ask for it soon.
"What would you like?"
I put the potatoes on the bottom shelf of the vegetable rack. In my own home, they go in a cupboard — the dark prolongs their lives — but I am back in my parents' place now, so I do things their way.
"How about… a roast?" he suggests, as though the idea has only just occurred to him, and that the groceries I am unpacking betray no premeditation on his part. I pull out a whole chicken and a tub of Bisto gravy granules from the Morrisons bag.
"It's Wednesday," I say, already calculating what time I'll need to put the chicken in the oven if we want to eat at 8pm.
"So? Who says you have to wait until Sunday for a roast?" Abbu says, knowing that he has succeeded in his mission and retreating to his study.
He's right, of course. There's no need for our dining choices to be tethered to the calendar. I remember Laura, who I used to sit next to on the school bus, whose mum had a weekly dinner rota: Monday was spaghetti, Tuesday was pizza, Wednesday was toad-in-the-hole, and so on. I recall being both fascinated and horrified by the predictability of knowing what was going to be on the table, day in, day out.
In our home, meals depended on what my dad had seen in the shops that week and liked the look of — plump sardines from the fishmonger, a bottle gourd from the Bangladeshi grocer, rainbow-hued tomatoes — and how inspired my mum was feeling by the time she got home from work.
Probably as a result of this constant variety, food was always a celebration. We ate seasonally far before it was a fashionable thing to do, marking the time of year by the fruit Abbu would bring home: imported crates of fresh lychees and honey mangos in the summer, early autumnal offerings of plums and blackberries, shiny clementines in the winter.
But there was one thing I envied about Laura's mum's rotating menu. Sundays were always marked by a traditional roast dinner; a legacy of the days when everyone would be found in church in the morning, then around the table with family in the afternoon. A joint of beef or lamb or a chicken would take pride of place, surrounded by potatoes — roast or mash, a medley of vegetables, Yorkshire puddings, and lashings of gravy: arguably the greatest of British traditions.
The perennial question of what constitutes "Britishness" has vexed families like mine for generations. Successive governments have held forth on the importance of "British values" without ever really defining what they are. From Norman Tebbit's infamous cricket test to the present day, minority communities in the UK feel that their legitimacy as citizens is constantly under scrutiny. It is difficult to feel rooted in a country where your perceived loyalties are always being questioned.
Food is a medium through which I can engage with the multitude of influences that shape who I am. What and how I eat is the most tangible representation of my British Bangladeshi Muslim identities. The dishes I cook, the ingredients I use, what I avoid and where I shop are daily expressions of these different parts of myself. The same is true for many of us from diverse backgrounds: cooking, eating, and feeding offer us a playground in which we find the freedom to celebrate, critique and even reject aspects of our heritage.
My family has been in the UK for four generations now. Some national dishes have made their way into our collective repertoire with minimal editing. There are few ways to improve a Bakewell tart or steamed syrup sponge pudding. Others have never made it onto our plates. We never really got into fry-ups, even after halal sausages and beef bacon came along, and, thanks to an ingrained mental block, I still pick the halal pepperoni or turkey ham off my pizza. Then there are the dishes that we have adopted, adapted and made our own. But, for me, it is the classic roast dinner that best symbolises my family's embrace of British culture, whether eaten on a Sunday or any other day.
I am in the kitchen; the same one that I grew up and learned to cook in, before life took me to a different city, where I set about creating a new home, a kitchen and a family of my own. I know where the ingredients are stored: the jars of spices in the cupboard to the right of the cooker, lemons in the fruit bowl, salt pot on the counter top. I feel a deep sense of comfort, as I potter around this familiar room, scrubbing potatoes, peeling carrots and preparing the chicken.
I have several different variations of roast chicken, which I choose from according to occasion, season, mood. Sometimes I take inspiration from the greats — Nigel Slater, Nigella Lawson and Yotam Ottolenghi — and opt for a free-range, organic bird with the skin still on. I mash butter with sea salt and thyme and stuff it under the skin, adding bulbs of garlic to the roasting dish, a halved lemon and more sprigs of thyme in the cavity, and a scattering of freshly ground black pepper over it all.
Cooking a chicken like this yields crunchy, golden skin and pan juices that make the silkiest gravy. It's simple, flavoursome and the perfect centrepiece for the array of accompaniments that really make any roast: golden potatoes done with olive oil, rosemary and sea salt; carrots in butter with a little lemon; leek gratin — Abbu's favourite — with bubbling cheese sauce and crunchy breadcrumbs on top; green peas with mint and a pat of butter, and Yorkshire puddings that are crisp, but with just the right amount of chew.
This time, I decide to use our own family favourite recipe. Abbu has bought a chicken with the skin removed, perfect for this method. I take a small tub of Greek yoghurt, empty it into a bowl and beat it with the juice of a lemon. Then I grate in some fresh ginger, add the crushed cloves of a whole bulb of garlic and a sprinkle of salt. Last come the spices: flame-red chilli, golden turmeric, pungent cumin, coriander and a generous heap of tandoori powder. Years of practice mean that I no longer have to measure the quantities. The beauty of this recipe is that there is no right or wrong, any cook can adjust the seasonings according to their preference.
I score the chicken and arrange it in a roasting dish, then pour the spiced yoghurt all over. I rub it in, cover with foil and leave in the fridge to marinate (ideally, this would be done overnight, but the eight hours I have is enough for the flavours to penetrate the meat). When roasted in a hot oven, the chicken gains a slightly charred quality, while the inside remains beautifully moist. The yoghurt, the chicken juices and the spices create a sauce that needs no thickening — it is simply poured into a gravy boat and given a stir.
The beauty of chicken roasted this way is that it can be transformed into a different feast, depending on the accompaniments. With aromatic pulao rice, spiced vegetables and a salad of finely sliced tomato, cucumber and red onion, it is a classic Bangladeshi tandoori chicken. With the side dishes for a traditional British roast, it becomes the most glorious of fusion foods — trust me when I say that there is nothing better than a Yorkshire pudding dipped in the roasting juices it provides.
In our home, it is often served with "both" — by which we mean roast potatoes and pulao, as well as vegetables and gravy. If there is a better way of combining two different culinary cultures, I have yet to hear of it. Even the big names of British cooking have got in on it, with Nigella Lawson's Indian spiced chicken and potato traybake and Jamie Oliver's Empire roast chicken. While the latter's ill-advised name didn't stand the test of time, the flavours certainly do, although we came up with them first.
Virtually every culture has its own equivalent to a Sunday dinner. Whole slow-cooked legs of lamb in North Africa, delicate quails with pomegranate across Iran and Afghanistan, or the traditional Bangladeshi wedding dish of shagorana, which consists of a whole chicken buried in mounds of rice and decorated with intricately carved vegetables.
What I find beautiful about the British version is that a regular time, each week, is set aside to cook and share something special. Many families like mine have adopted this tradition and melded it with their own. Our roasts don't always happen on a Sunday — any occasion will do, be it a family reunion, celebrating exam results, or marking an anniversary. The flavours can range from fiery chilli heat to mellow garlic sweet, but all are perfect for a sacred time when love for family is expressed through food. That's something that can belong to all of us.
Topics
Selected stories
Religious leaders from Spain, Germany and Sweden speak about events in the Middle East and the consequences for their communities

Is the Gaza truce a turning point in the Israel-Hamas war? Our panel discuss this and other topical issues. Plus, a look at the Muslim renters dealing with London's housing crisis

The filmmaker on her life, work and why telling women's stories is more important than ever