Suella Braverman is gone but Sunak's search for a clear strategy continues
The sacking of the home secretary is welcome for many, but real change will not come from doubling down on unworkable policies and a revolving door to cabinet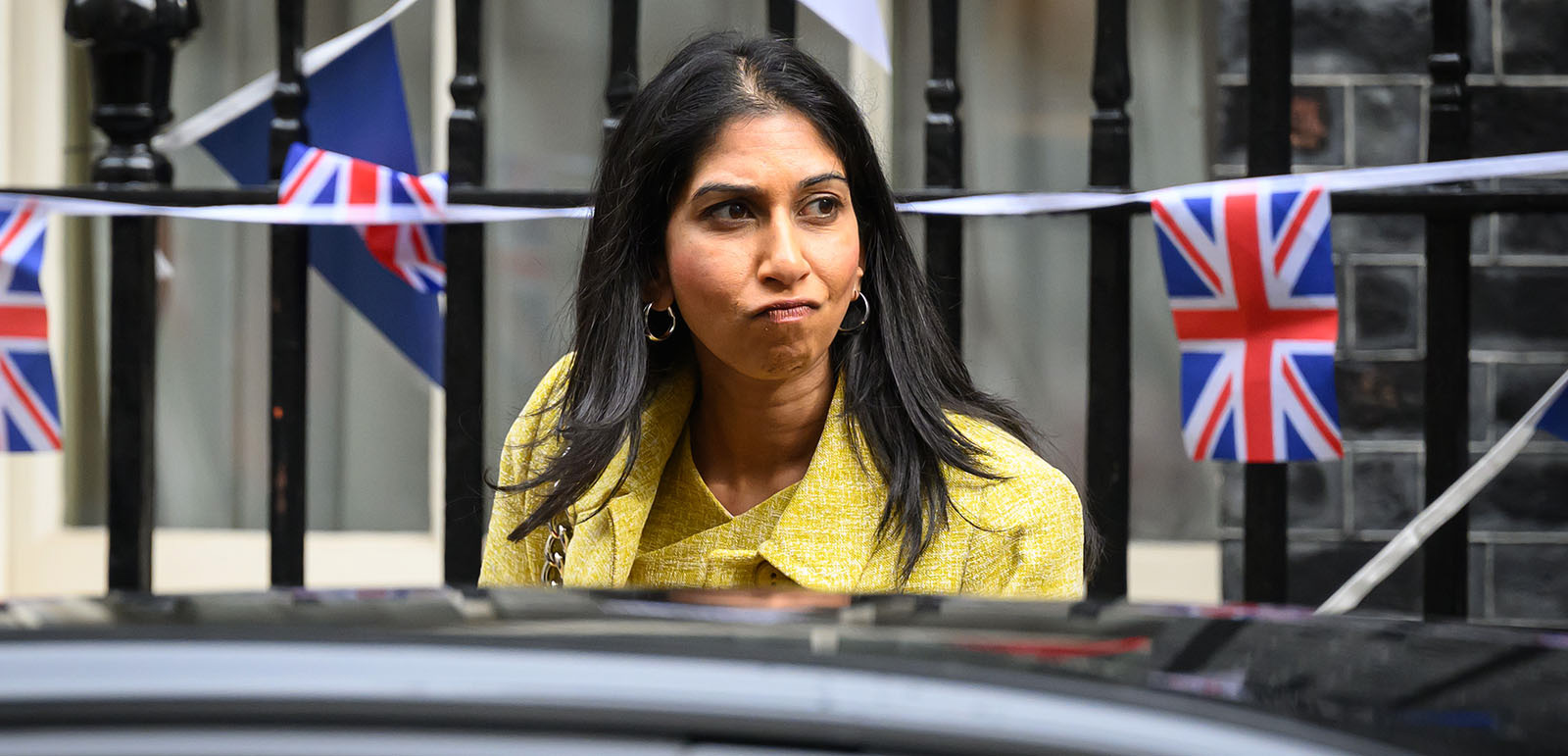 On Monday 13 November, Suella Braverman was removed from her position as Home Secretary, setting the wheels in motion for a wider reshuffle of Prime Minister Rishi Sunak's cabinet. Her stinging letter to Sunak the following day made it clear she had no choice in the matter, opening with the line: "Thank you for your phone call yesterday morning in which you asked me to leave government."
When it emerged that Braverman had rejected requests from Sunak's staff to amend the draft of an article in The Times last week titled "Police must be even-handed with protests", it was obvious that she was pushing Sunak to sack her. He obliged and readers of my last article for Hyphen will not be surprised to learn how pleased I was to see her go.
Along with many others in the country, I believe that Braverman's statements about protests calling for an Israeli ceasefire on Gaza — especially her labelling of pro-Palestinian demonstrators as "hate marchers" — whipped up the resentments that led to far-right agitators entering Whitehall last Saturday and clashing with police. That is what happens when senior government figures so readily use such inflammatory rhetoric.
The scenes on Armistice Day were not the only thing that Braverman can be held responsible for. As home secretary, she was ultimately responsible for dealing with claims to asylum in the UK. The House of Commons Library Asylum Statistics report published in September shows that in June 2023 138,100 people were awaiting an initial decision on asylum applications, compared with a tiny number in 2011.
The backlog of claims has grown steadily under successive Conservative home secretaries, so the blame is not reserved exclusively for Braverman. However, she has done little to address the problem, instead trying to reduce the cost of accommodating asylum seekers and create an atmosphere of hostility to new arrivals with the introduction of measures such as the Bibby Stockholm barge, which became a much-publicised fiasco.
I expect the new home secretary, James Cleverly, to continue with many of the same policies, since they come from Sunak, but his style is far less abrasive and confrontational than Braverman's. Rather than creating punitive, headline-making initiatives to deter vulnerable people from coming to the UK, he actually needs more money from the Treasury to increase the speed of processing asylum claims.
Since Boris Johnson's time as prime minister, the government has tried to discourage asylum seekers from crossing the Channel in small boats by threatening to relocate them to Rwanda — and not just while their claims are processed. The intention is that if they prove to be genuine refugees, it is Rwanda that will provide them with refuge. The numbers Rwanda has agreed to take are tiny, but the message is clear.
On Wednesday the Supreme Court ruled the scheme to be unlawful, since Rwanda is not considered a safe country. However, Sunak is by now so deeply associated with Rwanda that instead of abandoning it, he announced plans to change the law to override the legal objections.
That, I predict, will turn out badly for him. The House of Lords may delay the planned legislation until after the general election, due at the latest by January 2025, but even if parliament goes along with Sunak's plan, UK law is then likely to conflict with the European Convention on Human Rights.
While many Conservatives talk about leaving the ECHR, that would cause chaos in terms of international relations. Doing so risks alienating the United States, because the Good Friday Agreement, negotiated by Senator George Mitchell and strongly supported by then president Bill Clinton, and which underpins peace in Northern Ireland, assumes membership of the ECHR. It will also irk the European Union because parts of the Trade and Cooperation Agreement with the EU are also expressly linked to UK membership of the ECHR.
It is clear that Sunak is still casting around for a coherent and engaging political strategy. His five key priorities for 2023 indicated that his message was roughly: "I'm delivering for Britain. Don't risk handing power to Starmer." His Conservative Party Conference speech then positioned him as the change candidate to end 30 years of status quo politics — ignoring the fact that period includes the past 12 years of Conservative government and a chunk of John Major's premiership in the 1990s.
The reshuffle shifts the tone once again. A message of change does not sound credible when you bring back former prime minister David Cameron as your foreign secretary. Instead, the new plan, shown in other ministerial appointments such as the One Nation Tory Victoria Atkins as health secretary and promotions for former Cameron staffers Richard Holden and Laura Trott, appears targeted towards hanging on to southern constituencies threatened by other parties appealing to more socially liberal voters.
However, at a time when the public clearly wants real change, oscillating between strategies, doubling down on the unworkable Rwanda plan and appeasing the right wing of the Conservative party by appointing Esther McVey as "common sense tsar" is unlikely to succeed.
Topics
Selected stories
Is the Gaza truce a turning point in the Israel-Hamas war? Our panel discuss this and other topical issues. Plus, a look at the Muslim renters dealing with London's housing crisis

The filmmaker on her life, work and why telling women's stories is more important than ever

From Ramadan dates to Christmas pudding, food can encapsulate specific times of year and remind us of the circular rhythms of life