The keffiyeh is a symbol of resistance — and of hope
Black, white and worn all over the world, the Palestinian scarf has become a global statement of solidarity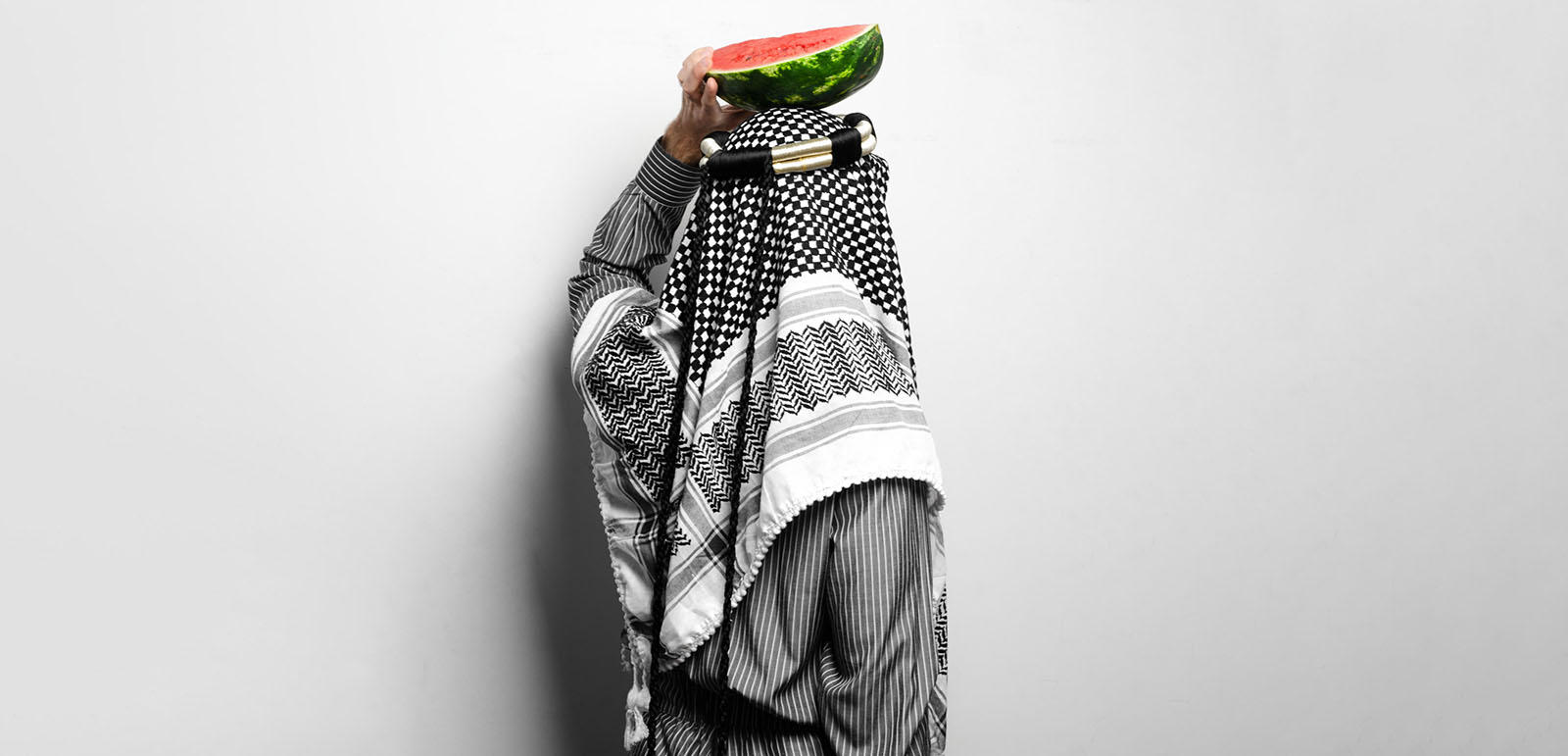 I was a young journalism student in Toronto when I first wore the keffiyeh — a white scarf with a distinctive black, embroidered pattern, depicting fishing nets and sea waves, and deeply rooted in Palestinian culture.
It was 2010, and I was trying to work out whether I wanted to pursue the politics beat or fashion journalism. I soon learnt that I didn't have to choose. Fashion is often political, as evidenced by my regular wearing of the keffiyeh.
The scarf was practical, keeping my neck warm during the cold Canadian winters. But its deeper connotations — as a symbol of resistance to occupation and oppression — were undeniable. Wearing it showed how politics could be expressed through what we wear. In fact, one of my first published stories, for the now-defunct US Muslim platform Ilume, was about the portrayal by western media outlets of the keffiyeh as something worn by terrorists.

Now that protests demanding a ceasefire in Gaza are sweeping across the world, a number of governments have said they intend to crack down on gatherings in solidarity with Palestine and its people. Measures proposed and implemented by various world leaders and local authorities include the prohibition of protest chants such as "from the river, to the sea, Palestine will be free", and the display of Palestinian flags and keffiyehs.
In the UK, Home Secretary Suella Braverman has urged police chiefs to take action against protesters "glorifying acts of terrorism" by waving flags or chanting slogans, and, in Berlin, keffiyehs are now banned in public schools. Even in the UAE, some residents have been asked to remove their keffiyehs in tourist hotspots. In Egypt, there have been reports of peaceful pro-Palestinian protesters, many wearing keffiyehs, being detained by the authorities.

This backlash against the keffiyeh has surprised me. Not least because when I bought mine, in the 2000s, the scarf was not viewed as dangerous. It was a popular accessory, commercialised and appropriated by brands such as Balenciaga, American Apparel, Urban Outfitters and TopShop. On TV shows such as Gossip Girl, characters who wore it were presented as hipsters. The scarf was also a mainstay accessory among indie bands including The Pigeon Detectives and The Wombats.

For many Muslims, the keffiyeh carries a sense of political and religious identity, linked to the Ummah — the global community of Muslims — and showing solidarity with Palestinians. At protests around the world, people wrap the distinctive black and white scarf around their necks as the Israeli government bombards Palestinians in Gaza and continues to build settlements for its citizens in the West Bank.
In wearing the scarf, protesters are showing that they recognise the existence of the Palestinian people and their right to statehood. To that effect, keffiyehs are resurging beyond the sphere of public protests among young Muslims. For activists unable to participate in demonstrations or rallies, this style statement offers a way to show comradeship with the cause as we go about our daily routines.
Those who would ban or discourage the wearing of keffiyehs, linking them solely to "terrorism", are ignorant of the keffiyeh's utilitarian roots. While indelibly associated with figureheads of Palestinian nationalism such as Yasser Arafat — who draped his scarf in a way that displayed the shape of historic Palestine over his shoulder — the keffiyeh has long been worn by bedouins and labourers in the Middle East as a shield against the sun and sand of their desert environment.

As the Palestinian-Jordanian fashion designer Zaid Farouki explained, the design of the keffiyeh is intrinsically connected to the land of Palestine: "The net symbolises the fishing line, representing the Mediterranean coast, the leaves represent the olive branch and agricultural land, and the solid lines represent trade routes and how everything leads to the land".
The keffiyeh has also been incorporated in the work of many Middle Eastern and Arab diaspora fashion designers, from the keffiyeh hijabs produced by US-based Vela Scarves to Arab-owned clothing brands such as Watan, decorating tote bags in the fabric and adorning plain T-shirts with patterned patched pockets.
Western brands have also used the pattern. For 10 years, the cult Danish label Cecilie Copenhagen has relied heavily on the keffiyeh in its designs, referring to it as "our signature handloom pattern". Everything from blouses and miniskirts to bucket hats have been created in colourful keffiyeh prints.

In 2020, social media accusations of cultural appropriation forced the brand to credit its inspiration, hashtagging its images on Instagram with #keffiyeh. Earlier this year, the label rebranded to Summery Copenhagen and began producing prints that are not such blatant rip-offs of the Palestinian keffiyeh, the traditional net now replaced with a houndstooth print.

Such conversations have also led to discussions among many Muslims as to where they should purchase keffiyehs to best support Palestinian garment workers and manufacturers. However, owing to export restrictions recently imposed by the Israeli government on the West Bank, Palestinian businesses are largely unable to export their products.
Located in the West Bank, Hirbawi is Palestine's leading producer of authentic keffiyehs. Founded in 1961 by Yasser Hirbawi, it is the last dedicated factory in Palestine. Brand manager Nael Alqassis, based in Bonn, Germany, emphasises the importance of sourcing authentic keffiyehs made by Palestinian craftsmen.
"It is a stand against cultural appropriation and theft," he said. "The keffiyeh is a product of years of Palestinian tradition, passed down through generations."
Alqassis believes that when keffiyehs are produced and exported from other countries, such as in China or India, the Palestinian people are "robbed" of the benefits they should naturally receive from an ancestral inheritance laden with cultural symbolism and significance.
"A keffiyeh made in Palestine carries the soul of its people, the history of its land, and the resilience of its spirit. Anything else is just a piece of cloth," he said.
Owing to a lack of access, limited options and the desire for speedy delivery, people who wish to wear a keffiyeh in solidarity with Palestine right now may have little choice but to buy from Amazon or Etsy. And regardless of where it is sourced from, the messages embodied by a keffiyeh are self-evident.
"The keffiyeh has transcended its local roots to become a global symbol of resistance against injustice," Alqassis said. "It carries a message of unity, resilience and solidarity, and resonates with individuals who appreciate and support the struggle for justice, freedom and the aspirations of the Palestinian people."
Those words certainly ring true for me. That's why I have been wearing my keffiyeh since mid-October. It is not a mere fashion accessory; It is a call for justice, freedom and humanity. And, at a time when prospects for the Palestinians of Gaza look so bleak, the sight of a stranger wearing a keffiyeh reignites some much-needed hope.
Topics
Selected stories
Is the Gaza truce a turning point in the Israel-Hamas war? Our panel discuss this and other topical issues. Plus, a look at the Muslim renters dealing with London's housing crisis

The filmmaker on her life, work and why telling women's stories is more important than ever

From Ramadan dates to Christmas pudding, food can encapsulate specific times of year and remind us of the circular rhythms of life