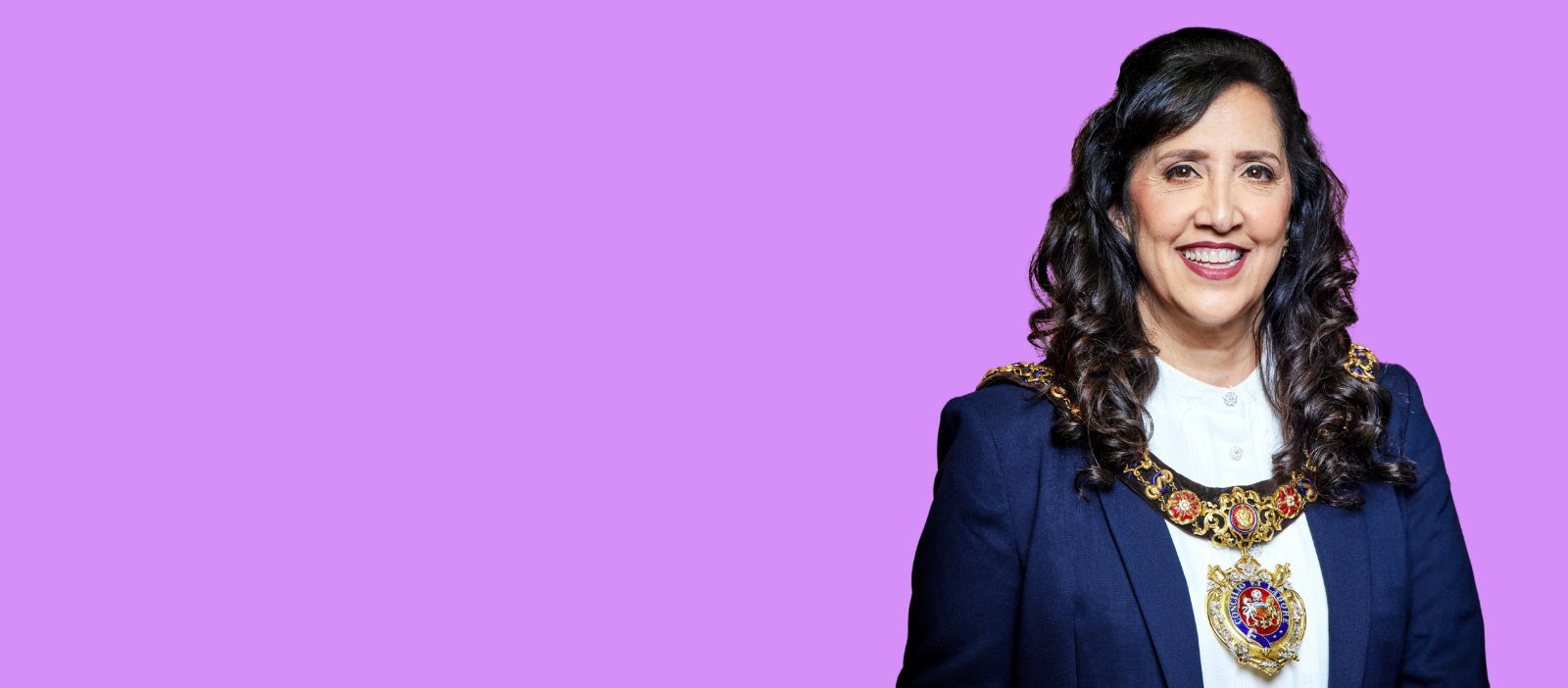 Yasmine Dar Q&A: 'I may be Manchester's first south Asian Muslim woman lord mayor, but I won't be the last'
Photography courtesy of the office of the Lord Mayor of Manchester/Mark Waugh
The councillor and charity founder talks about community work, self-belief and her rise to public office
In May, Yasmine Dar, 57, became the first south Asian woman to hold the office of lord mayor of Manchester. A Labour councillor for Moston and member of the party's National Executive Committee, Dar was born in Doncaster, but describes herself a "proud Mancunian", having lived in the city for more than 50 years.
Since taking on the ceremonial role of lord mayor, Dar has chosen self-empowerment as the theme for her year-long tenure. She hopes to inspire others by sharing her own experiences as a charity founder and single mother to two daughters.
Here, she talks about her three-decade career in community activism, running an award-winning youth charity and the rewards of public life.
How did you become interested in politics?
For me, I felt like the political representation wasn't there — that there were people in positions in local politics that didn't represent me as an Asian woman, or didn't understand my journey or those of many other women within my community.
Then I thought it was just time to really get involved. I had the right experience after 30 years as a community activist, challenging injustice and inequality regarding welfare rights, doing mental health support work and helping people in prison. In 2009, my brother and I set up a youth charity called Community on Solid Ground in Whalley Range, south Manchester.
I was thrilled to make it, as someone from an inner-city area, with my background in community work. Ever since I put myself forward nine years ago, it's been a great experience.
The theme of your year in office is self-empowerment. How are you championing this?
I've gone to events with a lot of young people, I've gone to schools, colleges, graduation and citizenship ceremonies. I talk about coming from a disadvantaged, working-class area and my journey to becoming lord mayor of Manchester by working hard and giving back to the community.
I tell each and every person that they are very important, that they have to respect and believe in themselves. I had no expectations of this career at all. I thought my life would be marriage and children.
People from working-class backgrounds have never really believed that they can reach positions like this and tend to think that you have to be a certain way or very educated. No! I might be the first south Asian Muslim woman to be the lord mayor of Manchester, but I'm definitely not the last.
What is your average day like?
Some days I'll start at 8am and I won't get home until midnight. I could be meeting young people at a school assembly, then I might give a talk to an organisation that is empowering women. I also attend awards ceremonies regularly and events on climate and sustainability.
I also meet international delegations. We've had young people from China come over to study and girls with scholarships from South Asia. I chair council meetings on various issues and things that are happening in the city. For instance, Remembrance Sunday is coming up soon. Every day is different in Manchester. More than 200 languages are spoken here and diversity is the strength of this great city.
What has been the highlight of your role so far?
One instance that really humbled me was when I attended the 2023 Para Swimming World Championships, where I met the sportsmen and women. I just thought: "Look at their determination." They were at the top of their game, just another level. I came back thinking: "Right, I'm going to make sure everyone believes in themselves and that they can get out there and do something."
The role of lord mayor is apolitical and ceremonial. Why is it still important?
As lord mayor, you are the first citizen of the city. You're the first representative. It's a very privileged role. You meet national and international dignitaries, go to events, open schools and hospitals, and you meet people from all backgrounds. It's about giving back to the community and supporting people in need.
This year, a number of Muslims have taken prominent mayoral positions, including Yakub Patel in Preston, Tafheen Sharif in Tameside, and Lubna Arshad in Oxford. What should the rest of us do to encourage more diversity in local politics?
On our council at the moment, we've got nobody from the Sikh or Hindu faiths. I proudly represent everybody and anybody in the city, but it would be nice to have a voice from all communities. It's important that there are role models reflecting us all.
If you live in this country, work in this country, raise your children in this country, I think an interest in politics needs to be taken. That has been my message all along. Telling your story should be about making sure that others feel inspired, so they say: "Well, if Yasmine Dar can do it, so can we." We all have a part to play, so just get involved. You can do that in many ways, including voluntary and community work.
Topics
Selected stories
Is the Gaza truce a turning point in the Israel-Hamas war? Our panel discuss this and other topical issues. Plus, a look at the Muslim renters dealing with London's housing crisis

The filmmaker on her life, work and why telling women's stories is more important than ever

From Ramadan dates to Christmas pudding, food can encapsulate specific times of year and remind us of the circular rhythms of life