Gymshark's collaboration with hijabi athletes is breaking down fitness barriers
Working with Muslim influencers, the activewear brand is taking big strides towards inclusivity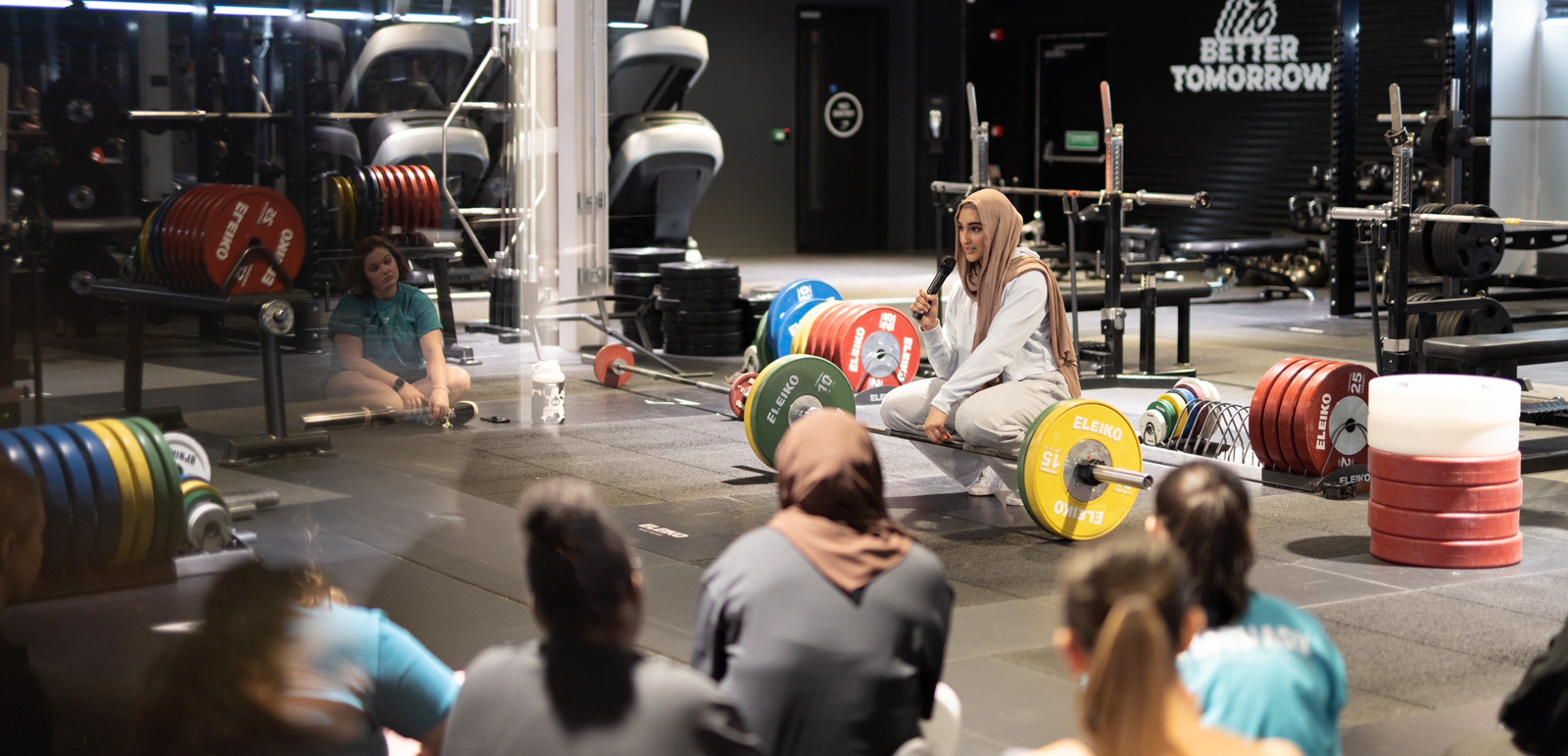 When fitness influencer Umaymah Makda received an email from Gymshark in 2021, saying that the company was interested in working with her, she thought it was a scam. After all, she wasn't accustomed to seeing visibly Muslim women on the social media accounts of activewear brands. Two years later, she has been flown from her home in Leeds to California for photoshoots, featured regularly on Gymshark's Instagram page, been given product feedback and helped launch the firm's first-ever sports hijab.
Makda's Instagram account @maymah.lifts, on which the 24-year-old regularly posts training routines and debunks myths about Muslim women and fitness, including the idea that they are not allowed to work out at public gyms, has more than 140,000 followers. What started as a way to encourage Muslim women to work out quickly attracted the attention of Instagram users and sportswear brands and, in 2021, she became Gymshark's first hijabi athlete — the term it uses for its top-tier brand partners.
"I just love breaking stereotypes," Makda says of her success. "You know how people say, 'Don't run like a girl' or 'Women are just weak in general'? That's not true. If you put your head down and work hard in the gym and you eat good food, you can become just as strong as a man."

Makda had no idea she would end up representing one of the world's leading sportswear brands when she started going to the gym. In 2019, she was simply looking for a hobby that would improve her physical and mental health. The aim of her social media activity was simply to document her progress. While Instagram hosted an abundance of fitness influencers and gym-related content that she used to plan workouts, none of the content creators she encountered were hijabi. As a result, she couldn't even find advice on functional and modest clothing to train in.

A few months into her fitness journey, Makda's videos began to pick up thousands of views, landing her squarely on Gymshark's radar. "It was such a nice moment to be recognised and to have this opportunity as someone who doesn't really fit into the conventional fitness space," she says.
Today, Makda is part of a growing community of prominent hijabi influencers producing high-quality fitness and health content for an audience that has often been ignored by mainstream creators. A recent addition to that group is US-based Leana Deeb, who has more than 18 million followers across multiple social media channels. Deeb, who started dressing conservatively and covering her hair at the start of 2023, is also one of Gymshark's biggest stars and recently featured in a large mural in Shoreditch, east London. The artwork, which incorporated both paint and hijab fabric, was part of Gymshark's "Every Strong Belongs" campaign, designed to promote inclusivity among fitness enthusiasts.
Gymshark, which works with hundreds of fitness influencers whose posts reach more than 8 million people, is one of the first major sports brands to work with Muslim women who wear hijabs. While many may pay lip service to modest fashion, Gymshark's partnering with Makda and Deeb suggests an honest attempt to engage with visibly Muslim women.
In August, the brand launched its own athletic hijab with a party at its flagship Oxford Street store. While Gymshark doesn't have a dedicated section for Muslim athletes, Madka notes that the company will reach out to her and other Muslims for their views on products with modestwear potential.
"Over the past few years, they've been asking me for feedback on certain pieces that are being made for modest women," she says. "They've also done research to find out what they can do to make items more hijabi-friendly. They're really accepting and open to learning."

Gymshark has also worked with Deeb on a clothing collaboration. The line comprises sportswear staples such as sweatpants and sweatshirts stamped with the brand's name in Arabic. It also features the quote "Discomfort is where growth occurs," inspired by Deeb's own reconnection with her faith.

Calum Watson, global partnerships director at Gymshark, explains that the brand wanted to work with Deeb because she "lives and breathes everything we believe at Gymshark. We wanted to do something to not only celebrate Leana, but also her audience and everything she stands for."

For Madka, Gymshark's inclusion of hijabi athletes in a large-scale advertising campaign is to be welcomed. "It shows people from different backgrounds and sends the message that we all belong in the fitness industry," she says.
Now Madka plans to launch a podcast to provide the fitness inspiration she wishes had been available to her when she first began to hit the gym. "I feel like with Muslim women, there's not really a space for them to come together to talk about their fitness issues or their self-confidence," she says. "I just want to be there for them to give my advice and to have a safe space for discussion. I think that will be really helpful."
Topics
Selected stories
Religious leaders from Spain, Germany and Sweden speak about events in the Middle East and the consequences for their communities

Is the Gaza truce a turning point in the Israel-Hamas war? Our panel discuss this and other topical issues. Plus, a look at the Muslim renters dealing with London's housing crisis

The filmmaker on her life, work and why telling women's stories is more important than ever