The UK's Libyan community rallies to send aid to flood-ravaged Derna
Across the country, charities are raising funds and shipping much-needed supplies to people in need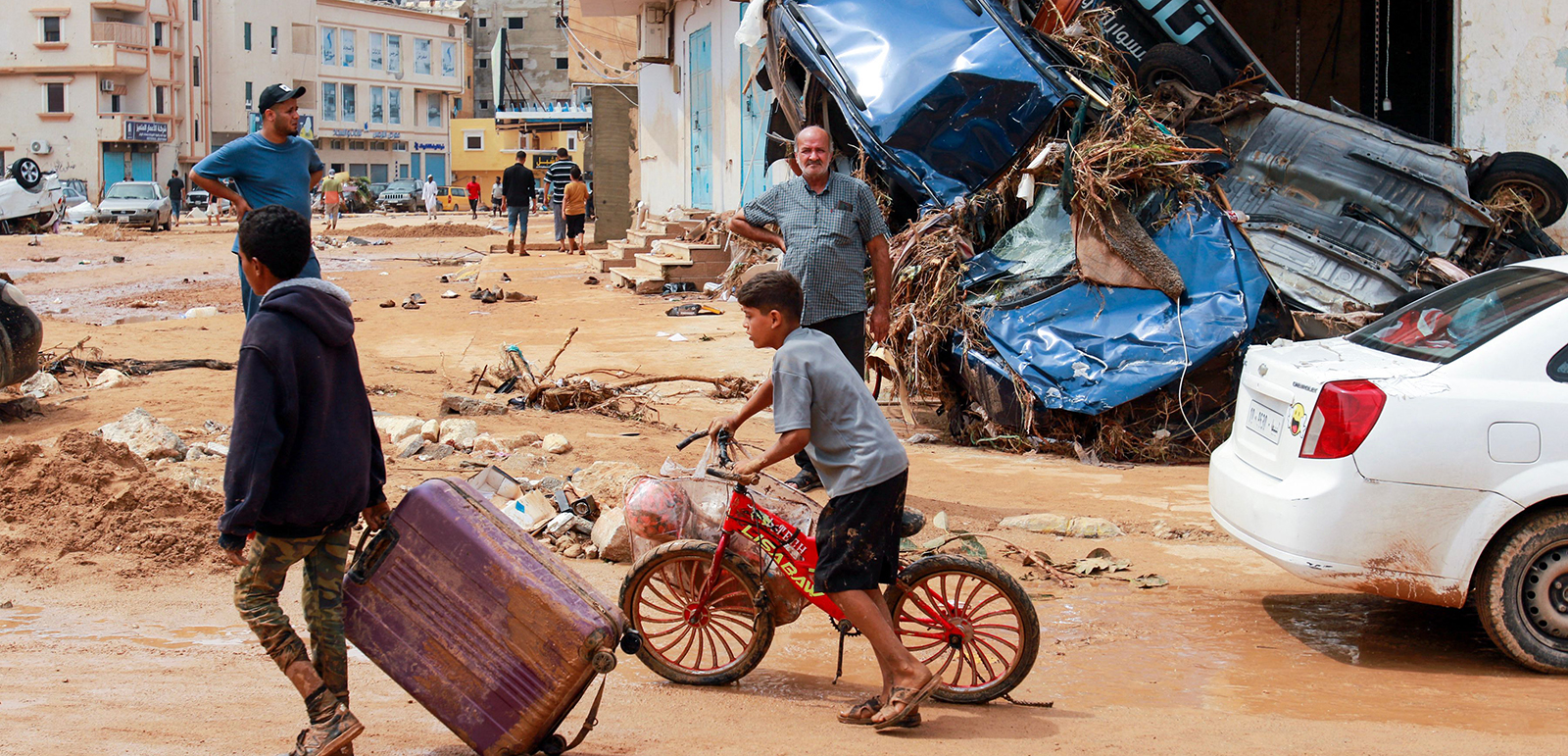 On Sunday 10 September Storm Daniel hit north-eastern Libya, bringing with it record rainfall and heavy flooding. The torrential downpour caused two dams to burst in the port of Derna, sending tsunami-like waves through the city, sweeping away homes and businesses and destroying entire neighbourhoods.
More than 11,000 people are believed to have lost their lives and many more have been injured. The death toll is expected to rise as an estimated 10,000 more people are still reported missing, according to the Libyan Red Crescent. The eastern cities of Benghazi, Susa and Al-Marj have also been seriously affected.
Nations including Qatar, Italy and the UK have sent aid and rescue workers to Libya. UK charity Wafa Relief, run by members of the Libyan community and dedicated to providing aid to Africa, is also raising funds and sending aid to people in need. Based in Manchester — home to the largest population of Libyans in the UK, with an estimated 10,000 people — the organisation has raised almost £28,000 so far.
Wafa Relief has already sent up to eight lorries full of aid — including food, blankets, water and clothing — to Derna and other affected areas, and has partnered with local organisations to distribute the aid. The charity has also set up a physical collection point at Didsbury Mosque in Manchester, where people can drop off much-needed supplies.
But, according to Wafa Relief volunteer Mohammed Sultan Tajouri, the people of north-eastern Libya still need much more than a modestly sized charity can collect.
"Right now, they need professional help, search parties and professional equipment from the international community," he said in a recent telephone conversation. "Libya does not have the funds or the capabilities to tackle such a catastrophic problem. The videos we're seeing on social media show only a fraction of the damage. The landscape has literally disappeared. What was once Derna isn't there anymore. It's sad, a city that once smelt of jasmine smells of death now."
While members of Manchester's Libyan diaspora, friends and neighbours have all sprung into action, Tajouri described the mood within his community as one of "mourning and complete depression". The 25-year-old, whose father is from Derna, has lost 12 family members in the floods.
"The only blessing that has come from this tragedy is that we feel a crazy amount of unity coming from the community as a whole," he said. "We've had international donations come through online and the wider community have dropped off huge bags of clothing, blankets, food and other items at our collection point."
Libyan community groups up and down the country are undertaking similar efforts to bring relief to the thousands of people affected by the disaster. In collaboration with the Libyan Red Crescent, the London-based organisation Libya in the UK has already raised more than £129,000. The funds will be used to purchase and transport food, emergency shelter and other necessities to those in need.
Other charities that have launched emergency appeals include:
Topics
Selected stories
A new genre of writing is slowly establishing itself and painting a broader picture of what love can look like

The fashion influencer on faith, modesty and claiming a space for Black Muslim women

This week our panel assess what the Liberal Democrats offer Muslims and discuss the ongoing debate about definitions of Islamophobia. Plus, travel blogger Yara Abdelsamie on travelling solo and the best European destinations for Muslim women