Two years on, the Afghan resettlement has stark lessons to teach the UK about asylum
In 2021, the Taliban regained control of the country, forcing thousands to flee. Now, refugees are left living in squalid accommodation and facing a precarious future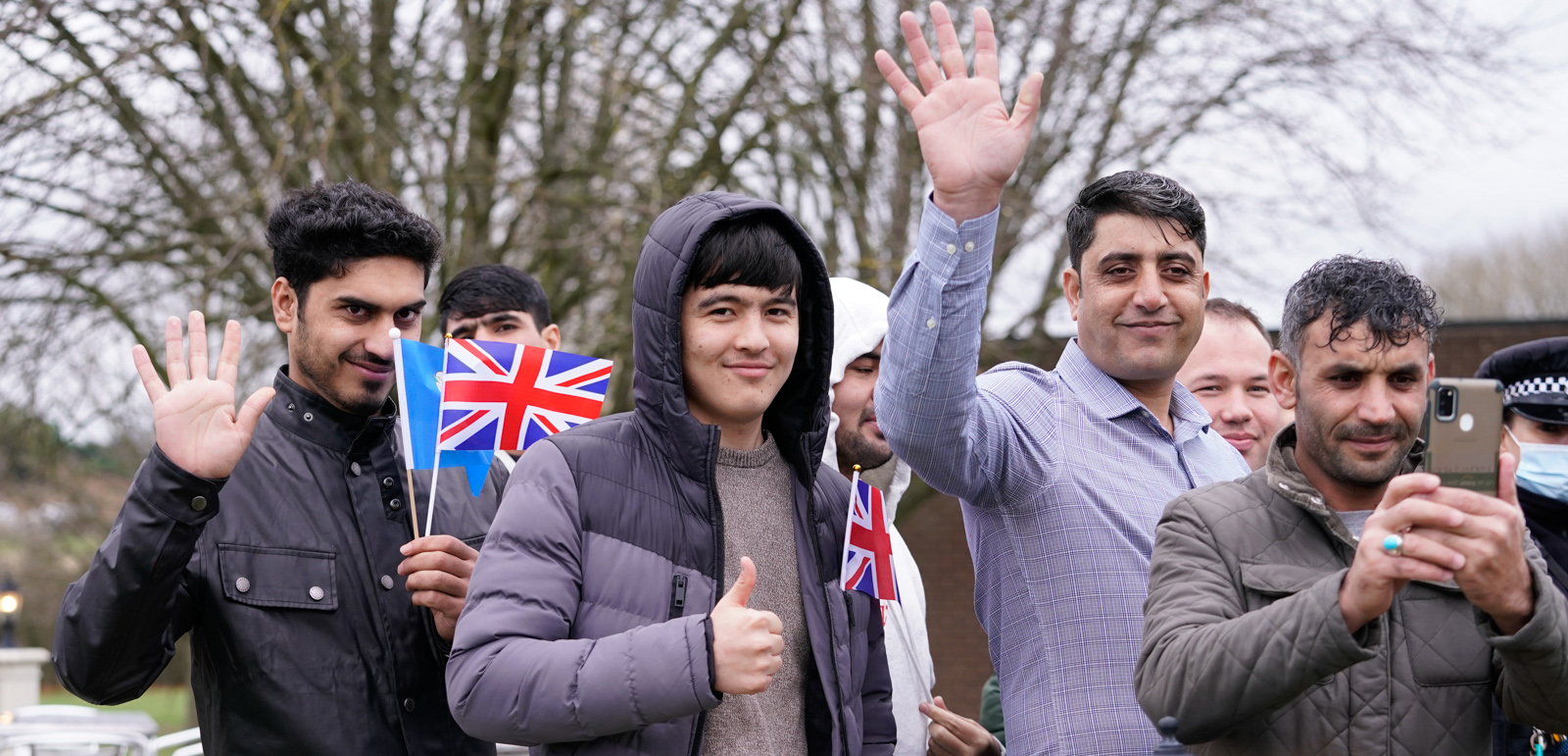 The speed at which the Taliban regained control of Kabul in August 2021 took the UK and US governments by surprise, bringing a humiliating conclusion of ignominious retreat to two decades of military operations in Afghanistan.
But as western forces evacuated the troops and personnel who staffed their bureaus and embassies, Afghans hoping to leave the country — many of whom had worked with US and UK forces – were forced into a desperate scramble at Kabul airport, hoping to be allowed on to evacuation flights. Some felt such anguish and helplessness that they attempted to cling on to aircraft taxiing to the runway.

A total of 15,000 Afghans made it to the UK, but many more were unable to escape. Government ministers and military leaders emphasised the debt of honour that the nation owed to those who had often taken great personal risks to work with British troops. 
Operation Warm Welcome was intended to signal a commitment to Afghan resettlement and has since been used by government ministers facing criticism over increasingly harsh rhetoric and policy regarding asylum seekers as proof that the UK remains a welcoming sanctuary to people fleeing persecution.
"We will never forget the brave sacrifice made by Afghans who chose to work with us, at great risk to themselves," said former prime minister Boris Johnson upon the launch of the scheme. "We owe them, and their families, a huge debt."
But the reality has been much more of a lottery for Afghans. While some refugee families have been able to find permanent accommodation, thousands have remained in cramped and poorly resourced temporary lodgings. With the recent announcement of plans to move asylum seekers out of hotels, most now face eviction and uncertainty.
It is telling that the government has done little to acknowledge the second anniversary of the withdrawal from Afghanistan. Neither the Foreign Office nor the Department for Levelling Up, the body responsible for leading Afghan resettlement in the UK, recognised the date at all. In fact, the main political commentary came from Johnson, once again. In his weekly Daily Mail column, the former prime minister wrote that he wanted to strap Taliban members to chairs and force them to watch the England women's football team compete in the World Cup final until they changed their collective attitude to gender equality.
Instead, it was left to civil society organisations such as the non-partisan thinktank More in Common and charities including the Refugee Council to ask the important questions about the future of Operation Warm Welcome and to highlight the situation of Afghans who did manage to escape Kabul, only to find themselves in a state of destitution and squalor in the aftermath.

More broadly, such groups have raised concerns about the fate of refugees arriving on UK shores at a time when the nation's government is taking an increasingly hardline approach to people who have done so through unofficial channels. They emphasise that many of the arrivals are Afghans, some of whom were eligible for the official scheme but could not get out in time.
The most recent data suggests that the government's official resettlement scheme brought only 93 people to Britain between March 2022 and March 2023. Meanwhile, of the 8,500 Afghans who crossed the Channel in that time, one in five arrived on small boats. Those statistics clearly demonstrate the link between dangerous crossings and the absence of safe routes to claim asylum. Six Afghans have died in the Channel this month alone.
Compare that with the government's response to refugees fleeing Ukraine and Hong Kong. For the former, ministers granted new types of visas that offered temporary refugee status, including the right to seek employment and access to public services. The government also came up with a range of creative ways to welcome people fleeing the Russian invasion, including encouraging British people with spare bedrooms to open up their homes. While an identical scheme would not have met the needs of Afghan families, there were missed opportunities to unlock the desire and will of many people to help them resettle.

The approach to resettlement for Ukrainian refugees offers a commonsense insight to how to get policy right. At its most fundamental level, it shows that the right to participate in civil society is essential for new arrivals, in particular the right to access — and eventually support through taxation — vital public institutions such as schools and hospitals. While launched with good intentions, Operation Warm Welcome seems to show that Afghan refugees, often with similar circumstances to their Ukrainian counterparts, have very different prospects.

For those Afghans who are part of the official resettlement scheme, the failure has not been about their status but about the practical realities of resettlement, especially secure, permanent accommodation. At the most basic level, help should have been provided to Afghans with experience in interpreting to utilise their skills to help teach English to other new arrivals. After all, the ability to communicate lays the foundation to participation in British life.
As a nation, the lessons needed to fulfil our humanitarian duties and provide a safe and welcoming environment for people in need are starkly apparent. However, it may take a significant shift in political attitudes to the broader issue of migration for them to be learnt.
Topics
Selected stories
A new genre of writing is slowly establishing itself and painting a broader picture of what love can look like

The fashion influencer on faith, modesty and claiming a space for Black Muslim women

This week our panel assess what the Liberal Democrats offer Muslims and discuss the ongoing debate about definitions of Islamophobia. Plus, travel blogger Yara Abdelsamie on travelling solo and the best European destinations for Muslim women