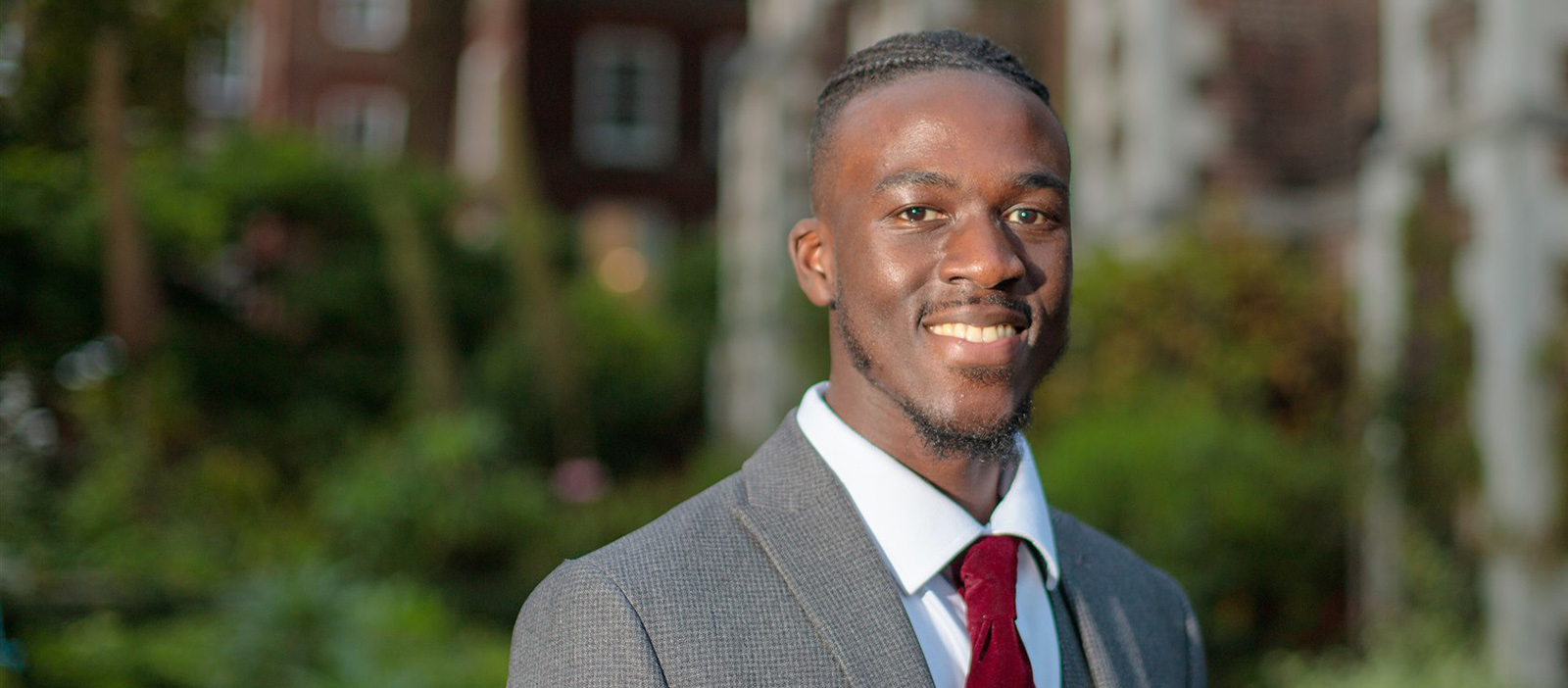 Mass Ndow-Njie Q&A: 'You don't need to talk with a specific accent or have a wealthy family to be a barrister'
Mass Ndow-Njie founded Bridging the Bar, an organisation dedicated to improving representation in the legal industry, in 2019. Photograph courtesy of Mass Ndow-Njie/SimpleSam
The lawyer and charity founder on his mission to diversify the legal profession
Mass Ndow-Njie is a barrister at 7BR Chambers and junior counsel on the independent public inquiry to examine the UK's response to the Covid-19 pandemic, led by Baroness Hallett. In 2022, he was listed as one of the Hot 100 Lawyers in the UK. 
After being called to the bar in 2019, he set up Bridging the Bar, an organisation dedicated to making the legal profession representative of society by supporting aspiring barristers at the start of their legal careers.
What first attracted you to a career in law?
I've got an older sister who was in the sixth form when I started year seven at the same school. She was studying for a law A-level and used to bring back her homework. I would look at the questions and was really interested in how to come to an answer. I'd get absolutely everything wrong, but I always gave it a go.
A few years later, when I was studying A-level law, my sixth form entered the National Bar mock trial competition for the first time. Schools would go against each other in a case and would each take one side, prosecution or defence.
I was selected to be one of my school's barristers and I really enjoyed it. It was in the real courts with a row of judges who were presiding over the process. I remember thinking, "That was fun. It doesn't seem like a job. That's something I can do."
What challenges did you face?
Speaking to teachers and doing my own research, everything at the time suggested that if I wanted to be a barrister, I really needed to go to Oxford or Cambridge University. I applied but was rejected. Then a teacher of mine worked away in the background to help me get an offer from Queen Mary, University of London.
I still thought I wouldn't become a barrister, so I tried out a little bit of everything while I was studying law at university. I worked as a football coach, did an internship at the accountancy firm Grant Thornton, won some funding from Queen Mary to trial a business and took some courses on financial trading.
A year after graduating with a 2:1, I was working on a trading floor and then I got an email from my old teacher asking whether I was practising as a barrister. I explained that I wasn't and he suggested applying for pupillage at the government legal department, because another former student of his had done so.
What happened then?
I applied and got an offer from the government legal department when I was on holiday, at home in the Gambia. It was a big family trip. Twenty of us had gone, so it was a good opportunity to speak to all of my family. Having those conversations was really helpful and everyone was really supportive of me. My heart really wanted to give it a go and I accepted. It changed my life.
How did you come to set up Bridging the Bar?
After I was called to the bar, I took this photograph and captioned it "You don't have to have gone to Oxbridge. You don't have to have a first-class degree. You don't have to look a certain way or be a certain colour. You don't have to talk with a specific accent or have a wealthy family to be a barrister." I posted it on social media and before I knew it, it was being reposted everywhere and had thousands of likes. I ended up doing a lot of public speaking, being invited to speak at universities or institutions around England about diversifying the legal profession. I came into contact with Professor Jo Delahunty KC, who was keen to help make something happen to address those issues. The idea to set up Bridging the Bar came from that.
What are the diversity issues within the legal profession and have you ever felt pressure to change to fit in?
From the beginning we've been looking at the data. There are lots of reports every year about who gets pupillages and who is underrepresented in the profession. The year I was in pupilage, the Bar Standards Board report said there were just 13 black pupil barristers across England and Wales.
For my first advocacy class at law school, my feedback was that I speak too colloquially. Now, obviously, where I grew up I don't say hello to my friends, I say "Yo!" I probably brought a bit too much of that. I went to a state school. I didn't come from a wealthy background. My mum was working for the NHS and my dad worked a number of driving jobs when I was growing up.
What is your approach to diversifying the bar?
We decided to help people from underrepresented groups to get the skills and experience to be successful in their applications for pupillage. We started with 30 chambers running a mini-pupillage work experience scheme. That's now expanded to 70 chambers and the scheme includes mentoring and internships. One of our most significant achievements was to secure a paid internship programme with the UK supreme court. Overall, people who complete our programmes are two to three times more likely to get a pupillage than the average bar applicant.
Topics
Selected stories
A new genre of writing is slowly establishing itself and painting a broader picture of what love can look like

The fashion influencer on faith, modesty and claiming a space for Black Muslim women

This week our panel assess what the Liberal Democrats offer Muslims and discuss the ongoing debate about definitions of Islamophobia. Plus, travel blogger Yara Abdelsamie on travelling solo and the best European destinations for Muslim women