'18 months of burn-out': why junior doctors are leaving the NHS
For many Muslim families, medicine has been viewed as the pinnacle of professions, but underfunding, dwindling wages and overwork are driving record numbers away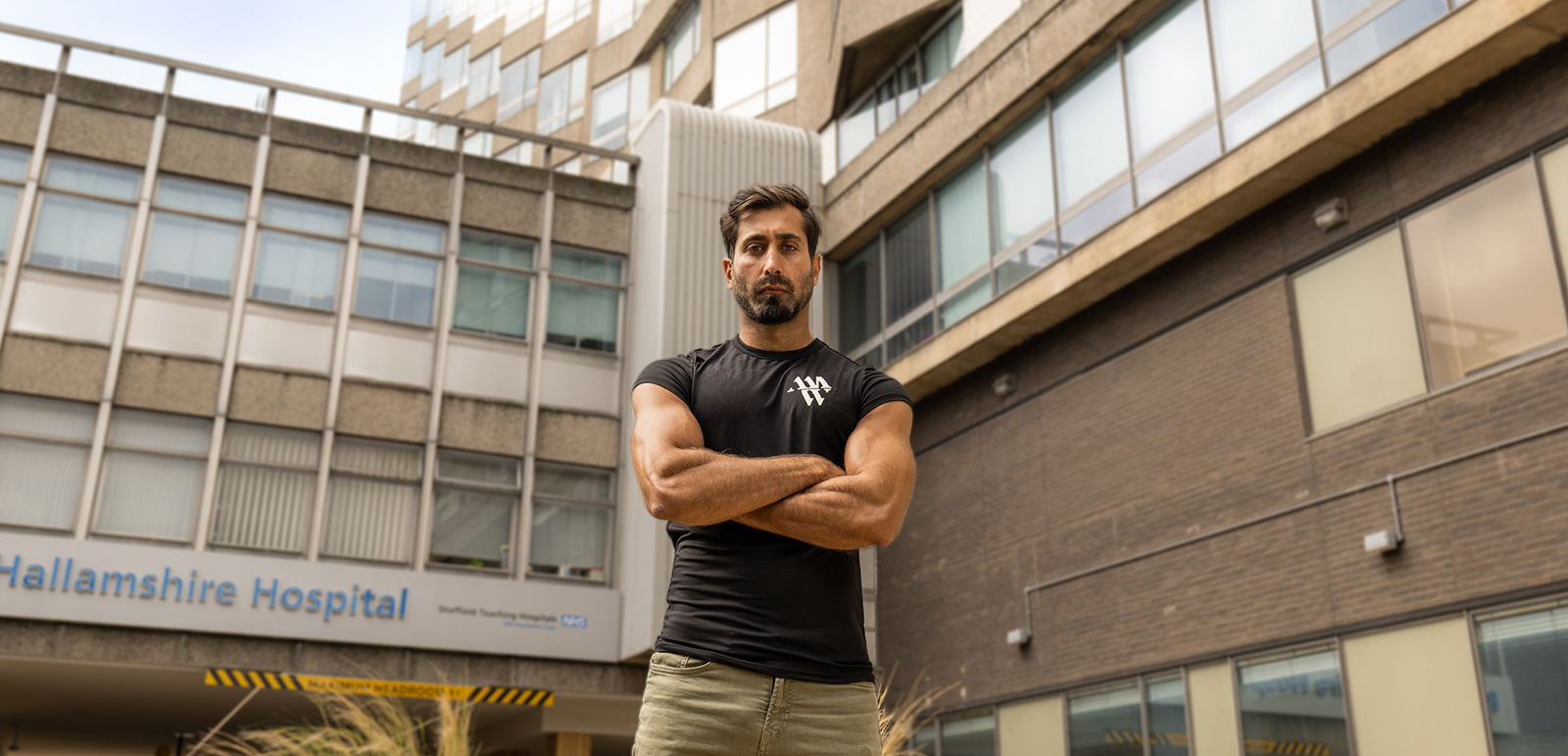 Asif Munaf was in a multifaith prayer room, eagerly looking at his phone as he awaited news on whether he had qualified to be a doctor. Half a decade of work as a student hinged on that one tense moment at the teaching hospital Hull Royal Infirmary in November 2021.
"I'd be praying all morning and waiting for the email," he says. The message eventually arrived, delivering the good news. Relief. He could finally call himself a doctor. After announcing the news to a nearby pastor, he rushed out of the hospital to call his mother.
"We both burst into tears," Munaf, now 35, recounts on a video call from his home in Sheffield. "We both knew what it meant."
According to Munaf, becoming a doctor is "life-changing". "My initials change, driving licence and bank statements get changed and I'm now responsible for people," he says.
Within months, however, he was confronted with the reality of life as a junior doctor in the UK's National Health Service: long hours, struggles to book leave, working weekends, sometimes while fasting and on Eid.
Then came the pandemic, an event that former shadow health secretary Jonathan Ashworth described as the "greatest public health crisis for a century", which pushed the NHS to breaking point. The volume of patient admissions increased, protective equipment for doctors was scarce and all staff faced the ever-present danger of contracting Covid-19. Eventually, Munaf decided that he'd had enough and left the profession.
"It was 18 months of being burnt out, but not being remunerated as we should be," he says.
Munaf is just one example from an exodus of NHS doctors over the past two years. Between April 2021 and April 2022, the number of practitioners leaving the service reached a record-breaking 20,000. Many cite years of austerity that have slashed budgets and a cost-of-living crisis which eroded the value of staff salaries.
In the same period, an additional 170,000 staff members across the NHS in England quit — up 20,000 from 2020-21. Like Munaf, many complained of arduous work hours and back-to-back shifts resulting from staff shortages as reasons for their decision. The British Medical Association (BMA) found that 40% of junior doctors surveyed said they would leave the NHS should they receive another job offer. Of them, 83% cited pay erosion.
In January, shadow health secretary Wes Streeting warned that the "NHS doesn't have enough doctors as it is" and "simply cannot afford to lose more". But, as it celebrates its 75th anniversary, the institution's woes have been exacerbated by a series of strikes across its workforce, from nurses to consultants.
In February, the BMA balloted its junior doctors, who, like ambulance workers, nurses and midwives, voted overwhelmingly in favour of strike action. According to NHS figures, some 27,000 doctors walked out at the peak of the industrial action. The BMA seeks a 35% pay rise, calling it "pay restoration" to align junior doctors' salaries with 2008-09 levels. As the likelihood of a pay deal decreases, the BMA is seeking an extension of its mandate to continue strike action.
As with other strikes, the government has resisted. Health secretary Steve Barclay described the demands as "unreasonable in the current economic context". The public, however, appears to have sympathy for healthcare staff. Two-thirds of Britons polled by Ipsos between January and June said they supported striking workers across the NHS.
Munaf supports the strikes, but now works at the accounting firm Ernst & Young. He has always been entrepreneurial, once appearing on the BBC's Dragon's Den, and moonlights as a life coach for young professionals dissatisfied with their careers. More doctors than ever are inquiring about his services, he says, adding that doctors are "realising we have a skillset that is transferable and the online marketspace has made that more accessible".
According to Munaf, too many people enter medicine for the wrong reasons. In one of his most widely viewed TikTok clips he addressed the way young Asian men often become conduits for parental ambition. "It's considered the apex of careers and parents shoehorn you into medicine even if you have no interest," he says.
Shaimaa Osman is also a former doctor. Both her parents and a large number of her uncles and aunts work in the medical profession. Following in those footsteps came naturally at first, and she started her career at North Devon District Hospital just before the onset of the pandemic.
As part of the rotation system used to broaden the medical experience of junior doctors, she took on an acute medicine role. It's one of the more intense jobs at a hospital, forming the second line after A&E doctors, dealing with everything from blood clots to heart attacks. She spent eight months in the position — double the usual time due to pandemic measures — often doing 12-hour on-call shifts.
"I don't feel like medical school prepares you for that moment, when you are the doctor looking after 30-40 patients at three in the morning," she says in a video call from her home in London. "At the end of it you're just a group of tired, overworked, underpaid medics."
Though Osman enjoyed her training more than she expected, it was clear to her from the start that the job wasn't for her. "It's not a very creative space and that was huge for me," she says. "And it's demanding. Doctors don't really have time to do much else."
She answered that creative call by resigning from her position at Derriford Hospital in December 2022 and transitioning into UX design. She also runs an online store called Salaam Sanctuary, where she sells her own calligraphic art.
Though Osman no longer works as a doctor, she hopes to find a way to combine her medical experience with technology. "I'm really interested in digital health because many former doctors have realised they can use their experience to help lots more people," she says. "It's kind of all come full circle."
Osman also believes the prestige accorded to the medical profession by first-generation immigrant communities means that people are funnelled into careers that do not meet their expectations or make the most of their talents. She says the challenges now facing the NHS will only make the job less attractive.
"Doctors really need better hours and pay, but it also needs to be a more adaptable and innovative space," she says, adding that many of her family members still in the medical profession have moved abroad for work.
Yusef Smith quit his job around the same time as Munaf, in the winter of 2021. He published a widely shared Twitter thread that detailed the trials of working in today's NHS.
"Recruit enough driven, intelligent people and they will heroically hold together an underfunded, duct-taped system," he posted. Sharing his experience of the demands placed on its doctors, he added: "Beeping alarms, interruptions and sleep deprivation are not conducive to clear thinking or clinical decision-making".
Since quitting the NHS he has dedicated a lot more of his time to his popular YouTube channel Propane Fitness, giving fitness tips, business advice and a video diary chronicling the journey through his new career as a marketing consultant for personal trainers.
Doctors are people whose identities are usually deeply enmeshed with their work, he explained to me in a recent email, and are usually driven by a sense of vocation.
"The same level of time, academic performance and energy applied in almost any other sector would produce a better return on investment," he said.
"Most doctors will agree it feels more like a mission than a choice of job.
"When you see them leaving the NHS, that is a powerful signal. It's a push, not a pull."
Topics
Selected stories
A new genre of writing is slowly establishing itself and painting a broader picture of what love can look like

The fashion influencer on faith, modesty and claiming a space for Black Muslim women

This week our panel assess what the Liberal Democrats offer Muslims and discuss the ongoing debate about definitions of Islamophobia. Plus, travel blogger Yara Abdelsamie on travelling solo and the best European destinations for Muslim women