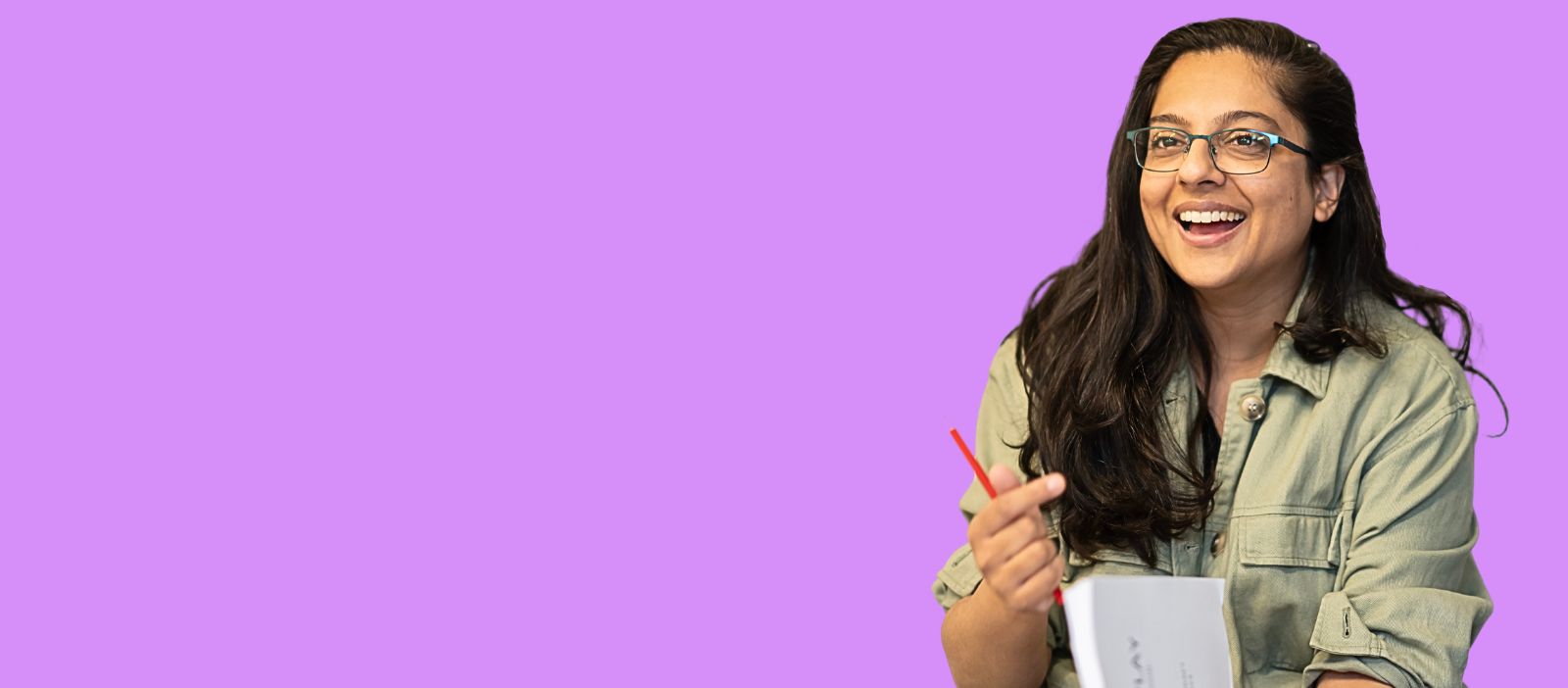 Rabiah Hussain Q&A: 'I wanted to look at the emotional impact of language'
Playwright Rabiah Hussain's work digs into the hierarchies of language. Photo by Johan Persson, courtesy of the Royal Court Theatre
The writer talks about her new Royal Court play, and how growing up with British bhangra and qawwali influenced her work
Rabiah Hussain is a second-generation British-Pakistani playwright who grew up in Newham, east London. Her latest work, Word-Play, premiered at the Royal Court Theatre in London in July and runs until 26 August.
Word-Play, which explores the far-reaching effects of the language politicians use, was commissioned for the stage after initially being developed through the Kudos TV and Royal Court Theatre Fellowship scheme for emerging writers in 2019. Her well-received debut full-length play, Spun, premiered at Arcola Theatre, east London, in 2018. Hussain has also worked in the writers' room for Riz Ahmed's BBC2 drama Englistan.
In 2021, Hussain was diagnosed with a brain tumour. Following a removal operation, she developed the language disorder aphasia. Here, she talks about her journey into theatre, the complex themes behind her work and how the condition helped her to find her voice.
This interview has been edited for length and clarity.
What made you want to become a playwright?
I didn't grow up with theatre, but I've always been interested in writing and I really enjoyed studying literature at university. Once you start in the world of work, you realise what your passion is when you're away from it. I just thought one day, let me look at writing courses, and I happened to come upon theatre. I think my love developed out of that.
What has been the breakthrough moment of your career?
It was actually my play, Spun, at the Arcola Theatre in 2018, that really kicked things off. It's a story about two British-Pakistani Muslim girls from east London, and how once they leave university they veer into different paths and detach from one another, but also how the wider world of politics and class affects their friendship.
Before Spun, I had done loads of short plays, monologues and various bits. It was a real turning point when I received quite an interest from the theatre, TV and film industry where I was like, I can hopefully do this full time.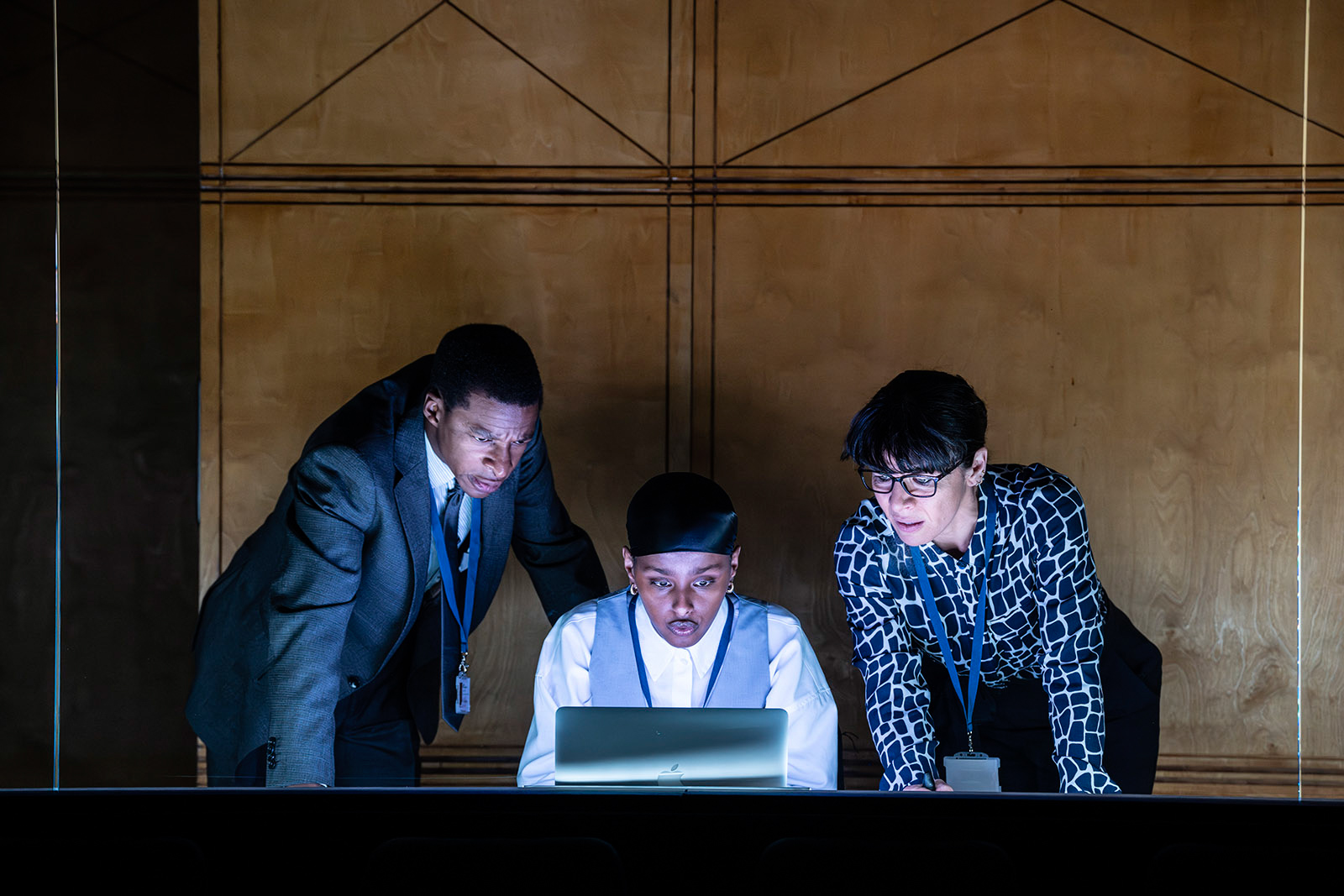 Tell us about your new stage show Word-Play.
Word-Play is a series of vignettes and it kicks off with a Downing Street press office scene at Number 10. It looks at how the press office is dealing with a gaffe that the prime minister has made. Off the back of that, it looks at the ripple effects of language from years ago that still has an impact today. So we're not just in that particular moment.
The play veers off into various places in society. It's not just a straightforward drama. There's comedy, there's satire, there are absurd scenes as well. It digs into the hierarchies of language. By the end, you look at how language and citizenship are tied together by politicians and the people around us to determine how British you are. That is worrying because it can automatically turn certain groups of people into second-class citizens.
What inspired you to write a play on politics and language?
Before theatre, I worked in the communications department in central government for a little while and I saw the chaos of that world. There was something really interesting about how when something happens in politics, it will be picked up so quickly by news outlets or social media.
I wanted to look at the emotional impact of language and how that affects all of us, how we talk about it and how we feel it in loads of different ways. I try to dig deep into that as language isn't one static thing. It shifts and changes and can be pulled apart as it travels through history.
You have previously spoken about how being diagnosed with a brain tumour made you view language differently.
I was in the middle of writing this play in 2021 when I found out I had a brain tumour. Before I had the operation I was asked to sign a document. What stuck out for me was that there was a risk of death but also that I could have lost my language skills.
That's when I stopped because it was really scary for me as I'm a writer and everything I've been working towards that led to these particular moments such as having an agent, working for the Royal Court, got me thinking, 'What am I without my words?' That was really, really scary.
Did it affect your creative writing process when developing Word-Play?
After the operation, I also had a stroke. That's really when my language was affected. I could see words on a page but it looked more like reading a foreign language sometimes. There was the fear that I wouldn't be able to write again but thankfully I have only mild aphasia now.
What it has done is give me a lot of confidence in my voice, because I always say that as a writer your style and voice of writing is a combination of so many things about you. The fact that I'm British-Pakistani, I can speak Urdu, Mirpuri and Punjabi. I grew up in east London, listening to British bhangra and qawwali. All these things play a hand to my natural style of writing.
The arts can be quite elitist, as the writing style has to be a certain way. I've been told several times, "You're not supposed to write like this", but with Word-Play I've been able to open my style of writing that comes from my experiences and background and I'm totally fine with not everyone understanding it.
What can the theatre industry do to create an inclusive space for Muslims?
The onus is on the industry to open up doors as it's so hard to get into. Even if you do manage to get in, there's always an expectation to write certain stories. Can you imagine how many voices we lose this way?
There's a multitude of stories in the Muslim communities, and they are so vast and so beautiful and there's so much depth in them. The responsibility sits with the people on top to find the talent out there and allow people to write the stories that they want to. I hope that's a place we can arrive at at some point.
Topics
Selected stories
A new genre of writing is slowly establishing itself and painting a broader picture of what love can look like

The fashion influencer on faith, modesty and claiming a space for Black Muslim women

This week our panel assess what the Liberal Democrats offer Muslims and discuss the ongoing debate about definitions of Islamophobia. Plus, travel blogger Yara Abdelsamie on travelling solo and the best European destinations for Muslim women