The ancient art of calligraphy gets a modern update
A new exhibition in London shows how this centuries-old technique can help us understand some of the most important issues of today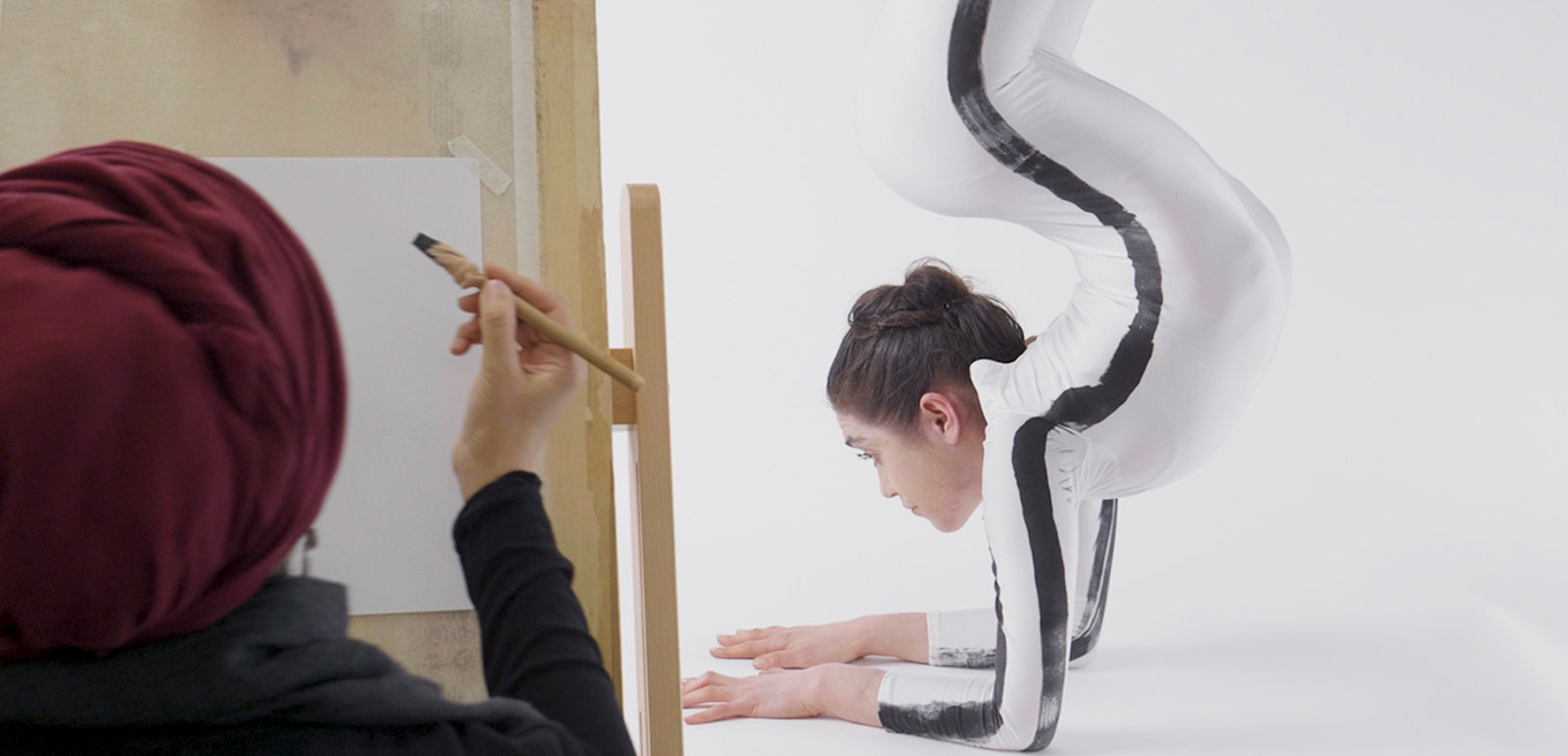 It's late May when I visit calligraphy artist Soraya Syed at her studio in the outskirts of west London. Syed, 47, is busy preparing for her forthcoming major exhibition, named Sound and Silence. For the past few weeks she has been putting the final touches to the show's centrepiece — a large, white sculpture measuring more than 1 metre tall that sits in one corner of the space. On closer inspection, I notice that she has it balanced on a cake spinner. "It's to make it easier for me to write on a curved surface. A lot of the time I'm having to go upside down and on my sides," she said.
Sound and Silence opens to the public on 22 June as part of London's biennial Shubbak Festival, which is expected to attract more than 30,000 visitors. The exhibition will also feature a monolith over 2 metres tall, as well as a series of Syed's calligraphy paintings. Visitors will be able to design calligraphy shapes of their own using an interactive installation with magnetic ink.
Now in its seventh edition, this year's Shubbak Festival will run until Sunday 9 July, with more than 80 free and paid-for events celebrating contemporary Arab arts and culture, including poetry and theatre. Performances this year will shed light on a number of important issues including mental health and the climate crisis.
Sound and Silence has largely been funded by Arts Council England, and is being displayed at Notting Hill's Coronet Theatre. The exhibition aims to explore the geometry of the Arabic alphabet and its connection to the human body. The sculpture, made from the same white marble used for Michelangelo's Pietà, has been inscribed with a calligraphic message based on the teachings of the 19th-century Moroccan Sufi scholar Muhammad Ibn al-Habib. Syed was also inspired by her 16-year-old daughter: "She used to be an amateur contortionist, and when I would watch her move I couldn't help but see calligraphic forms."
The art of calligraphy is having something of a cultural renaissance this year. In January, Manchester United FC released a new range of calligraphy-inspired apparel in partnership with Adidas, including T-shirts, a hoodie and tracksuit bottoms. Meanwhile, Princess Rajwa of Jordan wore a diamond tiara inscribed with Arabic calligraphy at her wedding to the country's Crown Prince earlier this month. "I think social media has helped quite a bit. Although calligraphy is still quite niche, now you even have celebrity calligraphers online," Syed said.
Syed, 47, was born in White City, west London, to a Pakistani father and French mother. She recalls being regularly taken to galleries and museums in both London and Paris from a young age. Her appreciation of art was inherited from her maternal grandfather, who was a ​​watercolourist in his spare time. "He would give me 10 francs for the name of every artist I could remember," she said.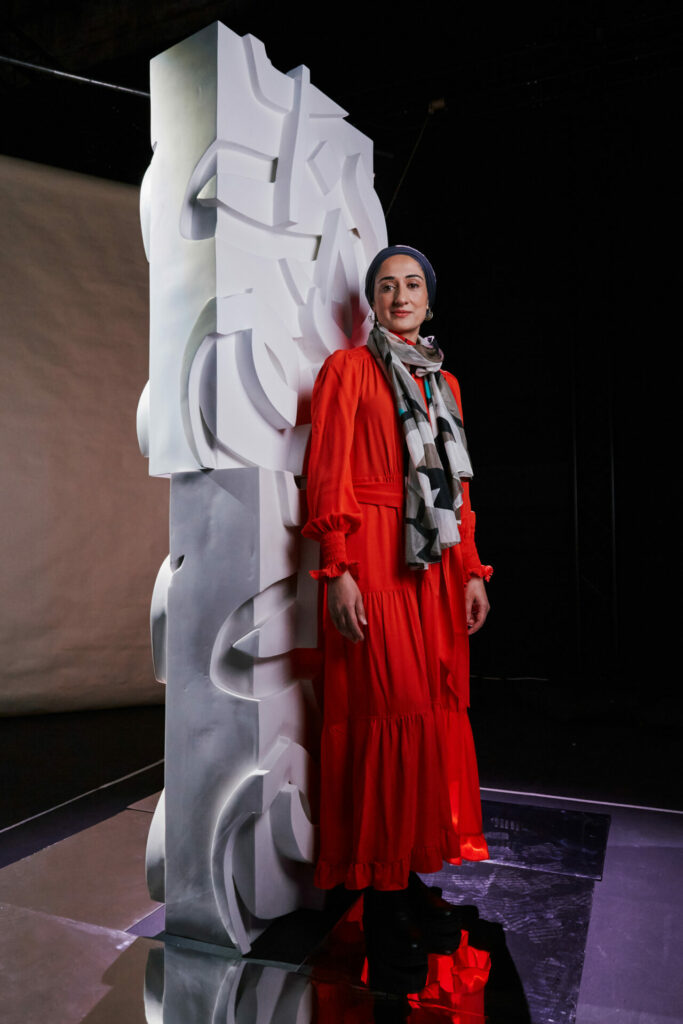 In 1993, at the age of 17, she attended an Arabic calligraphy exhibition at the Victoria and Albert Museum. While she couldn't read or write Arabic, "I had this burning fire within me that I just had to know this language," Syed told me. This led her to study Arabic and History of Art and Archaeology at SOAS University of London, and later an MA in Visual Islamic and Traditional Arts nearby at The Prince's School of Traditional Arts.
While studying for her MA, in 1999 Syed enrolled in a remote Islamic calligraphy apprenticeship in Turkey, sending her work by post to Istanbul. She moved to the Turkish capital in 2003 to be taught by renowned calligraphy masters Efdaluddin Kılıç and Hasan Çelebi. "At the time there weren't many foreign students, and certainly not female. There was a little bit of suspicion. People thought I was mad coming by myself to study. But others saw the sincerity, and they really supported me," said Syed.
She trained for seven years, earning a calligraphy licence, or icazetname, which allows holders formally to pass on their skills to other students. Syed likened the learning process to having a full-time job. "You are writing all day. Hasan Çelebi used to tell me, 'You have to make your day 28 hours long', which of course is not possible, but it shows how much time you have to dedicate."
During her first calligraphy lesson, Syed was asked to write an Islamic prayer, or dua, requesting God to make her learning journey easy. "It was very daunting, because you get a long line of script, not a single letter as you might expect. Plus, everyone in the room can see your mistakes, so your ego is really squashed," she said.
Syed's decision to study in Turkey speaks to the country's reputation as a major global centre for calligraphy. Alain George, a professor of Islamic Art and Architecture at the University of Oxford, says Turkey produces some of the best calligraphers in the world: "It's a major art form with a long history in the country, and it has been developed to a very technical level. The training in Istanbul today is of the highest standard you can formally get anywhere in the world."
This icazetname dates back to the 15th century and once formed the basis of how calligraphy was spread among the Ottomans. By the end of the Ottoman Empire in the 1920s, there were hundreds of first-class calligraphers in Turkey. "There were calligraphers in other places too, like Iran and Iraq, but Istanbul was really the great centre," said George.
But as the Ottoman Empire disintegrated, this tradition also diminished, before suddenly seeing a resurgence in the 1950s. One of the pupils widely credited with reviving the art form is Çelebi. "Çelebi learnt directly from one of the last Ottoman calligraphers, Hamid Aytaç, and he is now the most famous calligrapher in Istanbul," George added.
Syed received her licence in 2005 in a lavish ceremony hosted by the Research Centre for Islamic History, Art and Culture at the Yildiz Palace in Istanbul. Just over a decade later, in 2016, she met Rizwan Khan, a novice from High Barnet, north London, who would become her first apprentice. Up until this point, Syed felt burdened with the responsibility of passing on her teachings to a younger student: "It's a relief once you pass the tradition on, because then if something happens to me, I know the chain of transmission is going to continue."
Khan, who was taught by both Syed and Kılıç, received his icazetname in May 2022. Now a full-time calligrapher, he has recently been commissioned to produce a series of artworks for a show at the Aga Khan Centre Gallery in London. He describes Syed as an "exacting teacher with very high standards".
In 2018, Khan undertook a five-week course Syed was teaching at The Prince's Foundation School of Traditional Arts, during which she encouraged him to travel to Turkey to continue pursuing the craft. "Even though I went on to train in Istanbul with Efdaluddin Kılıç, I would often send my work to Soraya as well because she wouldn't be shy of drawing my attention to other subtleties that maybe he wouldn't have suggested," she said.
A central theme of Syed's new exhibition is the connection between Arabic and the natural world, and between her materials and the human form. This interest in how art materials are sourced was spurred on by a meeting with the pioneering Canadian inkmaker Jason Logan. He is the subject of a 2023 documentary film, The Colour of Ink, about harvesting colours from the natural environment for calligraphers such as Syed.
Syed said working with Logan on the project gave her a new perspective on the tools she uses to draw her artwork: "A lot of artists don't even think about the materials they use. But I've realised there is no separation. The ink I use is a black carbon ink, and everything living is made out of carbon. When we die we decompose to carbon, so the materials I use are inherently connected to the body."
Alia Alzougbi, joint CEO of Shubbak, said it was Syed's "interrogation" of her materials that drew her to the artist's work: "Soraya's art showcases a deep interconnection and entanglement between ourselves as human beings and the earth and its resources. This is really important to Shubbak, because yes, we are a festival of contemporary Arab arts, but we also have a social impact role, and one of our themes for this year's festival is society's stewardship of the earth."
While most classically trained scribes continue to work on paper and focus their practice on the technical perfection of their writing, Syed is among a minority who are attempting to modernise how calligraphy is drawn using a range of new technologies. She has previously created calligraphic art using virtual reality, film and dance for clients including Google, the British Museum and the Royal Shakespeare Company.
"I believe that if you want to preserve that craft and carry that history forward, there has to be innovation," she said. "Otherwise you just keep imitating the past — and you end up with this homogenised Islamic calligraphy that all looks the same."
Topics
Selected stories
A new genre of writing is slowly establishing itself and painting a broader picture of what love can look like

The fashion influencer on faith, modesty and claiming a space for Black Muslim women

This week our panel assess what the Liberal Democrats offer Muslims and discuss the ongoing debate about definitions of Islamophobia. Plus, travel blogger Yara Abdelsamie on travelling solo and the best European destinations for Muslim women