Getting to know and love your hair
The relationship between hair and identity is an often complex one for Black Muslim women. Platforms and events catering to this demographic are essential in empowering and educating them on their locks.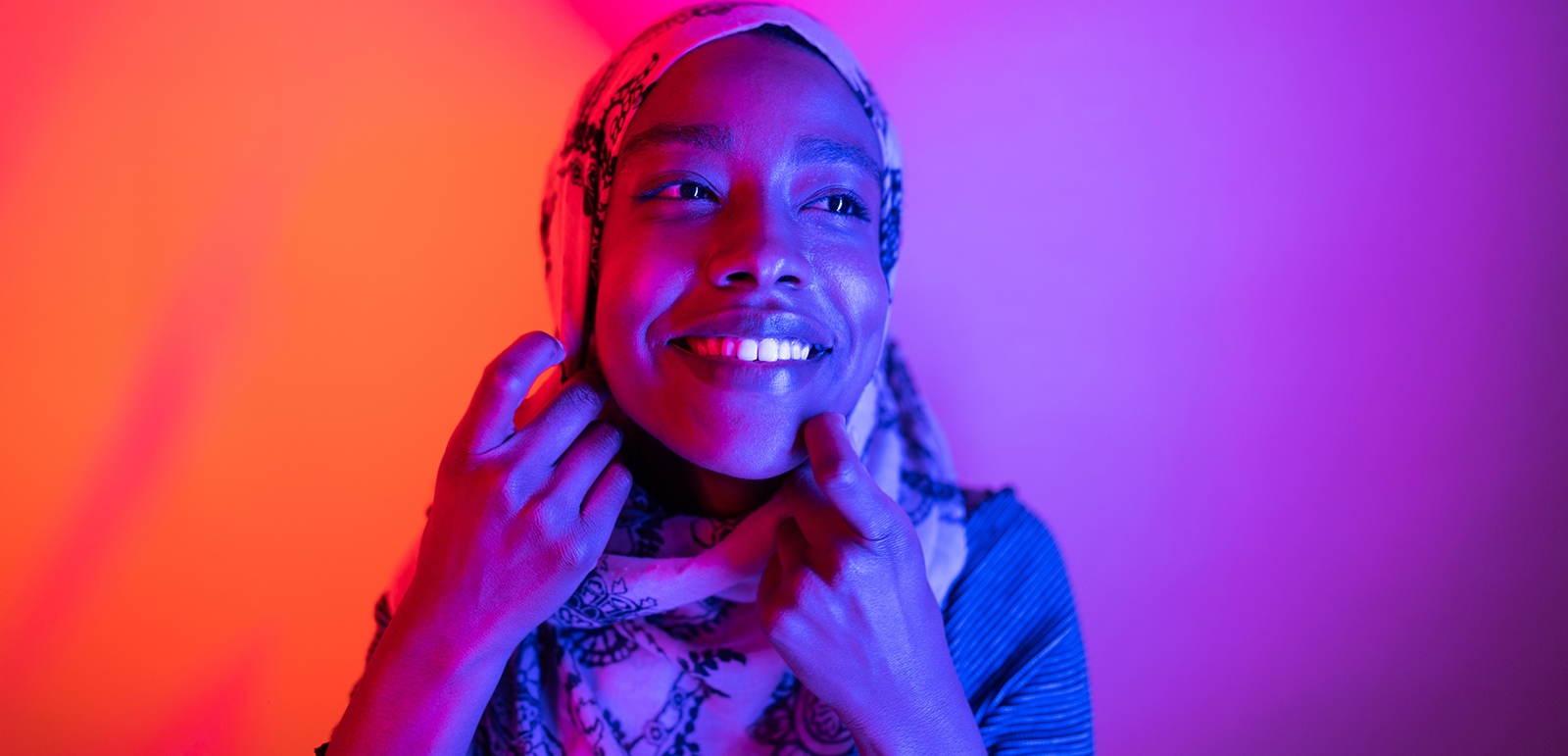 Ameenah Busairi used to dread having to wash her daughter's hair. "Wash day was an absolute nightmare," says the Manchester-based primary school teacher and mother to five-year-old Hanaan. What should have been a regular part of their haircare routine had become a painful travail, often resulting in Hanaan screaming and attempting to get out of the bath.
For many Black girls and women, a hair wash is simply the first step in caring for textured hair. For Busairi, it marked the start of a rocky journey towards self-love and appreciation of both her and her daughter's natural hair.
"I didn't want her to have a negative mindset about her hair and to have those memories linked to when we were washing it," Busairi says. "I was genuinely worried about what that would lead to in the future and how she would come to see her hair."
The decades-long natural hair movement has seen Black women across the world ditch the chemical relaxers that straightened their hair and embrace their curls instead. At the same time, Black Muslim women are also creating their own events and businesses to educate one another on how to maintain healthy hair in keeping with a set of cultural, societal and religious practices, including choosing hijab-friendly protective hairstyles such as braids and cornrows as well as balancing styles with religious obligations such as ablution, or wudu.
Curl, Coils and Sisters, the UK's first Black and Muslim haircare event, took place in London on 27 May. Hosted by Jennifer Ogunyemi, founder of Sisters in Business, a platform for Muslim businesswomen, the event's workshops and panel discussions are just some of the emerging spaces acknowledging the needs of Black Muslim women. 
Held at Al-Manaar Muslim Cultural and Heritage Centre in west London, the haircare symposium hopes to align haircare routine with Islamic teachings while bringing attendees together as they hear from experts on topics including the science behind hair and how to incorporate hair maintenance with Islamic practices such as ghusl, or burial rites.
For Busairi, attending such an event provides an opportunity for her daughter to see others who look like her while celebrating her Black Muslim identity. She initially turned to a number of digital spaces while seeking advice about haircare. One was the platform 4c Hijabi, run by Rahma Suleiman, one of the Curls, Coils and Sisters event organisers.
Teacher and healthy hair advocate Suleiman launched the Instagram account 4c Hijabi in 2019 after unsuccessfully searching for haircare advice that addressed the nuances of being a Black hijabi. After completing an online course which over six months taught her the foundation of haircare, Suleiman has forged an online community, engaging followers with product reviews, myth-busting advice and styling videos.
Suleiman has also sought to gather insights from Black Muslim women around the world. Last month, she launched the Black Muslimah Hair Care Experience survey across her social media channels as a way to amplify the voices of Black Muslim women in the haircare world and gather information about their experiences. With more than 2,000 responses so far across 69 countries, including the UK, the US, Nigeria and Canada, Suleiman hopes to use her findings to help inform future work for her platform and other haircare brands.
Just like Suleiman, Muna Sheikh-Mao, the third co-organiser of Curls, Coils and Sisters, spotted a gap in the market. After getting to know her hair better during the Covid-19 lockdown, she launched the website Covered 'N' Curly in 2020, where fellow curly-haired hijabis can get their haircare tips and purchase handmade satin bonnets, worn daily by many Black women to protect and maintain their hairstyles overnight.
While styling and maintenance tips are always in demand from followers, Sheikh-Mao knows all too well the struggles of finding a hair salon that factors in both her religion and race. According to a 2017 study conducted by Habia, a standard-setting authority for the UK's hair and beauty industry, fewer than 1% of hair salons in the UK catered for Afro hair. An already limited offering is made increasingly difficult by the lack of salons either looking after the needs of hijab-wearing women or offering private spaces where they can feel comfortable.
Sheikh-Mao is hoping to tackle this problem by developing an app called Your Salon Directory, listing hijab-friendly Afro hair salons across the UK. While entrepreneurs like Sheikh-Mao have created a space of their own, she says the industry can do better to serve Black Muslim women.
"We can easily target our own community," she says. "But if you are going to consider us, at least let us be a part of the process and understand the background of Islam and the hijab, so when customers ask for privacy, you know why."
One salon that has earned her approval is The Curl Bar London, which first opened its doors in January 2020, celebrating curly, coily and wavy hair. Both branches of the north London salon have dedicated private spaces for Muslim clients. "As a non-Muslim, I don't have the same relationship with my hair as Muslim women," says owner Nia Pettitt. "But seeing how the experience was so sentimental and sacred for them, I really respected that. I wanted them to feel like it was an enjoyable experience and didn't want them to feel like they were a burden."
Busairi believes these haircare spaces are helping her daughter to navigate her identity.
"I'm giving her opportunities to love her hair and express herself through it," she says. "It's not been easy, but it's been so worth it. It changes how you feel about yourself. You have to think of your hair as a creation of Allah. For you to not like that part of yourself, what does that say about our creator, who has created us in the best possible way?"
Topics
Selected stories
A new genre of writing is slowly establishing itself and painting a broader picture of what love can look like

The fashion influencer on faith, modesty and claiming a space for Black Muslim women

This week our panel assess what the Liberal Democrats offer Muslims and discuss the ongoing debate about definitions of Islamophobia. Plus, travel blogger Yara Abdelsamie on travelling solo and the best European destinations for Muslim women