Tears and jubilation at the final of The Shia Voice
The popular TV recitation contest's second season has drawn to a dazzling close, showcasing a new generation of superstar poets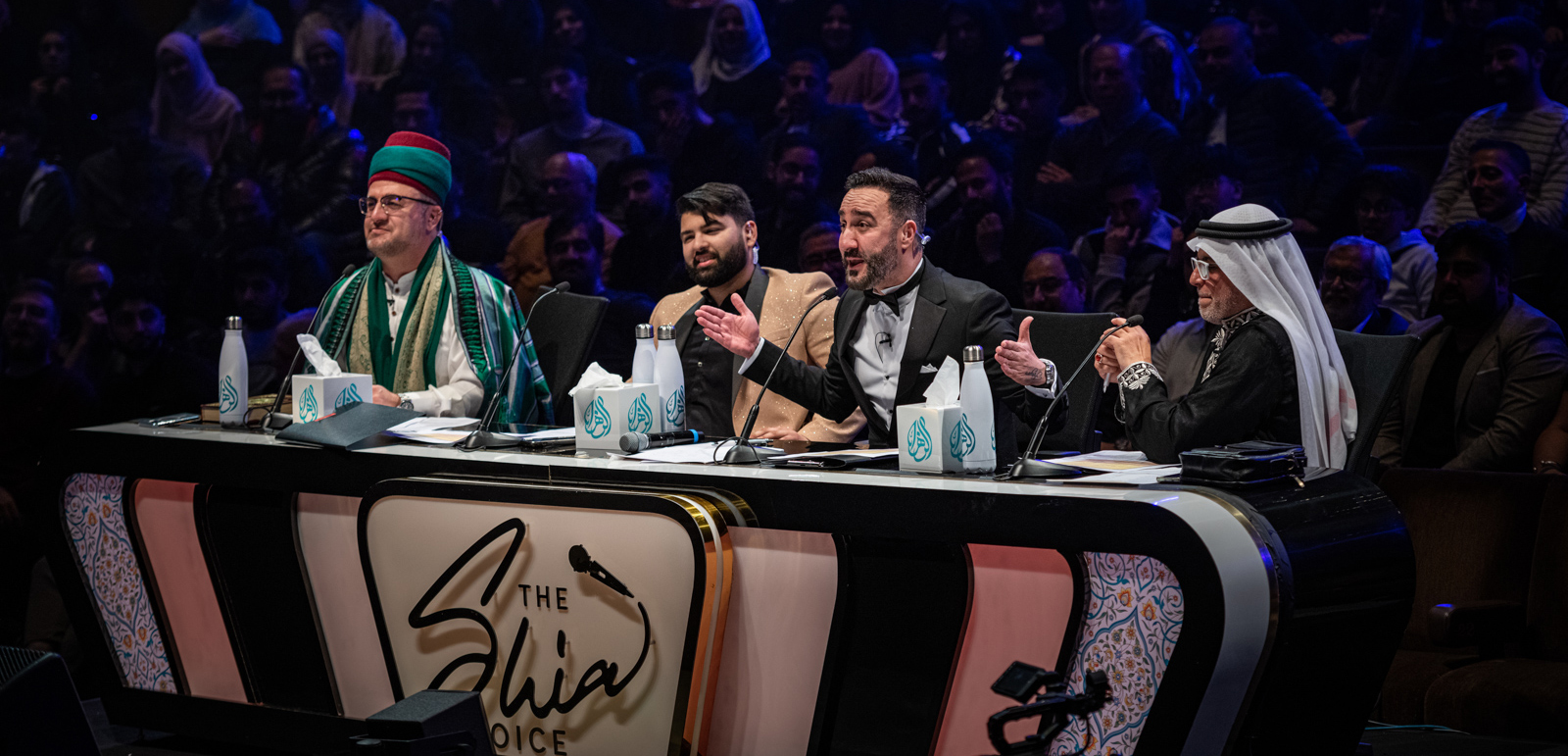 As the United Kingdom crowned its new king in Westminster Abbey on May 6, close to 1,500 people gathered three miles away in the Barbican Theatre. Seated in darkness, some were moved to tears. Others beat their chests in a meditative, synchronised rhythm. They were listening to Alamdar Moosavi, a 13-year-old from Vancouver, Canada, reciting a poem about the assassination of Imam Ali ibn Abi Talib, son-in-law of the prophet Muhammad, in the 6th century.
Lit by a computer-generated backdrop of glistening black and gold diamonds as he spoke, Moosavi's words echoed through the auditorium. At one point, the boy began to cry. Then, members of the audience gasped as, reaching the final verses, his voice rose to a falsetto — a skill that even veteran Shia poets struggle to master.

As Moosavi ended his recitation, hands trembling slightly as he clutched his notebook, a chorus of applause began, including chants in Arabic declaring that there is only one God and that Muhammad is his messenger, and shouts of "Naray Hyderi", the Shia pledge of allegiance to Imam Ali.
Moosavi was one of nine competitors to reach the final round of The Shia Voice, a talent show for Shia Muslims living in the UK, Europe and North America. It was broadcast on Imam Hussein TV, a satellite and online channel funded by donations from Shia organisations and Muslims around the world. The station has bases in London and the cities of Karbala and Najaf in Iraq.
Over three months, from February to May, 72 competitors were tasked with the recitation of Quranic verses, nawhas, latmiyyas and manqabats — forms of Shia poetry commemorating the Battle of Karbala in 680 AD, in which the grandson of the prophet Muhammad, Husayn ibn Ali, and his family were slaughtered by the Umayyad Caliph Yazid. Other contestants delivered short religious lectures, known as majalis, which use parables from Shia history to discuss contemporary social issues. One such lecture performed in the final was entitled "Lessons we can learn about hardship from the life of Imam Ali and his martyrdom".
To outside eyes, recitation competitions can seem a strange phenomenon, especially when their material concentrates on a particularly dark moment of Islamic history. As the Shia poet and film-maker Nouri Sardar explains, though, such performances have long occupied a vital place in the Shia tradition.
"After the tragedy of the battle of Karbala, the recitation of grief poetry was the way in which those sacrifices were remembered," he says. "Poetry is central to the Shia identity because it was a method of resisting tyranny and oppression."
Sardar, who has taught poetry recitation at mosques across the UK, notes that throughout history Shia poets have added their own flair to recitation. As Shia Islam spread out of the Middle East towards south Asia and east Africa in the 18th and 19th centuries, many believers were driven by a need to perform in their native languages, translating Arabic poems into, for instance, Hindi and Swahili, before eventually writing their own. Along with that, Sardar says, came new oratory techniques, including vocal styles that employ a repetitive chanting of syllables more often associated with Urdu Qawwali music or, in other cases, maatam — recitations to a steady beat, usually made by a hand on one's chest.
Drawing inspiration from mainstream talent shows such as The X Factor and The Voice, performances on The Shia Voice are critiqued by a panel of four judges which include the well-known Shia lecturer Sayed Ammar Nakshawani and international nawha performer Mesum Abbas. The judges mark the contestants not just on their style and delivery but on their religious knowledge and body language, which can sometimes be the deciding factor on whether a contestant progresses through the tournament. At the end the winner receives a number of prizes, including a £10,000 cheque.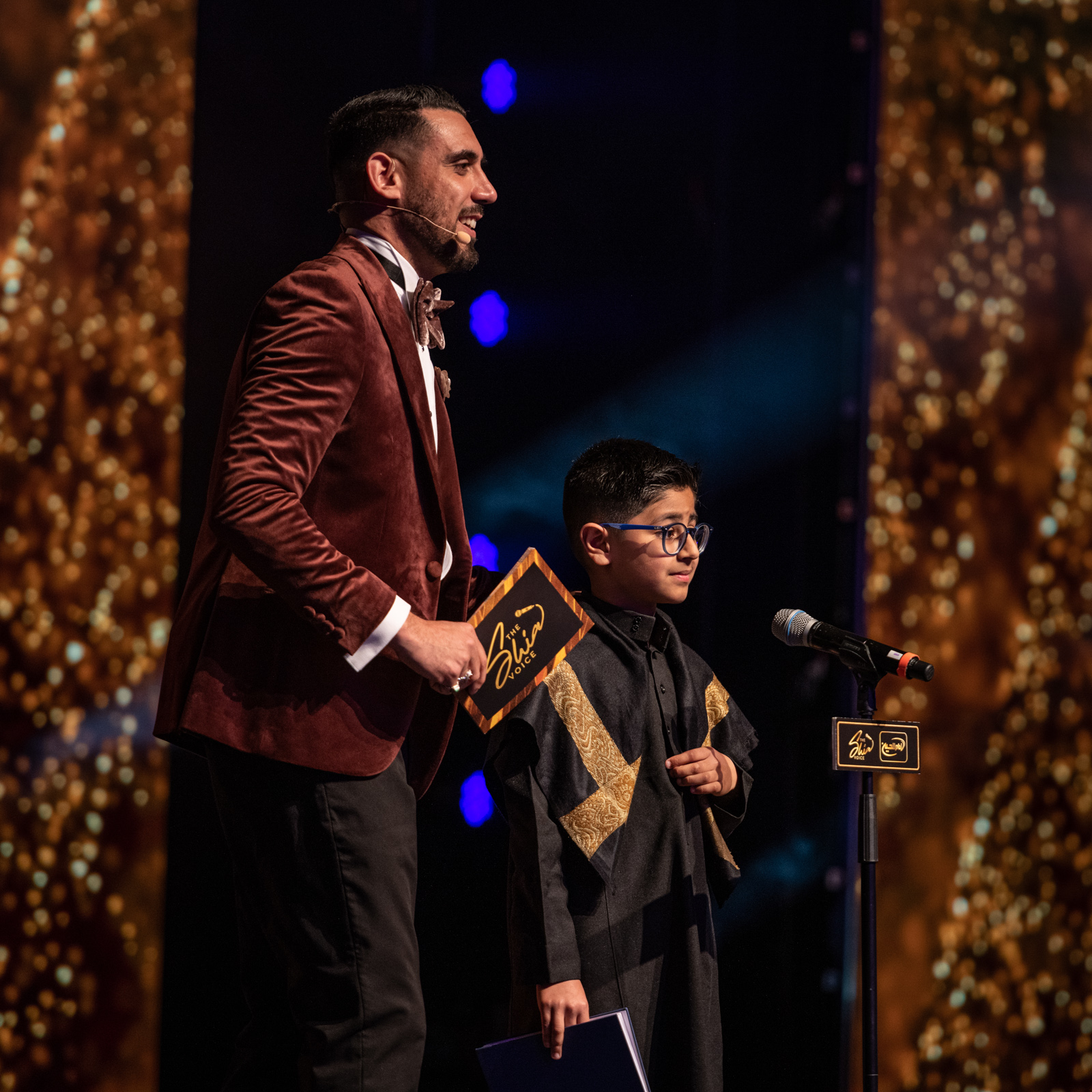 Since its inception in 2019, The Shia Voice has become one of the most popular television programmes on western Shia TV channels. According to the show's creator and director, Mustafa Saied, each three-hour episode has been watched by more than 100,000 people. Individual recitations clipped from the show and posted on YouTube and TikTok are shared by thousands more.
The concept for The Shia Voice came to Saied in 2019 while working on a successful interactive family quiz series for Imam Hussein TV. He realised that audiences were more engaged when they could be directly involved in what they were watching, and wanted to take that idea further with his next project.
"I knew that what I needed to create next had to have a live audience element in it," he explained. "That's when I realised a competition show could do exactly that."
For Saied, the show's central aim is to celebrate Shia culture and traditions while showcasing new talent among younger people in diaspora communities. Although it is a religious recitation programme, the sense of competition is serious and palpable.
On stage, most contestants are introduced alongside information on which mosque they attend or which cultural or ethnic community they represent. The Shia population of the UK is a minority within a minority of around 40,000 people, according to the most recent ONS figures. That means many competitors and audience members already know each other and that the reputation of anyone appearing on the show is at stake among their peers and the people with whom they will attend their local mosque when the cameras stop rolling. At one point during the final event, audience members were reminded by the hosts not to jeer or leave the auditorium during performances by contestants they were not rooting for.
The judging process itself can also be bruising. In the audition rounds, one contestant, in his twenties, was knocked out after appearing before the panel and being told that he didn't have enough charisma. Another was marked down for not pronouncing the name of the prophet Muhammad accurately.
"There's a lot of pressure put on the contestants," said Ali Abbas, a 21-year-old volunteer working backstage at the event. "Right up to the last minute, you can see contestants practising and going over everything — everything they say, everything they do, the way they move on the stage. They have to get everything right."
One such contestant was the 19-year-old majalis reciter Ali Haidar, from Hull, who became the tournament's eventual runner-up. In preparation for the final, Haidar pored over Shia history books with teachers at his mosque, and wrote dozens of drafts that he eventually committed to memory. But, he emphasises, writing the majalis was only part of his preparation. Over the course of the tournament, he carefully studied the recitation style of Nakshawani in the hope that mirroring his body language would give him a competitive edge — an essential strategy, considering that majalis were less likely to directly engage an audience compared with a poem. To ensure that his voice remained strong for the five minutes he was on stage, he had spent the week drinking water containing electrolytes and switching to a high-protein diet to limit fatigue.
"Sometimes it felt like I was training for a sport," he said.
In one semi-final episode Sayed Jalal Masoomi, a Qur'an reciter, lecturer and one of the show's judges, told a young contestant that despite being able to memorise a poem flawlessly, he needed to put more work into his on-stage movement, arguing that without artful gesticulation, even the strongest voice would be unable to "emotionally move a crowd". Another was called up on his lack of specificity while delivering a majalis. "You say that the Battle of Khandaq was a severe battle," said Nakshawani. "Severe in what way? You could say it was a difficult battle, a trialsome battle, a battle with trials for believers and disbelievers, but 'severe', on its own, is too vague."
Over six hours, as the finalists performed in front of the audience and an assemblage of television cameras, dozens of audio and visual technicians worked backstage to ensure that the show ran as smoothly as possible. From switching camera angles in real time to the adjustment of levels and the construction of on-screen graphics within seconds, it was difficult not to be impressed by the nimble efficiency of IHTV's staff. Not least because most had no prior experience in mainstream television channels, either being trained by staff at IHTV or, for some technicians working behind the scenes, learning the techniques themselves from YouTube tutorials or by trial and error while assisting on other programmes produced by the channel.
According to Saied, pulling off a live event of such scale required more than 100 people. Beyond technicians and camera crew, several were needed to ensure that the event was gender-segregated. The venue's seating structure meant it would be difficult to separate men and women, so the team opted for alternating rows. Guests were also advised throughout the afternoon to avoid socialising with the opposite sex, in accordance with Islamic guidelines.
At the forefront of Saeid's mind, though, was the worst-case scenario: the Barbican shutting off the power once the event's allotted time was over, even if the show hadn't finished. "A limited budget, especially for a live show, meant that every aspect needed to be perfect and the smallest and most minute of details needed to be analysed constantly," he said.

Luckily, that didn't happen. As the backstage team navigated the illuminated control boards and monitors from a makeshift rig, emotions ran high on stage throughout the night, with thunderous salwats and applause, tears and mataam. The auditorium went into a frenzy when Mulla Nazar Alqatari, a judge and veteran Islamic singer, unexpectedly performed a medley of nawhas. At one point, the crowd stood in unison to applaud one contestant, Salma Moledina, a majalis reciter and the season's sole female finalist. Days before the event she had to bury her brother, who had died unexpectedly.
"I'm here today because of his love for the Ahlul Bayt!" she declared, holding back tears.

No wonder, then, that some were disappointed when, at the end of the night, it was announced that Moledina was not the overall winner. That accolade went to the American-Iraqi reciter Ali al-Zuhari, who recited a poem in Arabic, recounting the final hours of Imam Hussain and his family before the Battle of Karbala in a performance that received standing ovations from all four of the judges.
As Zuhairi was presented with his prizes, which included a free pilgrimage to Karbala, runner-up Haidar smiled. To him, competing on the show was a prize in itself. "All I want to do is spread the message of the imams and the Ahlul Bayt to as many people as possible," he said. Besides, making the finals of the competition had doubtless raised his reputation among the international Shia community. Haidar hopes his success will yield opportunities to recite in mosques across the country and, eventually, with more formal training from a madrassa, the world.
"Whatever happens in the future. I will focus my life on spreading the messages of Islam and be in service to Amir al-Mu'minin," he said, using one of the many terms Shias use to refer to Imam Ali. But, before resuming his holy mission, he told a family member that what he wanted at that moment was a burger.
Topics
Selected stories
From pickles and ferments to jams and chutneys, conserving surplus produce allows us to enjoy fruits and vegetables grown in familiar earth, many thousands of miles away

The western world's largest mosque is a point of pride for the country's Muslims, but its impressive scale and ornate design do not reflect their position in the country as a whole

The challenge for Keir Starmer is to combine control and compassion in efforts to tackle dangerous boat crossings