'We didn't want to marry in a makeshift mosque in Athens'
Anna Stamou and husband Naim Elghandour found love while working with refugees fleeing Iraq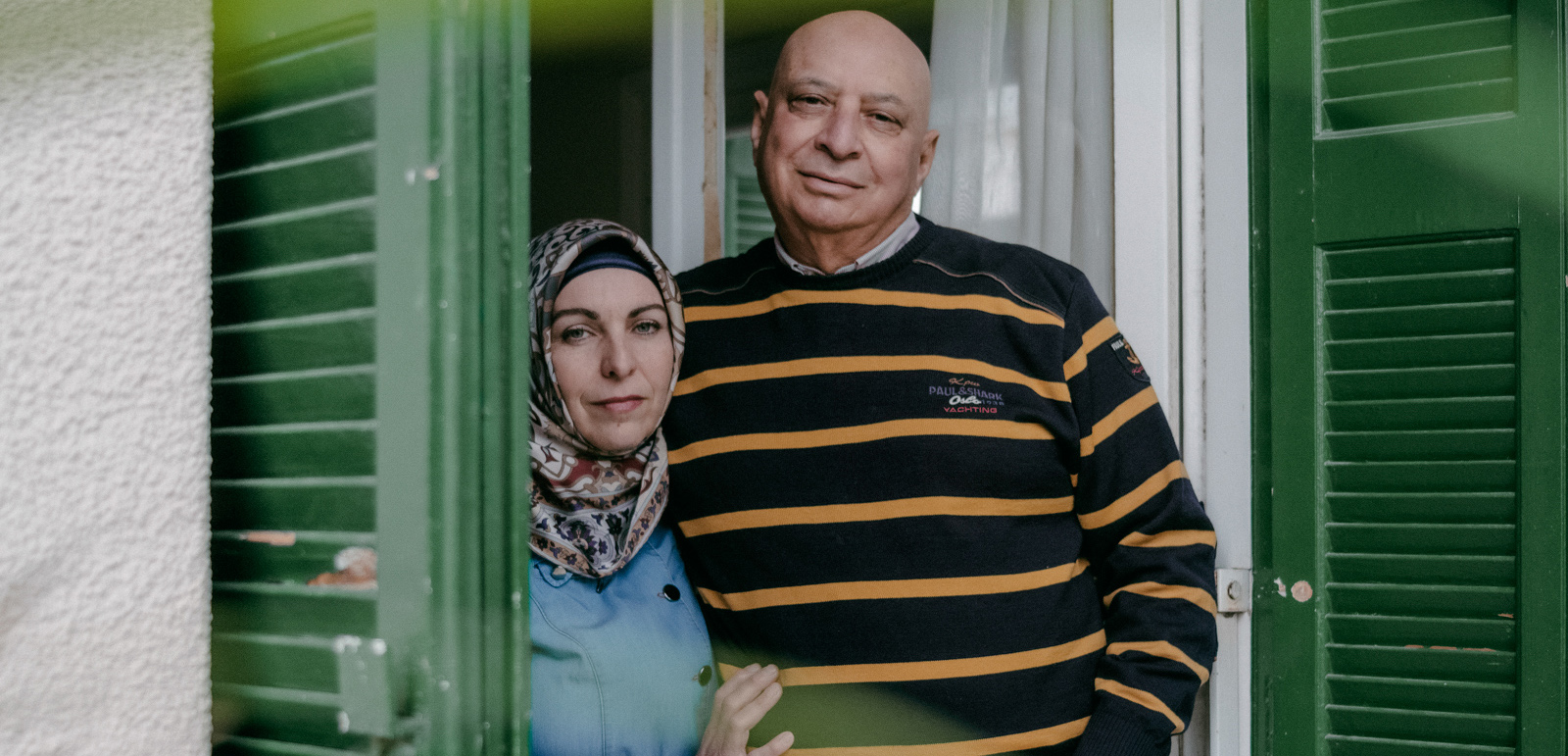 Anna Stamou and Naim Elghandour first met in 2003, while volunteering with Medecins du Monde in Athens, providing humanitarian aid for refugees fleeing Iraq. Anna, who was born and raised in the city, was interested in religion and spirituality. Naim, who had moved to Greece from Egypt 30 years before, happily answered her questions about Islam.
At first, they were not interested in one another. Naim was 16 years older than Anna, already married and had six children. However, they grew closer, and later that year after he finalised his divorce, they got married in Lebanon. Two years later, Anna made the decision to convert to Islam. Since then, the couple have advocated for the Muslim community in Greece, ensuring that people interested in converting have the right information and that members of the country's growing Muslim community are able to practice their faith freely and with dignity.
These conversations have been edited for length and clarity.
Anna: When I first met Naim, he struck me as incredibly kind.
I was amazed to see that he was a religious person, as well as being modern and well dressed. Whenever it was time to pray, he would go somewhere to be alone, which really struck me. I had been in many spiritual spaces — I was a yoga teacher, and the men in those places always had so much more ego than the women, but I saw that this man was humble before God.
I started asking him questions about Islam and I think this brought us closer. We had many wonderful discussions and he brought me many books. I converted around two years after we got married. It was not a decision that I made for Naim, but one that I made for myself. For that reason I needed a lot of time to research and make sure that it was the right decision for me.
To tell you the truth, I was naive. Because I come from Athens and am an average urban woman, I thought it would be a piece of cake: "If I change to Buddhism, if I change to Hinduism, if I change to Islam, who cares?" But there were so many stereotypes and prejudices that I did not expect.
Even before I converted, I was trying to find more books about Islam. There were none in Greek that were not from an Orientalist perspective. There is a system here, a whole Islamophobic strategy that exists from the Ottoman Empire years that makes it so that the church rules this country, and it impacts Muslims very negatively. We need more resources on Islam in Greek, so that people who are thinking about converting have access to the right information.
We try to live Islamically, while being in Greece. We do not live in a Muslim neighbourhood, but we have Islamic values. Our neighbours have Christian values and, really, these are the same — it is very compatible. We have a lot of mixed marriages here between Orthodox Christians and Muslims. We have many successful marriages where women did not convert, and married Muslim men.
Unfortunately, the other way around is not possible. If a Muslim woman wants to marry a Christian man, she must convert. But if there is love, respect and good and clear discussions before, everything will be alright.
I have learned so much from Naim over the years — he has been my mentor in many ways. He has taught me how to be patient and persistent at the same time, and how to forgive.
Now, we have many requests for people who want to convert to Islam. That is a great responsibility. There are people who are in agony, trying to find God inside of them, and maybe that is Islam. We treat it with great sensitivity. We have to let them know that it is important to be Muslim, and to be Greek Muslim, or whatever ethnicity they have, and to filter Islam through their own identity if they are going to embrace it.
Naim: When you participate in social activism, you always meet people who have good intentions and want to make humanity better. Our team was made up of eight women and I was the only man. When I first met Anna, I said: "You're 28 years old and not married yet? I will find you a husband." She didn't like anyone that I found. I then told her: "I'm a Muslim, I'm married, and I have six children, and I want to marry you, but you will have to ask for permission from your family."
We then grew closer. She was curious about Islam and we had many wonderful discussions. I gave her a lot of books and information. When we decided to get married, we flew to Lebanon, because we didn't want to just sign a paper at some kind of makeshift mosque in Athens.
The imam kept insisting that Anna must be a Muslim to get married. I resisted. My perception of Islam is something very precious. You do not sell it in the streets like something cheap.
Personally, I have never faced problems with Islamophobia or racism in Greece. When I came here from Egypt 50 years ago, nobody knew about Islam — they just called us Turks. But, day by day, with more contact, they accepted us.
Now, I do not consider myself different from the average Greek. We are all Mediterranean people and our cultures are compatible. The only people that I have problems with are ignorant ones, who have no idea about politics or religion, but we have these kinds of people in Islamic countries as well.
When it comes to the community, I give priority to people who wish to convert to Islam and want some guidance and information. Islam teaches us that love, respect and affection should be the most unbreakable parts of the family.
From Anna, I have learned the art of calmness. I was not a calm person before, but now we have a calm and happy relationship that is built on love and trust. I hope that anyone who reads our story will work hard to build the same.
Topics
Selected stories
AbdulMaalik Tailor, the founder of Muslim History Tours, is on a mission to show everyone an often-ignored side of the UK capital

Britain's political parties should take lessons from King Charles and encourage good relations between people of all faiths and creeds

Young Muslim bakers have turned their lockdown hobby into decorative cake making start-ups with the help of Instagram