Convicting Kosovo's former leaders of war crimes could be the best way to achieve long-term stability in the Balkans
As former president Hashim Thaci stands trial in The Hague, his acquittal risks inflaming anti-Western sentiment in Serbia and derailing Europe's reconciliation efforts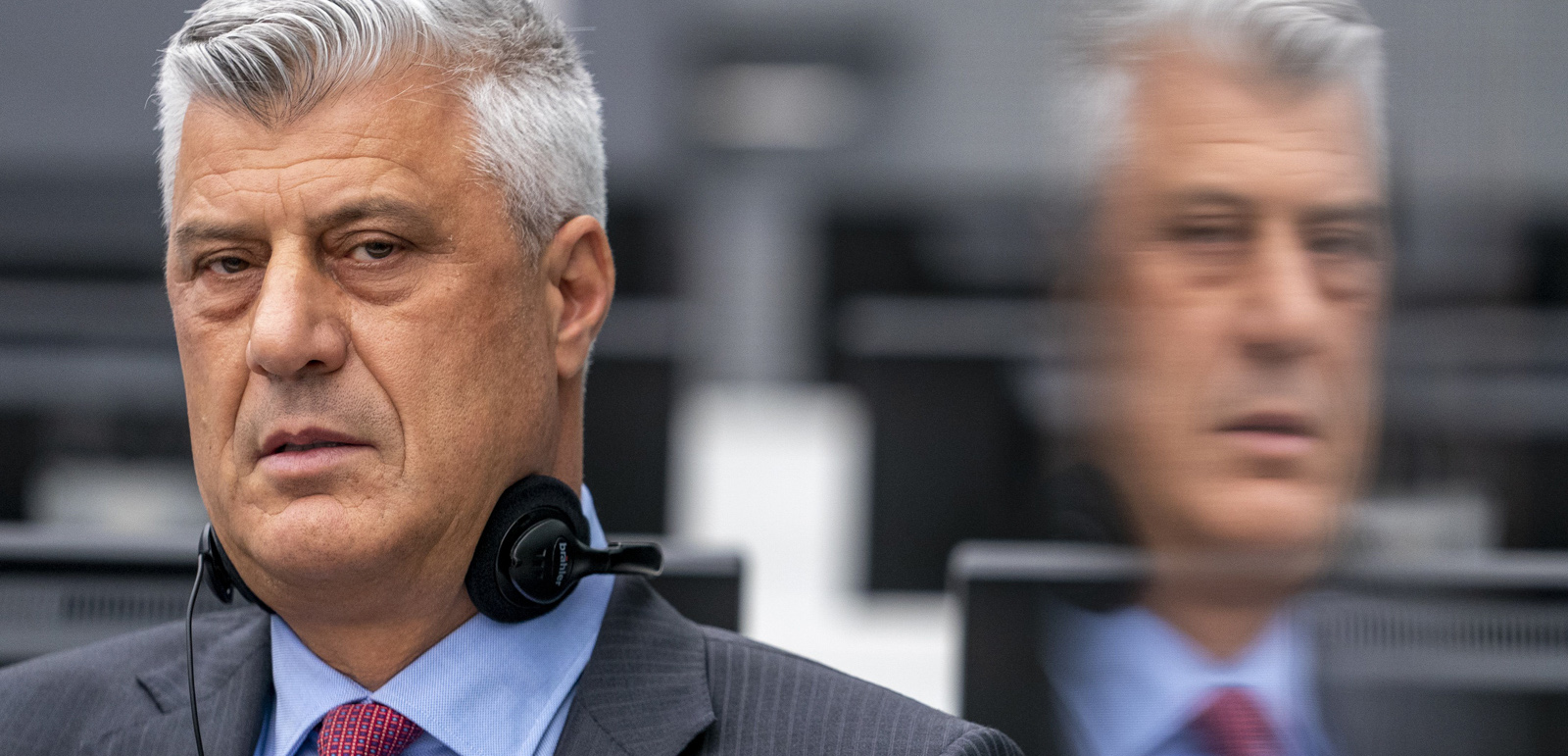 The trial of Kosovo's former president Hashim Thaci began on Monday at the Kosovo Specialist Chambers in The Hague. Thaci and three of his associates are being tried for war crimes and crimes against humanity committed by the Kosovo Liberation Army (KLA) against Serbian civilians during the 1998-99 Kosovo War.
Thaci served as commander-in-chief of the KLA during a guerilla war of independence against the central government in Belgrade, whose forces were committing war crimes of their own against the ethnic Albanian majority in the province, the vast majority of whom were Muslims. The war ended in June 1999 after a 78-day Nato bombing campaign forced Serbia to withdraw its troops from Kosovo.
The province unilaterally declared its independence from Belgrade in 2008 — a move the Serbian government still refuses to recognise. Diplomatic relations between both sides remain non-existent and Serbia has relied upon its longstanding relationship with Russia to block Kosovo's entry into international institutions such as the United Nations. Ethnic Serbs in the province, most of whom live in the north, near the Serbian border, refuse to recognise the authority of Priština and standoffs with authorities are common. This exacerbates tensions between communities and, in one incident earlier in 2023, two Serbs were shot by an off-duty soldier.
The ex-president has pleaded not guilty to all 10 charges against him. Laying out a number of legal technicalities, the Kosovo-based journalist Xhemajl Rexha told Al Jazeera it is "very likely" that Thaci and his three co-defendants, Kadri Veseli, Rexhep Selimi and Jakup Krasniqi, will be acquitted, either in this trial or later, on appeal.
The main reason, according to Rexha, is the difficulty of holding Thaci and his colleagues directly responsible for atrocities committed by KLA troops on the ground because, as a guerilla group, the KLA lacked a properly established chain of command. But, even though that might be the correct outcome, legally speaking, it would be politically toxic.
The European Union has been heavily involved in the Serbia-Kosovo dispute since the beginning and normalising ties between the two sides is a geostrategic priority for the bloc, as any renewed conflict on its southern border in the Balkans would create huge instability for Brussels at a time when the EU seems stuck in perpetual state of crisis. But Belgrade has shown little interest in negotiations because a frozen conflict suits Serbia. If the EU wants to achieve its aims, the most politically expedient strategy would be to help the court find a way to convict Thaci by any means possible — even if he is technically innocent.
I am under no illusion as to how controversial that would be. The Kosovo Specialist Chambers would be dismissed as a kangaroo court by the vast majority of Kosovar Albanians. It is difficult to imagine that the EU would risk undermining the integrity of the court in this way, but one side of the Serbia-Kosovo dispute is certain to reject its legitimacy either way. If Thaci is convicted on shaky ground, Kosovars will be furious. If he is acquitted, anti-western sentiment will become more entrenched in Serbia and Serbs will be even less willing to engage with any proposed political solutions, simply to spite the EU.
That is exactly what happened when the International Criminal Tribunal for the Former Yugoslavia acquitted Croatian general Ante Gotovina in 2012 on charges of war crimes and crimes against humanity committed against ethnic Serbs in Croatia. In Serbia, the verdict served as proof that the west is interested only in pursuing selective justice against Serb war criminals and has no intention of holding anybody to account for the well-known, widespread and proven atrocities committed against Serb civilians during the war. As would be the case with Thaci and his co-defendants, the acquittal of Gotovina may have been legally correct, but it has only damaged postwar reconciliation in the Balkans and deepened Serbian resentment towards its neighbours and their western allies.
Perception is reality in politics and perceived injustice becomes embedded in folklore in Serbia, fostering resentments that act as a barrier to ethnic reconciliation in the region. The Balkans have long been a powder keg and allowing such animosities to fester opens the door to renewed violence.
Future conflict would be particularly devastating for ethnic Albanians and Muslims in Kosovo, which comprise around 95% of the total population. Serbia is the most populous nation in the Western Balkans and its largest military power. It also has a significant domestic arms production industry and enjoys close ties to Russia and China, both of which have supplied Belgrade with weapons. If the dormant conflict between Serbia and Kosovo were to erupt at any point in the future, it is the latter that would be in the greatest danger.
Although the chance of that occurring anytime soon is unlikely — largely thanks to the presence of armed Nato peacekeepers in Kosovo — it is not negligible. Tensions between the two sides tend to flare up from time to time: last year, the Serbian military stationed a buildup of troops along the Kosovo border and there were serious fears in European capitals that an unexpected misstep from either side could lead to disaster. Belgrade has no intention of invading its former province, as Russia has in Ukraine, but the normalisation of relations is essential to prevent standoffs like the one we saw last year.
The EU has sought to mitigate against this by devising a new plan for normalisation and putting great pressure on both sides to come to an agreement. Serbia's President Aleksandar Vucic and Kosovo's Prime Minister Albin Kurti have both acquiesced so far, because good ties with the EU serve both their interests. But even if Vucic agrees to implement the new plan, there is no guarantee it will be accepted by the Serbian population.
Without the buy-in of the Serbian public, the danger of localised incidents of violence committed by Serbs motivated by a sense of burning injustice will remain high, and domestic far-right parties will seek to exploit that.
That is why convicting Thaci as a sacrificial lamb would serve a political purpose. If Serbs are finally forced to accept Kosovo's independence, seeing a man imprisoned who has been accused by the Council of Europe of harvesting the organs of Serbian civilians during the 1998-99 war might sate their demand for moral justice and make the particularly bitter pill of Kosovo's secession that much easier to swallow.
The fact remains that atrocities were committed against Serbs by the KLA and, politically speaking, somebody important needs to be held accountable for that, whether they are personally responsible or not. Of course, there will be a backlash from Kosovo but, as things stand, every decision since Kosovo's unilateral declaration of independence in 2008 has gone its way.
In politics, total victories don't tend to last long and it is time Kosovo made a concession to Serbia in the interests of lasting peace. Accepting Thaci's conviction, even if unjust, is arguably the lowest possible price that the nation can expect to pay for resolution.
Topics
---
Get the Hyphen weekly
Subscribe to Hyphen's weekly round-up for insightful reportage, commentary and the latest arts and lifestyle coverage, from across the UK and Europe
---