From Cairo to Berlin, with love
Nothing feels like home, but you can learn to love it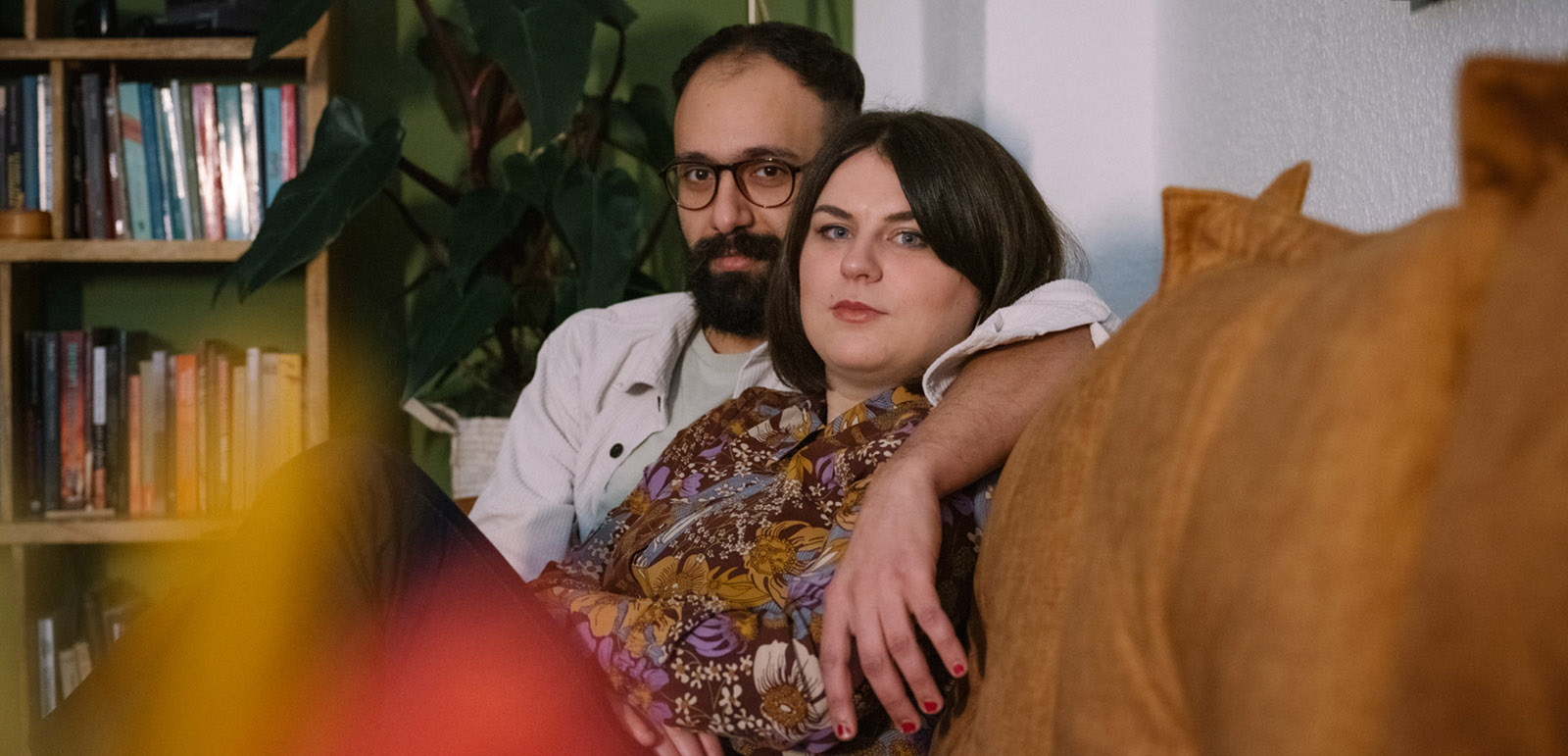 Theresa Bachmann and Sabry Abouamiry met at an evening photography class in Cairo in 2017. Sabry, now 33, was the teacher, and Theresa, from Germany and now 32, was a student. He was impressed that she could speak Arabic and by her knowledge of the region. She thought he was handsome and funny.
After a few false starts, they eventually got to know each other better and fell in love. Then Theresa had to go back to Germany to resume her studies, so the couple embarked on a long-distance relationship, with Theresa visiting Sabry in Cairo as often as she could. On one of those trips, he proposed to her. She said yes and the couple celebrated their engagement in the city.
Sabry applied to and was accepted to pursue a diploma in photojournalism at the Danish School of Media and Journalism in Aarhus. He and Theresa moved there together for a year, hoping their many months apart were over. But then, in March 2020, the Covid-19 pandemic broke out. With Sabry's studies cut short and his visa about to expire, the couple got married in a small civil ceremony in Denmark in 2020. After that they moved to Berlin, where they now live and work as journalists.
These conversations have been edited for length and clarity.
Theresa: From the moment I saw Sabry there was interest on my side, but I think he played it very well. We didn't date during the class, but once we were able to have lunch together and get to know each other more, it was clear there was something there. 
At the time, he was working on a project about Sufism, a branch of Islam that I hadn't encountered before. I only knew the stereotypes — whirling dervish dancers that you see in restaurants or cultural centres — so we started exploring some of the sites together. It was really interesting to see the way he interacted with people there, who were from all walks of life. He showed them respect in a way that I really liked.
I was so nervous when I met Sabry's mother for the first time. I knew niqabi women, but never so personally. But, from the first moment, I felt that she really accepted me. I remember during one recent visit she pulled me aside and told me how proud she is of me, that she can tell that I put a lot of effort into understanding where Sabry comes from and how much she appreciates it. I couldn't think of a better mother-in-law.
I had to move back to Germany in May 2018 to go to journalism school and we knew it would be long-distance then. There was a power dynamic, where I could travel easily but he couldn't. We decided to get married while talking on the phone, but it was important to have the feeling that we weren't just doing it for the paperwork and because we really love each other. The next time I visited, we threw this huge engagement party on a houseboat on the Nile. It was an absolute blast.
My family still hadn't met Sabry when we got engaged. All they knew about Egypt was pharaohs, pyramids and political turmoil. At first, they were wondering, who is this man? I think this is a big deal for any family. Aside from telling your parents that you are pregnant, getting married is one of the signs that your childhood is really over. Once they met him, they loved him. I don't know what he did, because my parents don't speak English and he doesn't speak German, but it has been smooth ever since.
When we were finally able to move to Denmark, I had a picture-perfect idea of how life would look and how easy it would be. Small things, like being able to walk hand-in-hand in the street without anyone caring and no security that would stop us and ask if we were married. I was planning to report elsewhere, but then coronavirus happened so I had to find stories in Denmark instead.
It may appear that we were always going to end up in Germany, but that wasn't necessarily the plan. We talked a lot about where we would go next and it just made sense. Sabry's visa was going to expire, so we couldn't stay in Denmark. We got married in December 2020 and applied for family reunification to move to Berlin.
What is my advice for people from two different backgrounds who fall in love? First, listen carefully. It is not a big secret that communication is key in any relationship, but also do your job. It is not another person's responsibility to teach you about their culture or religion. It is a lot of effort, and it is only fair to do that yourself.
Sabry: I remember her saying, "Ana ismee Theresa — ana taleeba almaaniyah," which means "My name is Theresa. I am a German student." I immediately felt very protective of her and wanted to get to know her better.
I invited the class out to lunch. Of course, everyone came, so I had to pay for everyone. Then, I accidentally broke her computer, so I accompanied her to the repair shop. I wasn't going to let her go there, alone, in a sundress.
Once we started to get to know each other, I realised that she was different from anyone I had ever met. I remember her saying: "Don't tell me that I'm pretty, tell me that I'm smart." I started to see that we really saw journalism the same way — that if you are going to do it, you either need to give it 100% and then some, or not do it at all. I really respected that about her. It always meant a lot to me that she had put so much time into understanding my culture and getting to know my family. I am not practising any more, but Islam is still what connects me to my mother and I keep a small Qu'ran from her with me.
I didn't want people to think that I married this woman so I could get a visa and move to Europe. I didn't want this burden on our relationship. I wanted to make it on my own, so I got a scholarship to study in Denmark and we moved there together after being in a long-distance relationship for almost two years. We were so tired when we got there and I thought that in Denmark everything would be easy for her, because it was closer to home. That was naive of me — it was a different country for her, too.
While we were there the pandemic started, and my studies were completely different from what I had imagined. My scholarship was cut short, so I had to find a job, then we had to leave because my visa was about to run out.
So we came to Germany. Germany is not a real place to people in Egypt. They just think that people here are all good engineers and always on time. We don't know anything about the country's history. I learnt so much from Theresa about Germany, particularly East Germany, which is where she grew up. I didn't know that some West Germans look down on East Germans, the way that some people from Cairo look down on people from the south, or the countryside. As stupid as it sounds now, I thought that they were all white people, so they were all like each other.
Now I feel so much more of a connection to this place. If I am walking past Alexanderplatz, I remember stories from Theresa's father or uncle. I feel like I am a part of those stories, even though I grew up far away. I have learnt that nothing feels quite like home, but you can learn to love being somewhere else.
Topics
Selected stories
From pickles and ferments to jams and chutneys, conserving surplus produce allows us to enjoy fruits and vegetables grown in familiar earth, many thousands of miles away

The western world's largest mosque is a point of pride for the country's Muslims, but its impressive scale and ornate design do not reflect their position in the country as a whole

The challenge for Keir Starmer is to combine control and compassion in efforts to tackle dangerous boat crossings