Brussels joins the UN in calls for Greece to stop persecuting humanitarians through its courts
A Greek court has dropped espionage charges against 25 aid workers but in a notorious case, an investigation is ongoing into allegations of people smuggling by humanitarians attempting to rescue refugees in the Aegean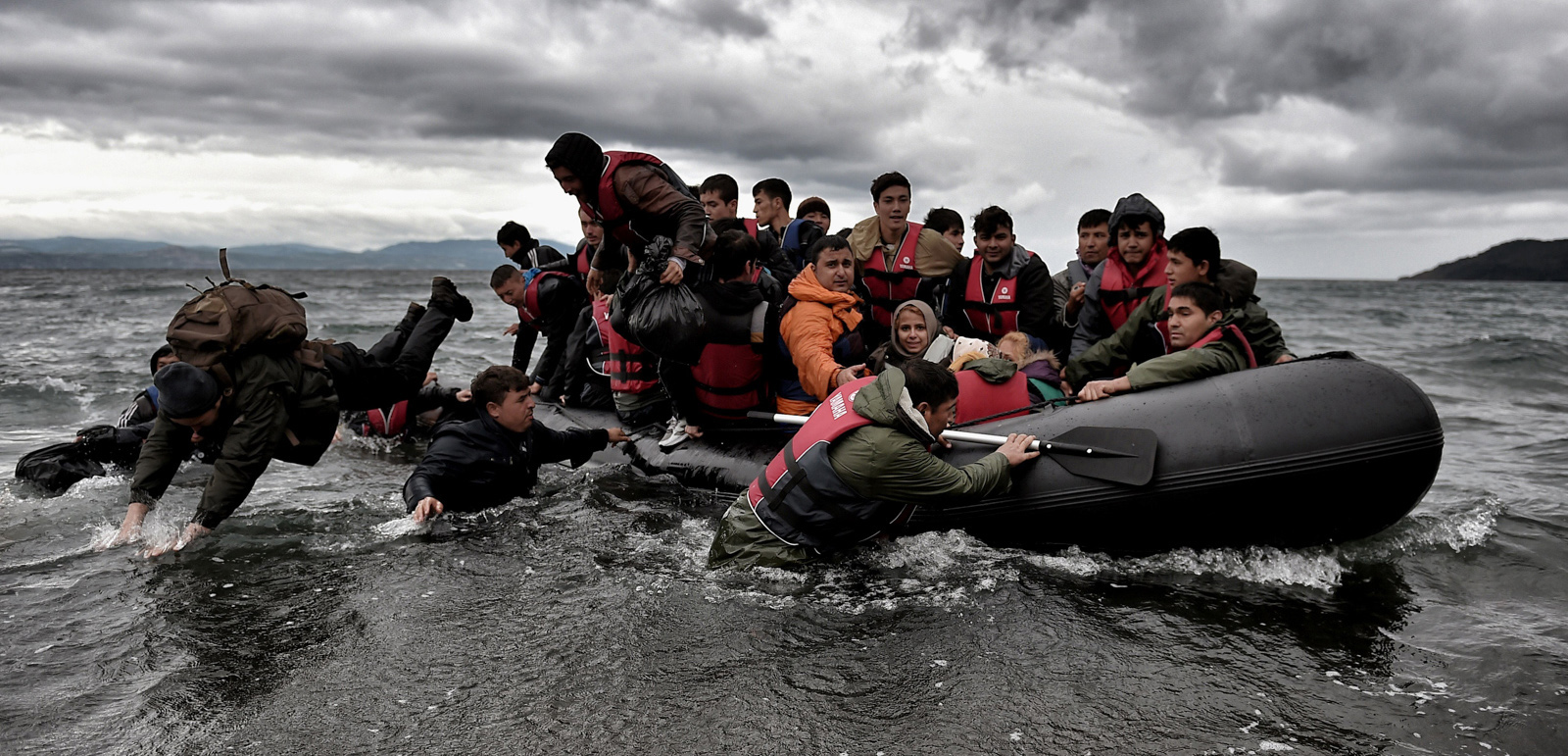 On Friday 13 January, in a tiny, packed courtroom in Mytilene, on the Greek island of Lesbos, a group of NGO workers breathed a sigh of relief as the court declared that the authorities' case against them had effectively collapsed. Significant procedural errors meant that the charges faced by the humanitarian workers, including those of spying, would have to be dropped against all but two of the 24 defendants.
The now notorious case against the humanitarians, based on their activity in search and rescue teams on Lesbos between 2016 and 2018, sparked outrage among rights groups who pointed to their arrest and trial as evidence of the criminalisation of humanitarianism in Greece.
At a heated debate at the European Parliament on 18 January, more than a dozen MEPs denounced attempts across Europe to criminalise humanitarian action, with some calling for a change in EU law that would include protection for aid workers.
Some highlighted a recent decree introduced in Italy which could severely restrict NGO search and rescue work in the Mediterranean. Irish MEP Grace O'Sullivan from the Green party, who attended the Lesbos trial, told the parliament she had seen how many NGO workers on the island worked in "constant fear of criminalisation", adding: "Any new policy on migration and asylum must include protection for humanitarians."
A minority of MEPs expressed a more extreme view, however. Emmanouil Fragkos from the far-right Greek Solution party said NGOs were a "cancerous growth" in Greece, while Italian MEP Silvia Sardone from the ID group — a right-wing populist group of lawmakers who want to devolve more power back to EU member states — said: "It's good that some NGOs are being limited as we are against illegal immigration and those that help it, and we are proud to say it."
Any relief at the espionage charges being overturned may be short-lived. The 24 defendants still face charges of human smuggling and money laundering, for which they are under investigation by the Greek authorities. Two Greeks were referred to a lower court to stand trial for forgery and assisting a criminal organisation but a lawyer familiar with the case said it is likely both would be found not guilty owing to lack of evidence.
One of the defendants, Sarah Mardini, 27, is a Syrian former competitive swimmer whose own story as a refugee fleeing the civil war in her country made her an international hero in 2015. When their dinghy started to sink en route from Turkey to Greece, Sarah and her sister Yusra dragged it to safety in Lesbos and saved everyone on board. Sarah returned to Lesbos in 2016 to work as a translator for the NGO ERCI (Emergency Response Centre International). Yusra went on to compete in the Rio Olympic Games in 2016, and part of the sisters' story has since been made into an acclaimed Netflix film, The Swimmers, released last year.
Criminal allegations were first brought against Sarah and her 23 co-defendants in August 2018. After a month-long investigation, Greek police announced that the group were suspected of membership of a "criminal network… systematically active in professionally facilitating the illegal entry of foreigners into Greek territory" and arrested them. The defendants have waited more than three years for their case to reach court.
Speaking outside the courthouse after the verdict on 13 January, Zacharias Kesses, the lawyer representing Mardini and her co-defendant Seán Binder, 28, explained that procedural errors made by the authorities had always meant it would be impossible for their case to proceed, including a failure to translate crucial documents from Greek for the defendants. "Given the fact that there is no actual evidence, for me, this is the biggest attempt to criminalise humanitarian assistance in Europe," he said.
Mardini, who spent more than 100 days behind bars in pre-trial detention when she was first arrested, is now banned from entering Greece and so was unable to attend the trial. But Binder, a German citizen who was arrested and held along with Mardini in 2018, was in court to hear the espionage charges being dropped.
"All we want is justice," he said, standing outside the courthouse, adding that he hoped they would not be forced to endure an equally long wait for a resolution to a more serious felony investigation.
The courthouse window on Lesbos reveals a small harbour lined with cafes, fishing boats and an expanse of Aegean sea: the crossing point for more than a million refugees in 2015-16. This period of intense arrivals, often referred to as the "refugee crisis", precipitated a deal between the EU and Turkey in 2016 to reduce crossings. In exchange for increased patrols by the Turkish Coast Guard, €6 billion in aid was promised to help Turkey host refugees prevented from crossing to Europe.
Although crossings have steadily decreased since, 2018 and 2019 still saw 32,000 and 59,000 arrivals respectively, according to the UN. On the Greek islands, residents became increasingly disgruntled by the refugee camps with populations far exceeding capacity. None more so than on Lesbos, which was home to the notorious Moria camp before it burned to the ground in 2020.
New Democracy, Greece's current right-wing ruling party, was elected on a strongly anti-immigration platform in 2019 on this wave of dissatisfaction. An urgent need to address the "migration issue" is a narrative that has been continually pushed by the party's ministers and its leader, Kyriakos Mitsotakis.
Today, the same Greek islands nominated for the Nobel peace prize for their efforts to help refugees arriving on their shores in 2015-16 are under scrutiny amid allegations of illegal pushbacks of asylum seekers. These include multiple reports of people landing on Greek soil but still being deported, often violently, denying their legal right to claim asylum in Europe. Forensic Architecture, a London-based investigation unit, recorded more than 1,000 cases of asylum seekers being pushed back between February 2020 and February 2022.
Adriana Tidona from Amnesty International, which has advocated for charges against the aid workers to be dropped since their arrest in 2018, believes that there is a clear relationship between the reports of pushbacks and the Greek authorities' criminal prosecution of humanitarians working to assist migrants.
"Criminalisation of humanitarians only removes precious assistance and oversight where it is most needed," she said, adding that 2022 was the deadliest year for the eastern Mediterranean since 2016, with more than300 people dying or going missing on land and at sea."
"The criminalisation of humanitarian help does nothing to stop people in need from seeking safety in Europe, even if it means embarking on increasingly dangerous journeys."
Mardini and Binder, both in their early twenties at the time of their imprisonment, have spoken about the harrowing impact of being jailed for what they maintain was the simple act of helping to rescue asylum seekers from drowning in the water. "I don't believe anyone deserves to be treated that way," she has said of her time in prison, "especially us… going into another area and to serve with everything we have assisting others."
Nassos Karakitsos, who was also part of ERCI and similarly detained for more than 100 days, described the past nearly five years as living in a nightmare. Banned from leaving Greece while the investigations continue, he says he has been unable to take up opportunities in NGOs abroad and struggled to find work.
"I am disappointed with my country and with the justice system," he said, adding that he was trying to mentally prepare for whatever came next with the ongoing investigation.
Binder, who has since re-trained as a lawyer, also faces obstacles in practising law until the investigation is complete. He expects that the NGO workers will find out within the next year whether they will be tried on felony charges. In the meantime, he has found some light relief posting memes on social media. After the 13 January verdict he posted a despondent-looking photo of himself on Instagram outside the court titled "When you realise you can no longer brag about being a supposed spy."
The Mitsotakis government, which claims to pursue a "strict but fair" migration policy, denies all allegations of wrongdoing, insisting that its authorities operate within the framework of international law. Last week's trial, however, was the product of just one of several ongoing investigations into NGO members in recent years in Greece. On 13 January, the UN Human Rights Office added its name to the growing chorus of disquiet about the situation.
"The UN Human Rights Office also has longstanding concerns that anti-smuggling legislation in a number of European countries is being used to criminalise both migrants and those who assist them," said spokesperson Liz Throssell.
As Greece prepares for elections in the spring, immigration is once again a hot button issue, with ministers repeatedly accusing their Turkish counterparts of "weaponising migration" by allowing large amounts of asylum seekers to cross the Aegean.
In response to continued arrivals by land and sea, Greek authorities have said they will continue the construction of a 140km fence along the country's 180km border with Turkey. Referring to the construction, Prime Minister Mitsotakis has said he would not "step back from the protection of the [country's] borders and the safety of people living in border areas".
Stavros Malichudis, a journalist who covers migration for the Greek magazine Solomon, said it would be unlikely that the government, including the Prime Minister, would be deterred by any pressure from the European Parliament. "Mitsotakis doesn't seem to actually mind when it comes to the European Parliament pressure.
"This has been proved with other issues, such as human rights violations at the border or the isolation of asylum seekers in remote refugee camps," he said. "On the contrary, as elections are expected in the coming months, he might make use of the case to reinforce the government narrative of 'putting in order' the migration issue."
The investigation and trial has taken its toll on Mardini. "I survived the war and the crossing of the water and I was completely fine, and just because of this situation I lost control of my mental health," she said in 2020. "Imagine yourself imprisoned for 107 days. You don't know why you're locked up, or what's going to happen to you.
"No one puts their life at risk in a dinghy because they think there is someone else with a blanket on the shoreline," she added.
Topics
Selected stories
Religious leaders from Spain, Germany and Sweden speak about events in the Middle East and the consequences for their communities

Is the Gaza truce a turning point in the Israel-Hamas war? Our panel discuss this and other topical issues. Plus, a look at the Muslim renters dealing with London's housing crisis

The filmmaker on her life, work and why telling women's stories is more important than ever