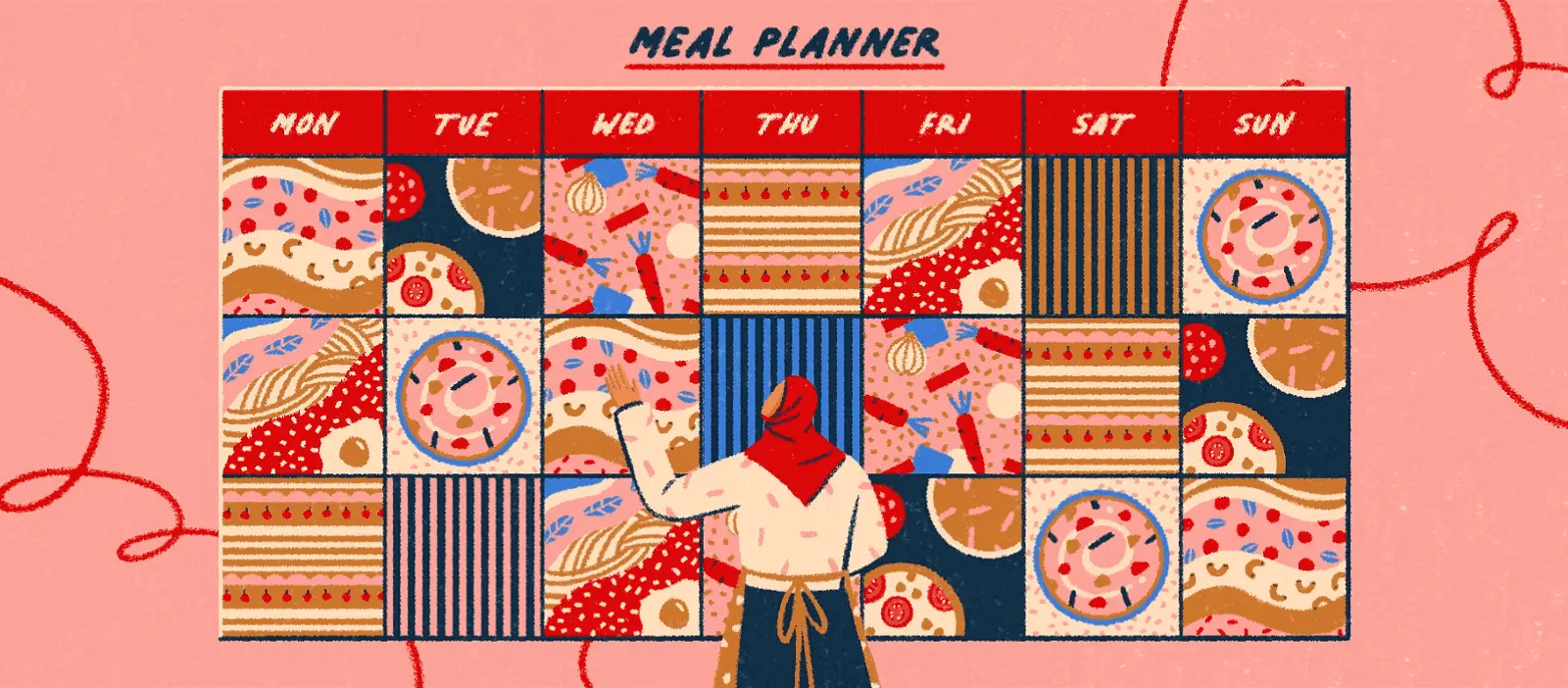 Here's how to meal prep your way to a healthier 2023
Ignore the TikTok trends and plan ahead for more nutritious and enjoyable eating
So, we're well into the first month of 2023. A new year has rolled in and we are, once again, flooded with unsolicited suggestions from marketers and influencers as to how we can live our "best lives". The emphasis is often on our dietary habits. After a festive period filled with cheese and chocolate, many people are feeling the effects of their overindulgence, which makes movements such as Veganuary and dry January all the more appealing.
At the age of thirtysomething, I'm well practiced in shutting out a lot of this noise: I grew up with 14-day diet programmes in glossy magazines, and TV adverts offering special, reduced new year Weight Watchers membership plans. But there is one new fad that I am finding it hard to ignore: the TikTok trend of meal prepping.
Unless you've been living under a rock or never use the internet, you'll know that #mealprep means slickly produced videos, mostly of women, preparing perfectly portioned food for themselves and their families to consume later. This is, of course, nothing new. Generations of women — for it has largely fallen on us — have undertaken the planning, shopping for, and the cooking of meals. And it is no small task. Much has been written about the invisible labour of women and looking after the family's nutrition is a prime example.
The difference with the meal prep genre is that it is driven by two particularly toxic aspects of social media. The first being the need to "optimise" every moment of our lives for maximum productivity, and the second being the desire to record and upload idealised versions of everything we do for public consumption, rather than reflecting what works in the real world. As a result, most of the meal prep reels we see are useless to anyone who wants practical tips on how they can eat more healthily, more cheaply, and more efficiently.
Take one such video I scrolled through recently. I was hypnotised by a pair of perfectly manicured hands preparing a stack of breakfast bento boxes: blueberries sprinkled like jewels into one compartment, a tub of yogurt in another, muesli in another. So far so doable. Then, breakfast meat is folded into one section, along with sauteed spinach, and finally topped with a fried egg. A handwritten love-note reminding the box owner that they are awesome completes the preparation. Five of these bento boxes are then stacked in a fridge so clean you could lick it, a week's worth of morning meals. Now, who — and I ask this in earnest — wants to eat a five-day-old fried egg? Surely anyone sitting at their desk, eating the same thing for the fifth day in a row is almost guaranteed to hurl it in the bin and hotfoot it to Pret for a breakfast croissant and a coffee?
So, meal prep reels have ruled themselves out as usable inspiration, but I am still left rudderless in the vast seas of planning and preparing food for my family of three — something that can take up several hours each week. As anyone managing a family menu can tell you, it's not as straightforward as asking yourself: "What do I fancy cooking?" Along with individual tastes and preferences, special dietary requirements, allergies and intolerances all have to be taken into account, as well as factoring in the limited time we often have for shopping, cooking and cleaning up. For many, the cost-of-living crisis has added more pressure still, forcing a growing number of people to adapt their shopping and eating habits to make ends meet.
Our challenge is that my husband doesn't eat meat, I'm gluten intolerant, and our son is, well, a toddler. While we aim to eat the same meals and at the same time as much as possible, I often find myself cooking two different dishes or an additional side to suit everyone. I even asked for a tear-off weekly meal planner from a posh stationary company for my birthday, in the belief that writing my menus out on high-GSM paper would somehow make the task more pleasurable. (It does, a bit.)
I've had to go back to the drawing board, to find ideas from elsewhere. I think about how my mum managed when we were growing up. Her legendary store-cupboard meant that many meals could be produced from whatever was already in the house — dal, rice, tuna stir-fried with onions and chillies, spicy tinned chickpeas — meaning she was less reliant on having made it to the shops that day.
Recently, I made a foray into Mumsnet, which is more or less the opposite end of the internet to TikTok, to see how others approach feeding their families. From my research, it appears popular to have a rotating cast of standby recipes for the week, often based around one-pot, reheatable favourites, such as fajitas, curries and lasagne.
I also issued a callout on Facebook asking my friends how they do it. As always, they delivered heroically, offering up crowd-pleasing one-pan recipes, make-ahead tips, photographs of handwritten rotas they have pinned to their fridges, not to mention reassurances that they also find the whole process a huge pain and are still figuring it out. I cobbled together these fragments of wisdom, shared by people who knew how I felt, and tried to come up with a plan. It all started off pretty coherently:
Monday: chicken/paneer curry (mild), dal, rice
Tuesday: bean chilli, tacos, guacamole
Wednesday: salmon with roast vegetables and couscous
But even that short list ended up with dishes crossed off and substitutions made. I didn't get to the shops on Wednesday, so midweek salmon became tuna, cheddar and potato fishcakes, with peas from the freezer, wilted spinach from the garden, a dollop of mustard and a squeeze of lemon to make it feel grown-up. "HERBS" bellowed our toddler, while he was "helping" me, demanding I pass him the pepper mill. "Involve kids in meal prep" is one online tip that actually seems to work for a bit, provided you don't mind the mess and being bossed around in your own kitchen.
And messy is often what real life looks like. I do try and plan ahead, but often what ends up gracing our family table is a roulette. It may not always be Instagrammable and it won't win any awards for haute cuisine, but I am always mindful of how fortunate we are to know that there will be something on our plates.
Here are my own cobbled-together tips for meal prepping in 2023 and beyond:
A week is a long time. Plan three or four days ahead. You're more likely to stick to it and can revise midweek, depending on what is going on, what's left in your fridge and your will to live.
Aim to cook every other day. Make enough main dishes for two days — this is easier for things like curries or stews — and add in a salad, rice or quick side vegetable to bulk out day two.
If you all have different dietary requirements, keep a running list of dishes/recipes that suit you all, so you can easily refer to them. Aim to cook from that list several times a week.
Try to perfect four or five recipes you can rely on and make without thinking too hard. Always have the ingredients on hand, so you can fall back on them when you're low on time or inspiration. One of mine is Bangladeshi dal — red lentils that I temper with ghee, garlic, mustard seeds and dried chilli — all things I have in the cupboard at all times.
Don't get too hung up on the plan. If you've made a meal and it's been eaten, consider it both a victory and a blessing. As one of my friends reminded me: "It's just dinner."
Topics
---
Get the Hyphen weekly
Subscribe to Hyphen's weekly round-up for insightful reportage, commentary and the latest arts and lifestyle coverage, from across the UK and Europe
---