My Edinburgh: Talat Yaqoob
From South Asian restaurants to prayer spaces, the award-winning feminist campaigner takes us on a guided tour of her city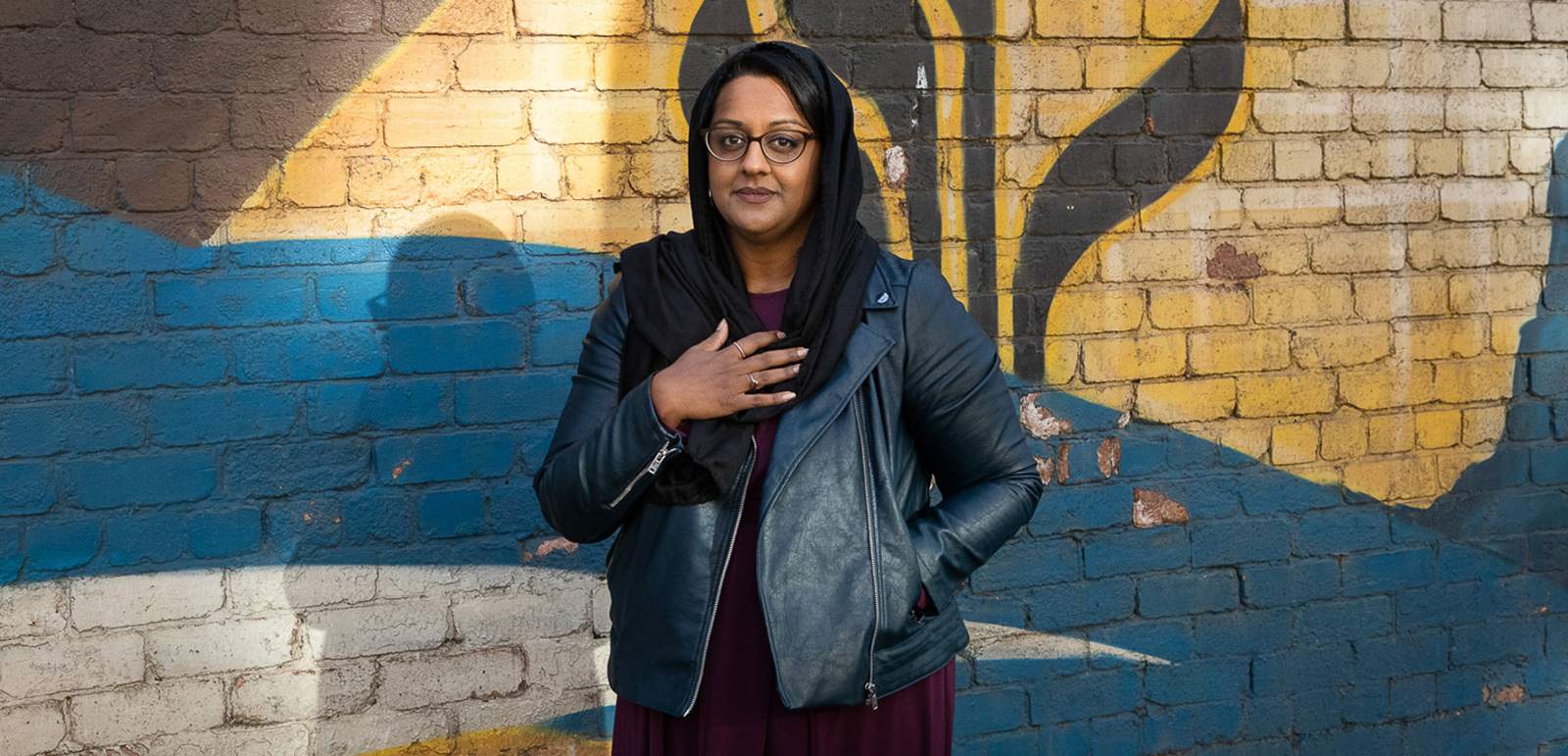 Talat Yaqoob is an award-winning feminist campaigner and consultant. She is the founder of projects such as Women 5050, a campaign for equal representation of women in Scotland's parliament and councils, and Pass The Mic, which aims to increase the number of women of colour called upon as experts in the media. She took us on a tour of her home city of Edinburgh, to see the sights that have shaped her life personally and politically.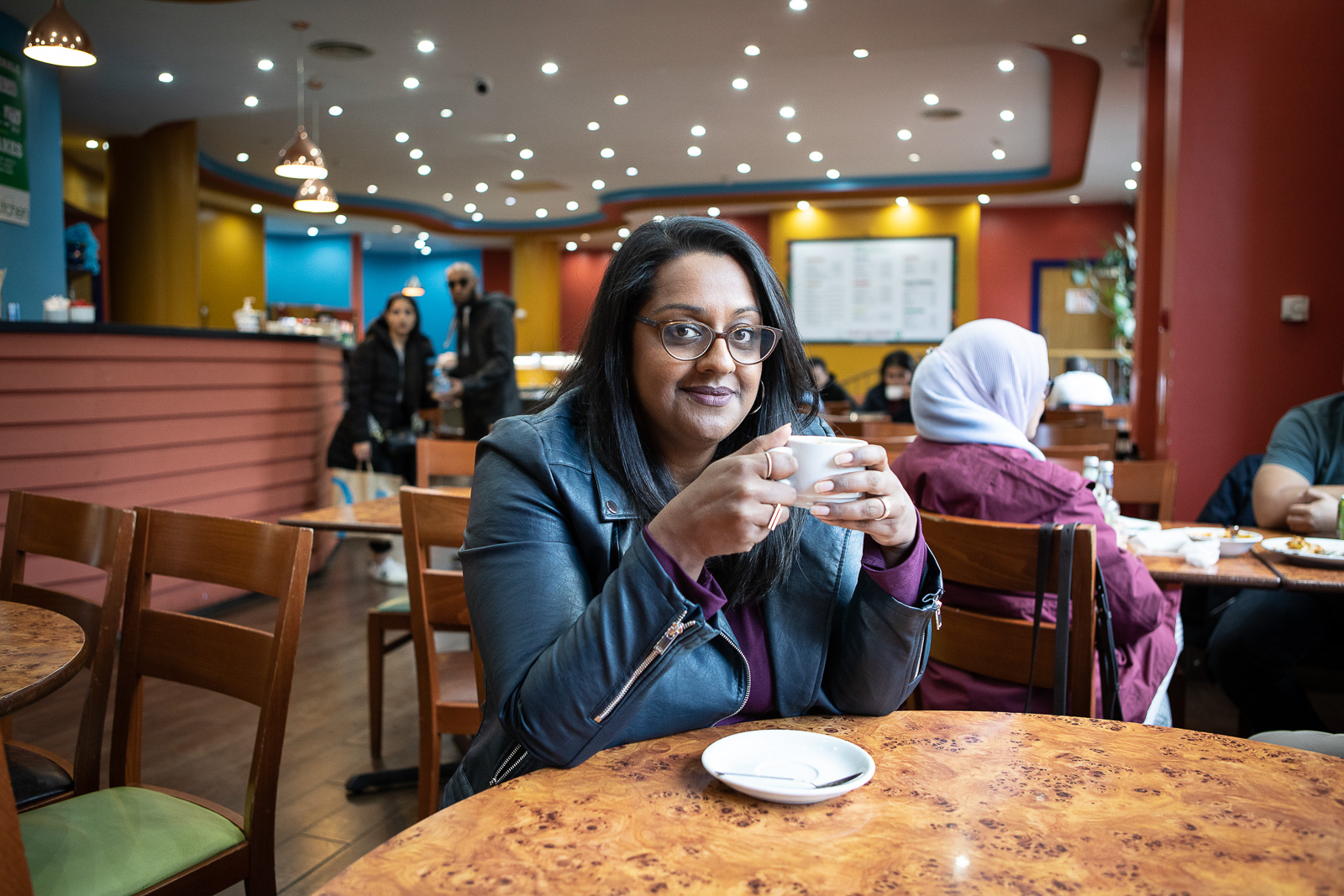 The Mosque Kitchen, 31-33 Nicolson Square
"The minute you come in here you get hit by this smell that's really similar to when my mum cooks," Yaqoob said, sitting at a table in Newington's bustling Mosque Kitchen. "You go into a lot of South Asian food places in Edinburgh and they're catering to tourists, rather than to people who know the food. It doesn't taste like my mum's, it doesn't smell like my mum's, but you come here and it does."
Yaqoob added that the restaurant's location, close to Edinburgh University, plays a big part in creating its comfortable atmosphere. "You see lots of international students in here and you can see they feel at home," she said. "You get a real diversity here that you don't often see when you walk around the streets of Edinburgh."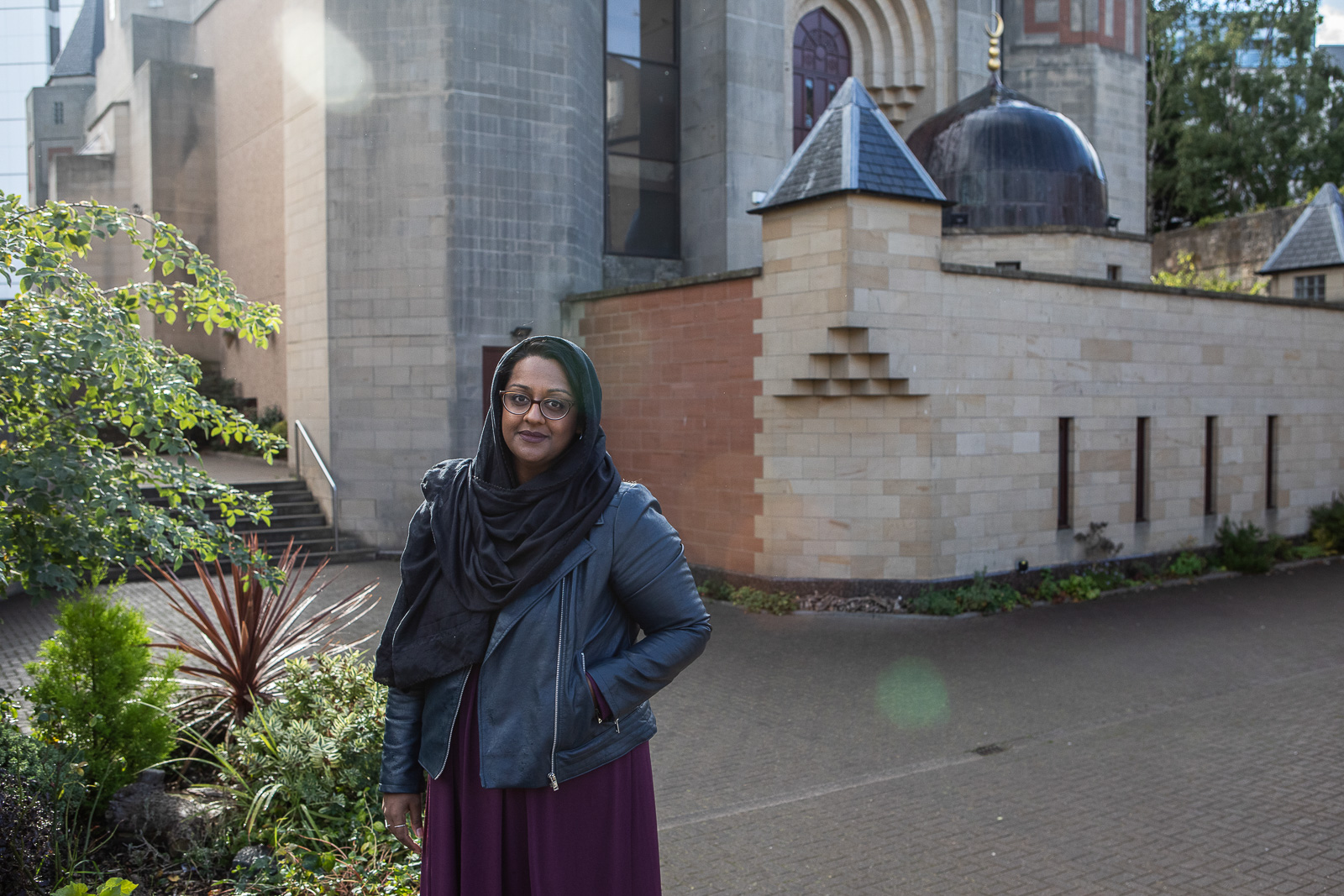 Next door to the restaurant is the city's only purpose-built mosque. Yaqoob recalled a vivid memory of a 2009 march through Edinburgh following an increase in leafleting and gatherings in the city by the BNP and the Scottish Defence League.
"Unite Against Fascism organised a rally in response and there were steel drums and people shouting," she said. "But, when it got outside the mosque, they didn't play the music, they didn't do any chanting. Instead, they had a moment of silent solidarity outside, because worshippers were going in."
Yaqoob recalled that members of the congregation and the mosque's imam joined the protesters outside. "I got so emotional about it because it was in response to people saying that people like us shouldn't be in Scotland or in the UK," she said. "It was such a wonderful moment of solidarity that I really think we need more of in the current political landscape."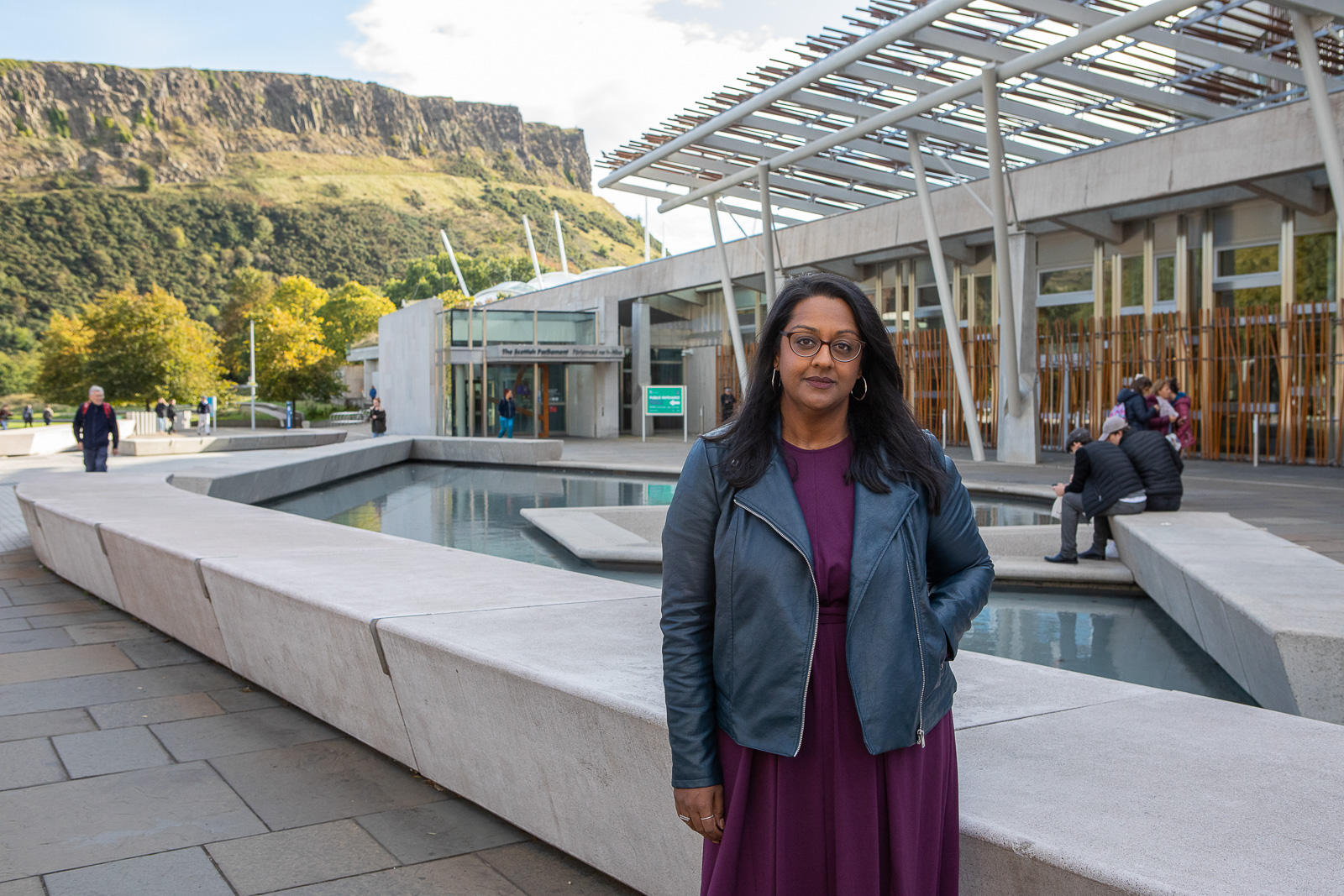 Scottish Parliament, Holyrood
"I've lost track of the number of marches that have ended here and rallies that have happened outside, including ones I've organised," said Yaqoob, looking at the Scottish Parliament building. "It's that coming together of people in front of a symbol of power that, a lot of the time, is not working how we want it to. The right to protest, particularly outside such a powerful symbol, as a Muslim woman of colour is a really big deal to me."
The first protest at the Scottish Parliament that Yaqoob had a role in organising concerned the Climate Change (Scotland) Act in 2009, when she worked for the campaign organisation Global Justice Now. In the years since, she has lost track of the number of marches and rallies she has been part of, from campaigning for education reform to demanding action on violence against women and local council cuts.
Her work also pays special attention to the representation of women and women of colour in the Scottish Parliament itself. Last year the Parliament's first ever Muslim woman was elected, Yaqoob pointed out.
"The parliament existed for 20 years before a woman of colour was elected to it," she noted. "You can see the intersections of Islamophobia, sexism, racism and all their compounding impacts. Until that's tackled and genuinely stamped out, we can't honestly say we have a flourishing democracy."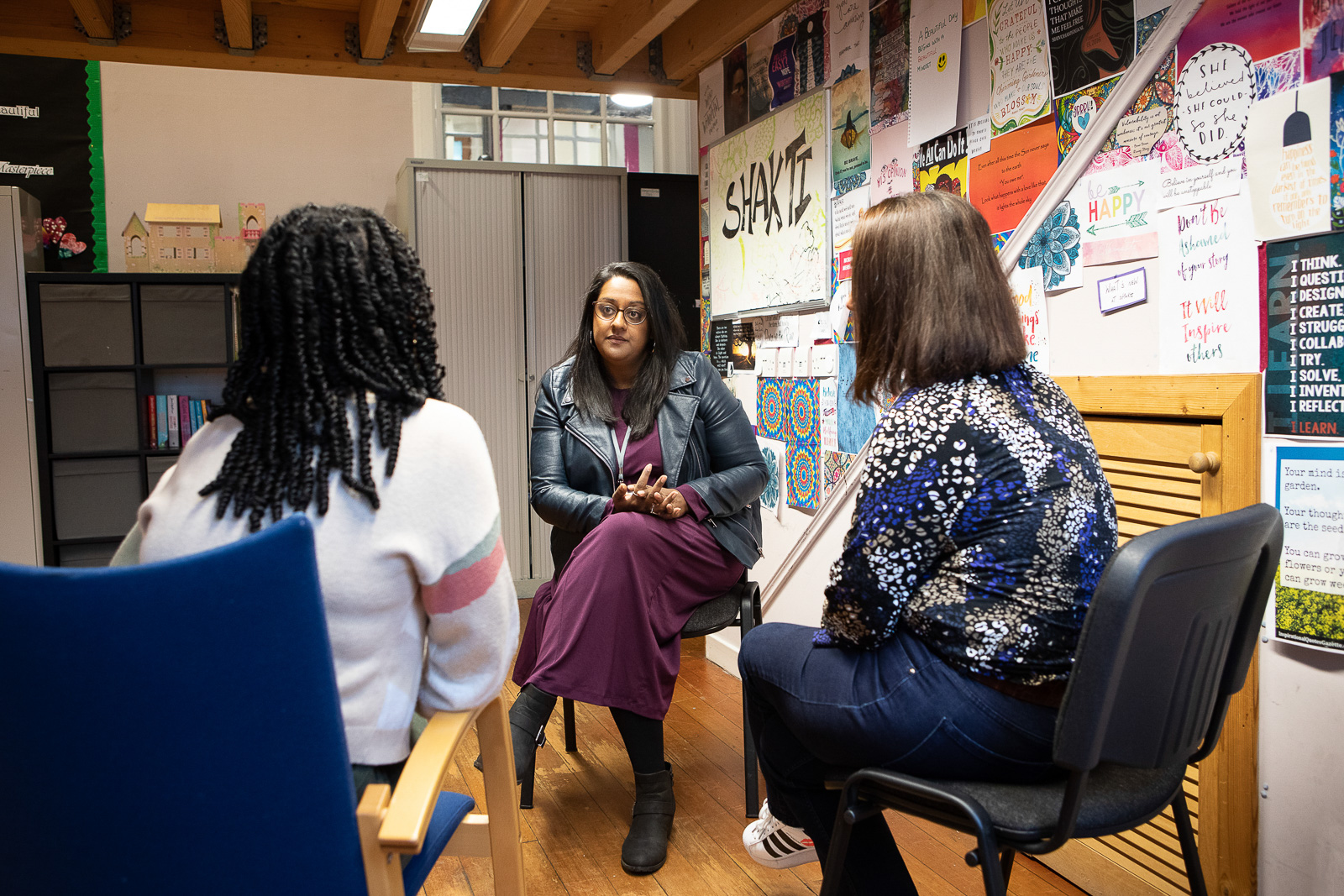 Shakti Women's Aid, 57 Norton Park
Alongside the mental health and wellbeing organisation Saheylia, Shakti Women's Aid is one of only two organisations in Edinburgh providing specialist support to women of colour. Shakti's focus is on those who have experienced domestic abuse.
"When a friend of mine was having an incredibly difficult time in an abusive relationship, it was Shakti that essentially saved her," Yaqoob said. "They provided her with the support she needed to survive and be able to live a life of independence and safety again.
"They do a phenomenal job of advocating for those women who are most likely to be ignored in our systems, and they have to do so much in terms of fundraising, lobbying and influencing. They need to be appreciated for what they do. They're saving lives."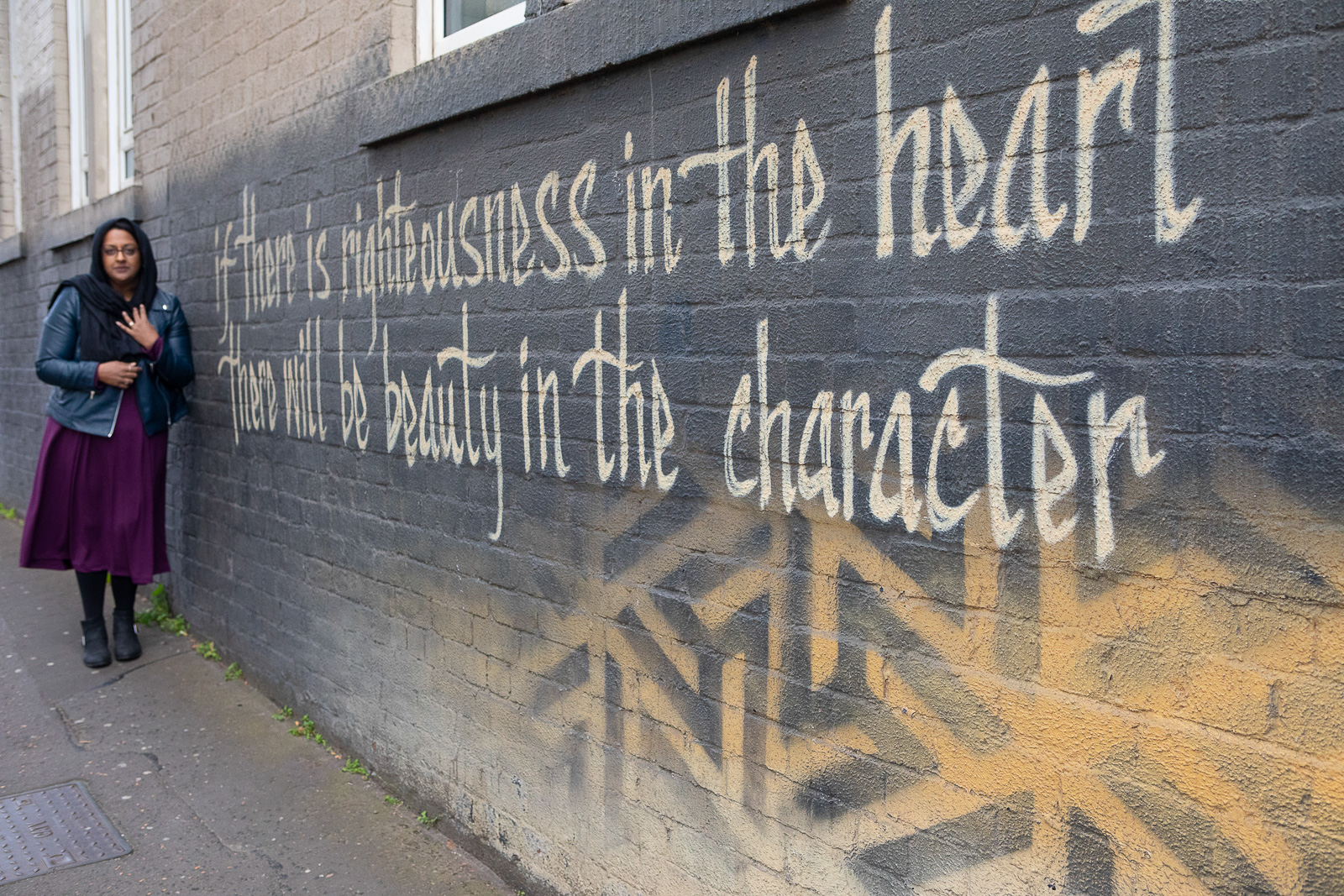 Annandale Mosque, 43-45 Annandale Street
Standing in front of its colourful exterior walls, Yaqoob explained that the building that houses the Annandale Mosque used to be a carpet warehouse. "Because of that, it doesn't have typical Islamic architecture. Instead, it has this lovely mural that talks about how 'If there is righteousness in the heart there will be beauty in the character.'"
The mural's words are taken from the Qur'an and its colours are inspired by the blue and white of the Scottish Saltire. "That's a very purposeful decision," said Yaqoob. "It's about solidarity and community. It's a different picture of Islam from the negative one that is painted in the media."
Yaqoob's father was involved in setting up the mosque when the one he attended became too small for the city's growing Muslim population in the early 2000s. He still attends Friday prayers there. Yaqoob joins when she can and regularly attends family and community events.
"To see the room filled on a Friday is a real source of pride for my dad," she said. "This place has been an important part of my family's existence in Edinburgh."
Topics
Selected stories
Is the Gaza truce a turning point in the Israel-Hamas war? Our panel discuss this and other topical issues. Plus, a look at the Muslim renters dealing with London's housing crisis

The filmmaker on her life, work and why telling women's stories is more important than ever

From Ramadan dates to Christmas pudding, food can encapsulate specific times of year and remind us of the circular rhythms of life