The struggle over loved ones' graves
Madrid's dilapidated Islamic burial site has been a source of frustration for the Muslim community for decades. But thanks to the work of the city's first and only Muslim city councillor, changes will soon be made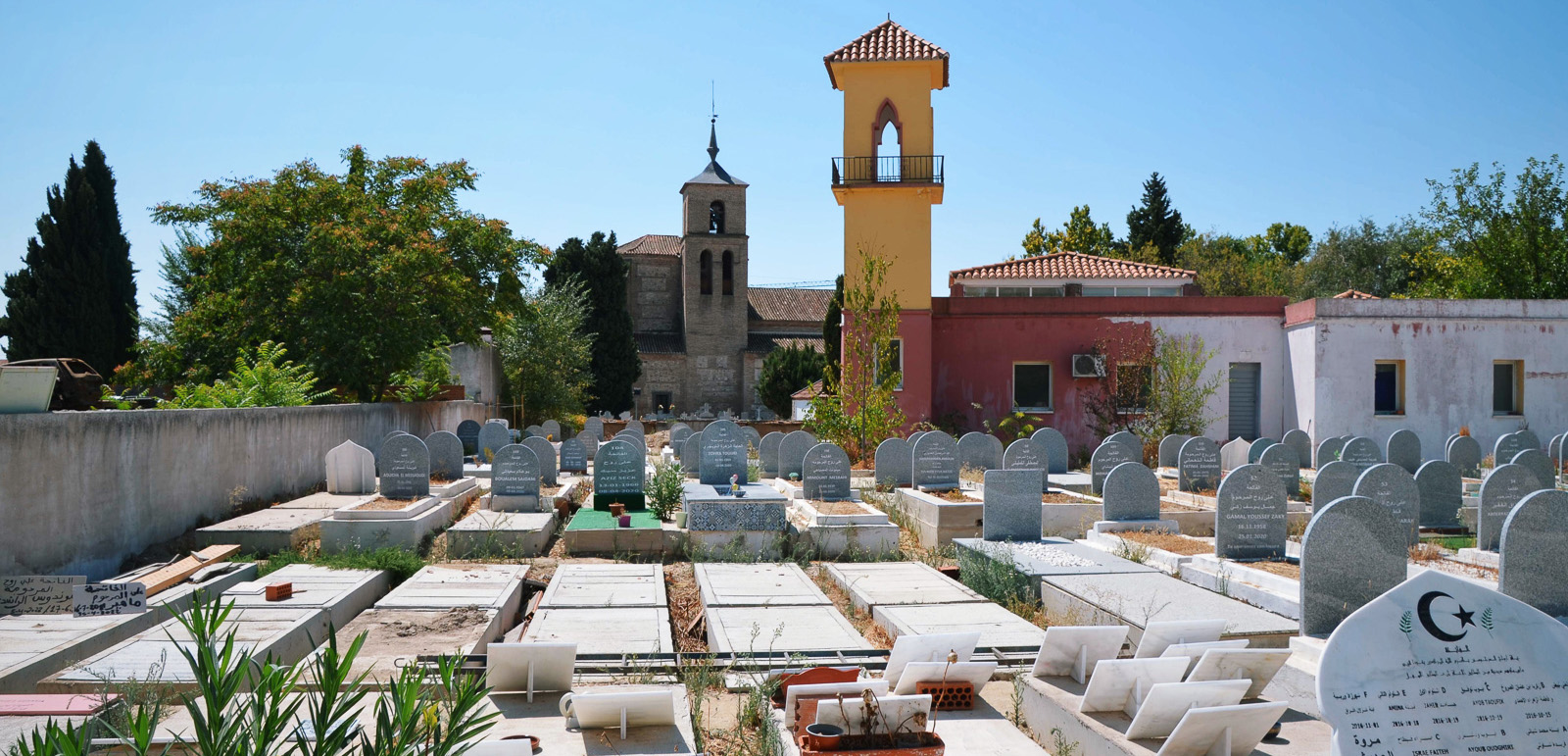 It's easy to sympathise with the people who no longer have the energy to visit their loved ones' graves in Griñón, a small town on the southern border of Madrid. If you want to take a bus there, the wait can be up to three hours, followed by an hour-long journey along potholed roads, through dusty suburbs and olive groves.
By the time the ride is over, I'm relieved to be on foot again and taking the five-minute walk to a small church overlooking a graveyard of traditional Spanish raised tombs. Beyond them, in a separate walled area between a skatepark and a recycling facility, lies Madrid's only Muslim burial site.
Beyond the entrance to the Islamic Cemetery are hundreds of simple, polished granite headstones inscribed in Arabic. The year 2020 marks the bulk of them, hinting that many of the people buried here were victims of Covid-19's first deadly wave. Behind them is an area of older, modest white graves, cement mounds and sunken pits. In the middle of the site is a small white mosque with a dusky pink and yellow minaret. Instead of being a place of remembrance, the cemetery feels forgotten and has been a source of frustration for the Muslim community for decades.
In a café in central Madrid, I met with Maysoun Douas, Madrid's first and only Muslim city councillor, representing the regional political party Más Madrid (More Madrid). When she buried her father in Griñón two years ago, she was distressed by the run-down condition of the grounds.
"I was shocked when I saw the cemetery," she said. "I don't believe my father knew of the scale of things because, if he did, he would have talked about it with me. But he never mentioned anything."
The dilapidation of the Muslim graveyard stands in stark contrast to the Christian one next door, on the other side of a crumbling marble-clad wall. What also makes the two spaces different is that family members of the people buried in the Christian site tend to live nearby and can visit regularly to tend to the graves. The Muslims buried in Griñón are typically from miles away, across Madrid. Given the distance families have to travel and the inconvenience of the journey, the graves receive fewer visitors and many have fallen into disrepair.
But, as Douas explained about her own father's ceremony, there are even deeper problems with the burials that have been carried out in Griñón.
"There was no respect for our beliefs. He's not in contact with the soil. He hasn't been returned to nature," she said, wiping tears from her eyes. "Worse still, when we asked why we couldn't have a proper Muslim burial, they told us that we just had to accept it and that's that. Eventually, we had to but we're still not at ease about it."
Until 2014, Griñón was the chosen cemetery of Muslims from Madrid and beyond, because it allowed traditional Islamic burials, in which the deceased is placed on their right side, wrapped in a shroud and with their head directed towards Mecca. Since the ground was placed under the control of the local council eight years ago, burials of Muslims have been subject to the same conditions as all others, meaning that bodies must be buried in caskets. The council has cited public health reasons for this, namely a risk of contamination to underground water systems. Burials now come at a fixed price of around €2,000 euros on top of the fees paid to funeral homes, which now stand at an average of €1,500 euros.
More than 300,000 Muslims live in the greater metropolitan area of Madrid, including around 100,000 in the city itself, according to 2020 figures by Statista. There are around 40 mosques and Islamic cultural centres in the city and 130 across the wider region. Mohamed Kharchich Bakori is an imam at the "M-30 Mosque". Popularly named after its location alongside Madrid's main ring road, the six-storey building is the biggest place of Muslim worship in Europe, with a floor space of 12,000 sq metres.
"Despite the significance of Madrid's Muslim community, somehow the city is still unable to reliably offer funeral services in accordance with Islam," he said, sitting in a cafe that overlooks his mosque.
"Muslims want to be buried here because they are from here, and it is their right," he added. "We don't ask for any special treatment, we just ask for equal treatment, like all religious minorities who are buried according to their beliefs. Why not us?"

Madrid is home to multiple Jewish cemeteries. One of the oldest of them, the Almudena, is located in the city's largest cemetery complex and offers burials according to Jewish tradition. There is also a British Cemetery, founded in 1854, which is open to Jews, Lutherans and members of the Russian and Greek Orthodox Churches.
Following a spike in burials during Madrid's first wave of Covid-19, the Griñón cemetery ran out of space. Instead of finding a new site, Douas explained, Madrid council held "discussions about exhuming bodies that had already been there for 10 years, but not necessarily informing the families". It was proposed that the remains would be placed in a mass grave or, if the families were informed and agreed, could be moved to another site or repatriated to their country of origin. Another proposal, she added, was that the mosque be demolished to create more room for graves.

In addition to practical concerns about space and the unwillingness of the local authorities to allow fully Islamic burials, the weight of history hangs heavy over Griñón.
In its far north-eastern corner lie the remains of soldiers from General Francisco Franco's Army of Africa. The army's troops — largely recruited in Ceuta and Melilla, Spain's two remaining North African territories, bordering Morocco — are the reason the Islamic Cemetery was first built, back in the 1940s. To most, the grounds are known by the words that can be seen on a metal plaque at their gated entrance: Cementerio Militar Musulman Español (Spanish Muslim Military Cemetery).
According to the historian Nigel Townson, the Army of Africa acted as Franco's shock troops and were instrumental in the civil war victory that ushered in Franco's 36-year-long nationalist dictatorship.
"Between 70,000 and 80,000 Moroccan troops were present in Spain at any one time," Townson explained. "Because the nationalist insurgents recognised the importance of having the Moroccan troops on their side, they went to great efforts to win over local chiefdoms, providing them with clothing, food and a wage that was very attractive to them."
In a final gesture to his Moroccan soldiers, Franco provided those killed in battle with their own cemetery on a small piece of farmland in Griñón, donated by a Spanish-Moroccan woman.
The only visible sign of Franco's Moroccan troops is an unimposing mass tomb with a small, fading plaque inscribed "Restos Militares 1936-1939" (Soldiers' Remains 1936-1939). But, for more than 80 years, every time a loved one has passed away, members of Madrid's Muslim community have had to contend with this dark memory of the past.
"The question is, do the families feel comfortable with this situation? I think, if they had the choice, they would choose a different space," said Douas. "To be holding on to this historical damage to the Spanish population by being buried as a Spanish Muslim in the same place has been something very difficult for us."
Until 2014, Griñón's Islamic cemetery was managed by the Moroccan embassy, meaning that the families of Spanish citizens who wished to be buried according to Muslim tradition had to request approval from a foreign government.
"If I'm Spanish and I am Muslim, what is the point in making me pass through the consulate of Morocco to have a grave? It's like an attack on my citizenship just for being Muslim, and that isn't fair at all," said Douas.
A solution to the multilayered problems of the Griñón cemetery was first proposed in 2006 by the centre-left political party PSOE. It proposed the creation of another Islamic cemetery in the city of Madrid, but the idea did not gain enough support. Douas believes that was because no Muslims sat on the council and the community's views were never heard.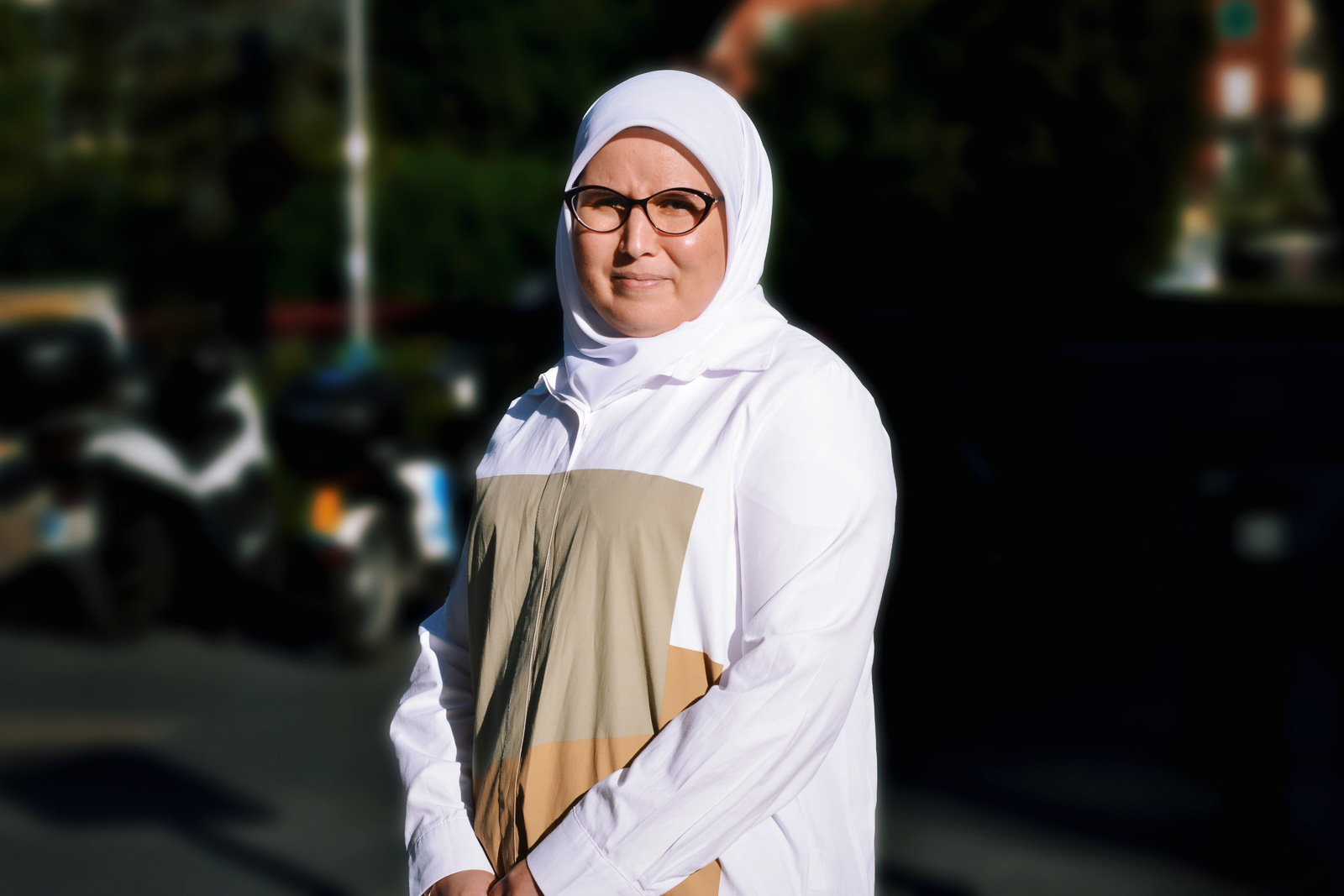 It wasn't until summer 2022, three years after she was elected as a councillor, that Douas pushed the conversation forward once again and the 16-year-old proposal became a concrete policy.
"I approached every councillor and explained why this was important and convinced them to vote for the proposal," she said.
Thanks to Douas's work, a new Muslim cemetery is set to open later in 2022. The 10,000-sq-metre grounds will be located in Madrid South Cemetery, a well-maintained site in the neighbourhood of Carabanchel, just a few miles from central Madrid and with much better transport links to the rest of the city. Douas also explained that Muslims will finally be able to receive full Islamic burials.
Having buried her father and grandmother in Griñón, Douas had a personal connection to the issue that was visible in her campaigning — something she credits for her hard-won success and sees as a perfect example of why adequate representation of minority groups is important.
"This is why we need diversity in the government," she said. "We are the ones who know the struggles and how to sort them out, and how to convince people to accept something which is a fundamental right."
Topics
Selected stories
From pickles and ferments to jams and chutneys, conserving surplus produce allows us to enjoy fruits and vegetables grown in familiar earth, many thousands of miles away

The western world's largest mosque is a point of pride for the country's Muslims, but its impressive scale and ornate design do not reflect their position in the country as a whole

The challenge for Keir Starmer is to combine control and compassion in efforts to tackle dangerous boat crossings