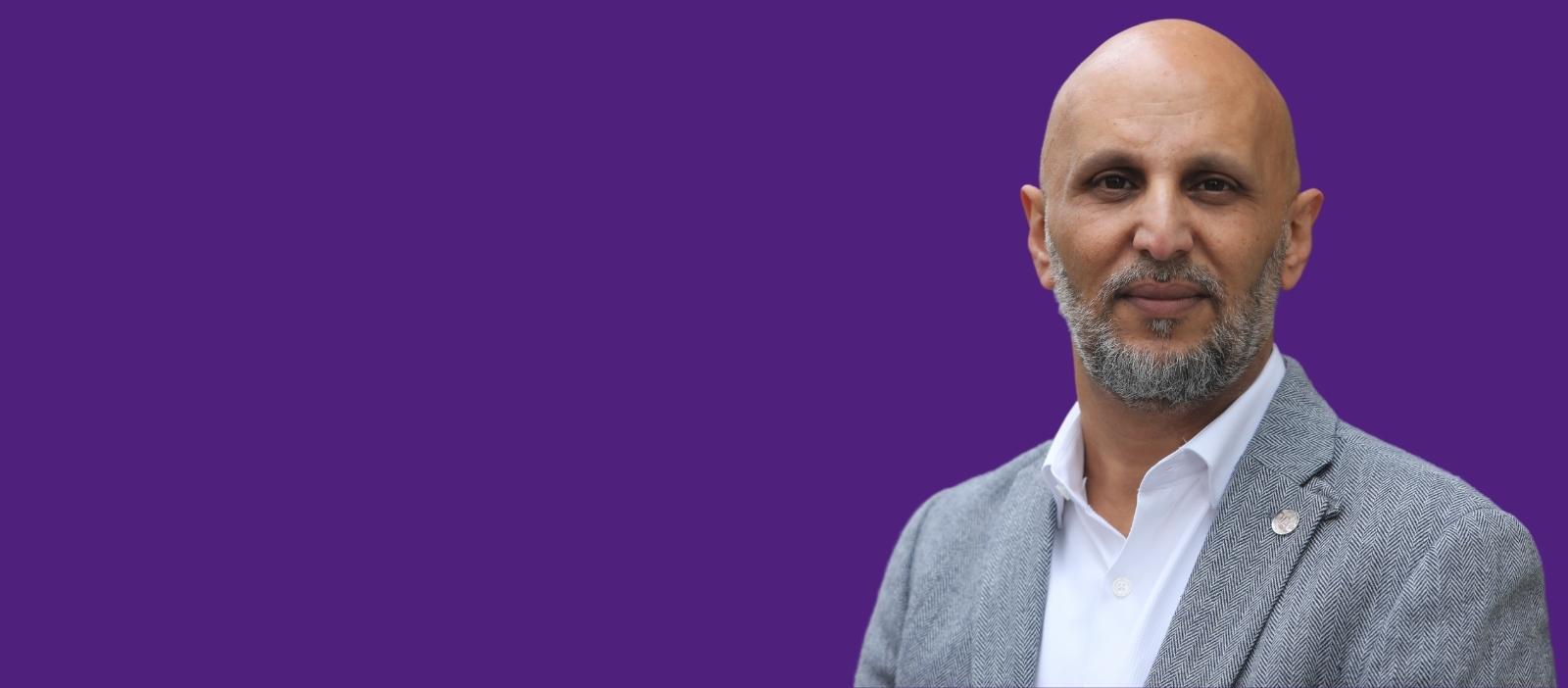 Saleh Saeed Q&A: 'We know the world can afford to feed and look after everyone'
Photograph courtesy of Disasters Emergency Committee
The humanitarian charity CEO on inequality and fundraising to help those affected by the catastrophic floods in Pakistan
Saleh Saeed is the chief executive of the Disasters Emergency Committee (DEC), an organisation that raises money to support humanitarian responses to catastrophes ranging from conflict to climate change. Saleh's own community has been touched by the impacts of conflict, with his birth country of Yemen now in its ninth year of a civil war. At the start of September, the DEC launched an appeal to raise funds for the millions of people in Pakistan affected by recent floods which have left more than 1,600 dead and destroyed more than a million homes. DEC's appeal has so far raised £25m.
This conversation has been edited for length and clarity.
The Disasters Emergency Committee is doing a lot of work in Pakistan, responding to the recent floods. Can you tell us about that?
As the situation developed, it became very clear that this was a really huge crisis and that the DEC needed to act. We were able to act within 36 hours of a decision being made to launch an appeal for funds to support our members who work on the ground. We have a membership of 15 international humanitarian organisations: the likes of Oxfam, Save the Children, Islamic Relief and Christian Aid. They have the capacity, people on the ground and expertise in places like Pakistan. They do the work in partnership with local people, local organisations and the delivery of the aid on the ground. We raise the money for that to happen by working with our partners and broadcasters to get that fundraising message out to millions of people across the UK.
How does the DEC go about its fundraising activities?
The vast majority of the funds come from your average Joe or Ali giving £10, £20, £30. That all obviously builds up and makes a huge difference. In the case of Pakistan, we've been able to raise £25m in two weeks, which is a testimony to the generosity of the British public, and to the UK government, which matched up to £5m of that.
With this appeal there's obviously very strong diaspora engagement, particularly from the Pakistani community, the wider Muslim community and the wider Asian community. That's really great to see. Many people still have family or friends there and are still connected to communities there. They see the DEC as a trusted charity to support and to give to. We're particularly pleased we've got well-known people in the community to help lead the appeal: Art Malik, Malala Yousafzai and Adil Ray for example.
Have you seen any patterns in fundraising efforts in the UK?
As we've seen on the news, mosques up and down the country have raised funds. It's often those poorest communities in the UK that are also the most generous, particularly at a time where we find our own situations difficult with the cost of living crisis and with the energy crisis.
What are the biggest challenges in your job?
The real challenge for us is how do we — in a world facing so much poverty, hunger and crisis — respond on a much more long-term level, as opposed to fighting fires from one emergency to the next. For me, and I think for the whole sector, that is a real challenge. It's dealing with the huge need out there. We know the world can afford to feed and look after everyone. It's inequality that is preventing that. I think that is painful and a real challenge for all of us as human beings.
What would you like to see change for deprived communities in the UK?
It's the cycle of deprivation based on where we're born and where we go to school. For me, it's very important that we try to help and create opportunities that break down stereotypes, but also open up opportunities for people to have equal chances in life, whether it's in education or jobs or, for that matter, anything else.
Your work focuses on humanitarian disasters, which must take its toll on you. How do you cope with that?
It's difficult to switch off. You want to go away and relax and enjoy a holiday, like everybody else, but it's difficult knowing the things that we have to do and the emergencies that we will have to plan for. Having said that, it's important to maintain a healthy lifestyle to be prepared and have the energy to be able to respond to all these emergencies.
For me, part of it is just doing some really nice casual walks with friends and family, bike rides, getting a lot of fresh air and so on. Also, just unwinding with friends and family. Family means a lot to me. I think that my job has taught me that the people around you are the most important in your life.
Topics
Selected stories
From pickles and ferments to jams and chutneys, conserving surplus produce allows us to enjoy fruits and vegetables grown in familiar earth, many thousands of miles away

The western world's largest mosque is a point of pride for the country's Muslims, but its impressive scale and ornate design do not reflect their position in the country as a whole

The challenge for Keir Starmer is to combine control and compassion in efforts to tackle dangerous boat crossings