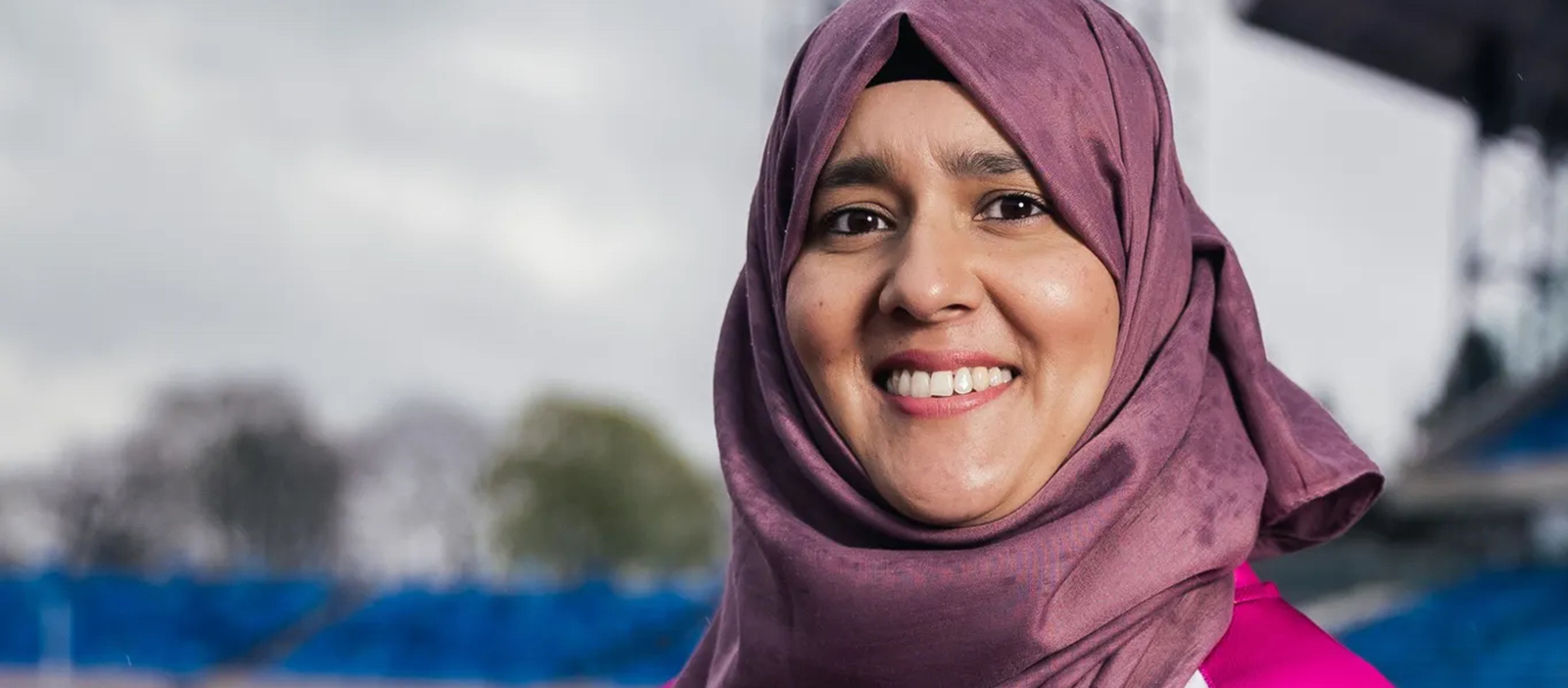 Yasmin Hussain Q&A: 'I don't see why a Muslim woman couldn't play football for England'
Photograph courtesy of Birmingham 2022 Commonwealth Games
The coach and mentor's mission is to encourage more Muslim girls to take up the beautiful game
Yasmin Hussain is on a mission to increase the number of Muslim women football coaches. Interest in the women's game is at an all-time high, with an estimated 3.4 million female players in England alone. That figure is only set to grow when the World Cup starts in Qatar in November.
In addition to working as an FA community mentor for female coaches, Hussain, 36, is also responsible for the training of more than 80 girls — many of South Asian heritage — who play at Frenford & MSA Women's Football Club in Redbridge, east London. She was also recently chosen as a baton carrier for the 2022 Commonwealth Games in Birmingham next month.
Hyphen: How old were you when you first kicked a ball?
Yasmin Hussain: I must have been about six. I wasn't in any team but liked having a kickabout with my brothers and his friends. I used to play cricket as well, but it was football that I had the most interest in. It was so much fun and gave me such joy.
What was it like trying to get involved with the sport, as a young girl?
I gave up at the age of 15 mainly because no other girls wanted to play. And so I tried to look for local pubs and football clubs with girls, but there were no female coaches. I kind of just gave up.
Football can be a very physical sport. When you were playing as a teenager, did you find the boys picked on you because they thought you were weaker?
They didn't care that I was a girl. A lot of people have asked if I was the last player picked but I was a good player and when I was playing in the park with the boys, I felt like part of the football team. I didn't feel targeted. They accepted me and that's why I enjoyed playing with them.
When did things start to get difficult for you?
Some people started saying, "Oh, you're a tomboy," and my dad was concerned as I was the only girl on the team. So I gave up football and switched to netball.
Did you have any dreams of becoming a professional football player?
No, because I didn't think it was something females could do. There were no role models. I thought it was a boys' sport and I was just really grateful they would let me play with them.
How did you get into coaching?
Five years ago, I was looking for places to play football near where I lived when I saw a Facebook ad saying there was one more space on an FA course to get BAME women into coaching. I asked my husband if I should go for it, and he gave me 100% support. The ​​three-month course was my first coaching qualification. I then got practical experience with the Muslimah Sports Association, who connected me with the Frenford Youth Club.
What made you bite the bullet and go on the course?
One of the reasons I had stopped playing was that there were no female football coaches. I had an opportunity to change that. It was amazing and I was so much happier. It was a great laugh and I made so many new friends.
Your first coaching session was in 2018 at Frenford Youth Club. What was that like?
I did my first session with just boys. It was one of the toughest things I've ever done. I was thrown in at the deep end and everyone was just staring at me. It was really, really difficult. I thought to myself, "I'm doing this for females — and there are no females here. Maybe there is no demand for it." But my coach and mentor Neal Akhtar gave me a lot of confidence in myself and invested in me.
You recently began coaching at Frenford & MSA Women's Football Club. Describe your experience and some of the challenges you have faced?
At first we had five girls and then it grew rapidly through word of mouth. We now have three teams playing in the Super 5 league in Hackney. I have recruited 30 coaches from the South Asian community and 16 are actively coaching.
How are you encouraging more Muslim women to play?
I'm involved in the Football Association's #letgirlsplay campaign to encourage more girls to participate in football in schools. Currently, only 63% of schools offer girls football in PE lessons and only 40% of schools offer girls regular extracurricular football. I'm hoping that, by 2024, it will be offered in every school.
How did you get to be chosen as a baton carrier at the 2022 Commonwealth Games in Birmingham in August?
I was put forward by the Muslim Sports Association. I'm really excited as this is my chance to tell my story, so I can encourage other Muslim women and then hopefully recruit more female coaches.
What made you return to the sport after almost 20 years?
I was 33 and my kids were grown up. I needed to focus on myself. I'd moved from Manchester to London and didn't have many friends. I was missing the social element of my life. I needed to find something that helped me find new friends, as well as keep me fit and active. That's when I thought about going back to the sport I loved.
Have attitudes to girls playing football changed within the Muslim community since you were a young girl?
Definitely. Through the work I'm doing I've seen the mindset change. Parents now praise me for the work I'm doing, saying it's really needed for their daughters.
Do you think a Muslim woman will win a place on the England football team one day?
I think it'll take time, but yes. At the moment we're just getting started. But if a young woman has the right skills and opportunities, I can't see why it shouldn't happen.
Topics
Selected stories
Religious leaders from Spain, Germany and Sweden speak about events in the Middle East and the consequences for their communities

Is the Gaza truce a turning point in the Israel-Hamas war? Our panel discuss this and other topical issues. Plus, a look at the Muslim renters dealing with London's housing crisis

The filmmaker on her life, work and why telling women's stories is more important than ever