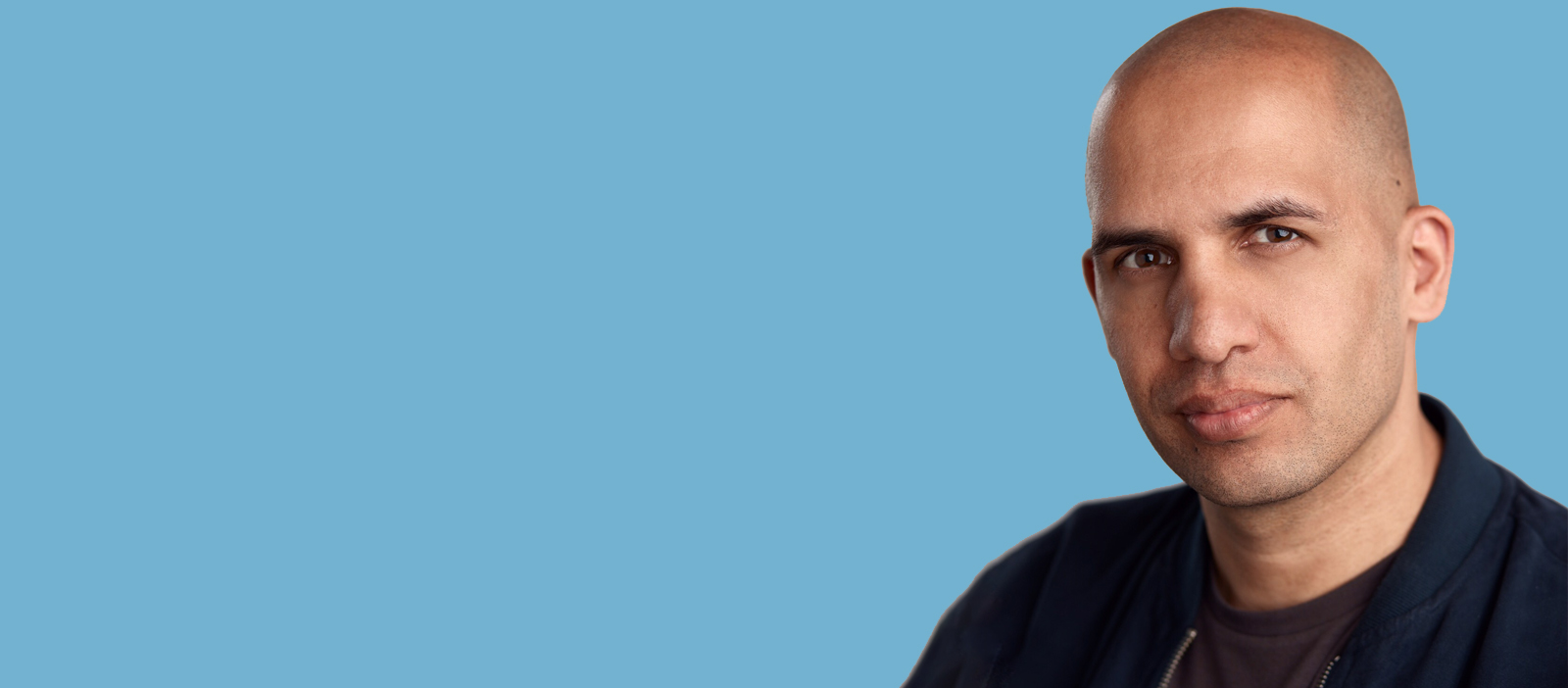 Muj Shah: Muslim kids want to be superheroes too
Photograph courtesy of Muj Shah
The Bradford-based actor, comic book writer and illustrator talks about his life and work
After more than a decade as an actor, Muj Shah is still looking for the perfect part. That could explain his determination to change how British Muslims are represented in the media and arts.
"I wanted to create a better and broader narrative of what it means to be us," he says. "I'm trying to challenge the depictions that have come before."
In a passionate spoken word piece, hosted on his website, Shah explains that he feels "more Brown than actor" and voices his frustrations about being continually typecast as a terrorist or "angry Arab".
Born into a British Pakistani family in Bradford and brought up in Derby, Shah has played major roles in TV dramas such as Bonded by Blood and comedies including Citizen Khan and Coconut.
But his most personal project is Maghrib, a series of nine self-published online comics that he has both written and illustrated since 2014. Their central character is a Muslim superhero named Asim Akhbar, who, after being attacked and left for dead, is given superpowers by a secret organisation known as Jin.
Despite having no dedicated social media presence and its online existence being mainly limited to Shah's website, the award-winning project has gained an appreciative young Muslim readership.
We caught up with Shah and spoke to him about creating art in which a Muslim character is a powerful force for good.
This conversation has been edited for length and clarity.
Hyphen: How did you come up with the idea for Maghrib?
Muj Shah: It started as something I drew for my nephews and nieces, to give them a positive character to identify with. My first legit role on TV was playing a suspected terrorist, so I quickly started to question how we were being portrayed. The narrative at the time was very post-9/11 — all Muslim characters were so two-dimensional. I wanted to challenge those negative depictions. There needed to be a counter-narrative, and I thought a Muslim superhero was a good start.
When did you make the decision to release Maghrib to the wider public?
I started writing it in 2014 and began with sketches. But then I showed it to a friend, who told me to share it online. I put it on Reddit and it got something like 11,500 views. It was really well-received, the response was amazing.
I then spent a year colouring in shapes by hand, rather than doing things digitally. As far as illustration goes, I was self-taught. In 2017, I was highly commended by the publisher Faber & Faber at the FAB Prize ceremony in London for my writing in Maghrib. That was great, but they said my art work wasn't that good. Then, in 2019, I was highly commended by them again, but this time for my illustrations. It was nice to get that validation. It helped a lot.
What is the significance of the comic's title?
Maghrib is the fourth of the five daily prayers in Islam. All the 1.9 billion Muslims in the world know it's the time of sunset, and I guess everyone has superstitions about that time. It's a time when jinns are more prevalent, so there's a supernatural element to it. As a kid, I would get told by my parents to not stay out after Maghrib, because that's when the jinns come out. It's a scary and unknown kind of time. So it was a conscious decision to have that as the title.
You grew up in Derby. What was your childhood like there?
I used to spend hours in comic book shops, but there wasn't much of an outlet for the arts in Derby. That's predominantly found in bigger cities, so I felt out of the loop and it was quite isolating. It takes a lot of initiative to find places that cater to the arts when you aren't surrounded by them, but you kind of seek them out, and you can always find pockets of creativity.
Which graphic artists have been the biggest inspirations for you?
A lot of my inspiration came from Bruce Timm, who did TV shows: Batman — The Animated Series, Superman and Justice League. His artistic style inspired Maghrib, with the heavy-set torsos and slightly skinnier legs, for example. Cartoons in general were very important for me growing up, and I guess the early Spiderman films and the works of the writer and producer Greg Weisman.
What are your thoughts on diversity within the comic book scene and its offshoots?
There is some diversity within mainstream comics. For example, we have Muslim characters such as DC's Simon Baz as Green Lantern and Ms Marvel. But I think that, for a medium that has been around since the 1930s, there simply isn't enough. The number of popular Muslim characters pales in comparison to the archetypal pale superhero.
I also don't think Marvel had a South Asian actor — not a superhero, just an actor — in any of their films until recently. Kumail Nanjiani in Eternals last year was the first, I think. That film didn't do too well critically, so it's hard. If somebody tries to diversify the narrative and it doesn't make any money, no one's going to take that risk again. The fact that we're still having the first anything in this day and age, like the first Asian movie superhero, is baffling.
How has Maghrib evolved over time?
Here's something I think about a lot – originally, Maghrib was meant to tackle the negative portrayal of Muslims. I always thought the issue was that I never saw myself in the characters I was playing on screen, but then I realised that, actually, the people casting were the ones not seeing me.
Maghrib is about Muslims perceiving themselves in a positive light. But it's just as important for non-Muslims and non-Brown people to perceive us positively too. The problem isn't that we don't see ourselves as the heroes, it's that others don't. I've realised that over time. When we see Brown kids playing in the street, they think they're heroes. But, when they go out into the real world, they get told they're the bad guys.
What are your plans for the future?
I've spent the past couple of years pitching ideas to Netflix and Channel 4. This has included a comedy-drama set in Bradford that I've been writing. It's sort of my take on FX's Atlanta meets Humans of New York: The Series. It will highlight the accomplishments of immigrants and allow their stories to be told.
Channel 4 recently launched a scheme offering £10,000 for investment in projects, which I'm hoping to secure, and I've got some directors interested too. My plan is to get some funding, film the pilot, and pitch a taster to networks and production companies.
I also think it would be cool to turn Maghrib into an animated series one day.
Even though most of my work is driven by passion and is low in financial gain, it has opened up opportunities. Recently, through networking, I've found myself in rooms I wouldn't normally find myself in. To think it's gone from me working on my own in my bedroom, to presenting my work to people at the top of the industry is amazing. It's nice to know what you're doing matters.
For more information, visit mujshah.com
Topics
Selected stories
From pickles and ferments to jams and chutneys, conserving surplus produce allows us to enjoy fruits and vegetables grown in familiar earth, many thousands of miles away

The western world's largest mosque is a point of pride for the country's Muslims, but its impressive scale and ornate design do not reflect their position in the country as a whole

The challenge for Keir Starmer is to combine control and compassion in efforts to tackle dangerous boat crossings