Modest fashion through the ages
What would it have looked like to wear a hijab and be on trend in the 1960s? Here's how the past influences the way we dress today
When I was growing up, movies and television had a huge influence on my fashion taste. From Lizzie McGuire to That's So Raven, I looked to their stars for style inspiration. Luckily, along with art and drama, my parents always supported the idea of me expressing myself in the way I dressed — no matter how eccentric it may have seemed at the time.
Twelve years ago, at the age of 17, I made the decision to start wearing the hijab. It was then that I realised mainstream fashion options, both in stores and online, had become much more limited for me. It was especially noticeable in summer, now that I needed to cover up. Over time, and largely thanks to the explosion of social media, awareness of the demand for modest fashion has increased and the choice of appropriate clothing has grown to a point where I find it pretty easy to shop. High street retailers such as H&M, Mango and online retailers like Asos have many options available. They also include hijab-wearing models and modest edits which wasn't something I had seen when I first began my hijab journey.
One day, a few weeks ago, I was drinking mint tea and binge-watching season two of Bridgerton with my mum. Immersed in the fictional lives and loves of 19th-century British high society, I found myself wondering what I would have worn if I was cast in the show? In fact, how would any hijab-wearing woman have dressed in the London of the 1800s?
Then, I began to think about my mum growing up in the 1970s and the choices available to her, had she opted to wear the hijab back then. I picked up some family photo albums and flicked through pictures of her, taken in the 1970s and 80s and was immediately struck by how cool she looked in her mum jeans and leather jackets. However, it was hard for me to imagine what it would have been like to keep up with the trends of the day and wear the hijab at the same time. After searching on Google and not finding much there, I had the idea of creating my own take on modest fashion from the 1960s to the 1990s and seeing how those decades inform how we dress today.
The psychedelic 60s: Bold prints, chunky jewellery and lots of mascara make for a quintessential 1960s look. This was a period of rapid change and that was reflected in its style, jumping off from the sophisticated designs of the 1950s and gradually evolving into the hippy movement in the latter part of the decade. I went for this look because I love prints and feel that the dress, headscarf and beaded bag all combine to highlight the femininity and quirkiness of the era.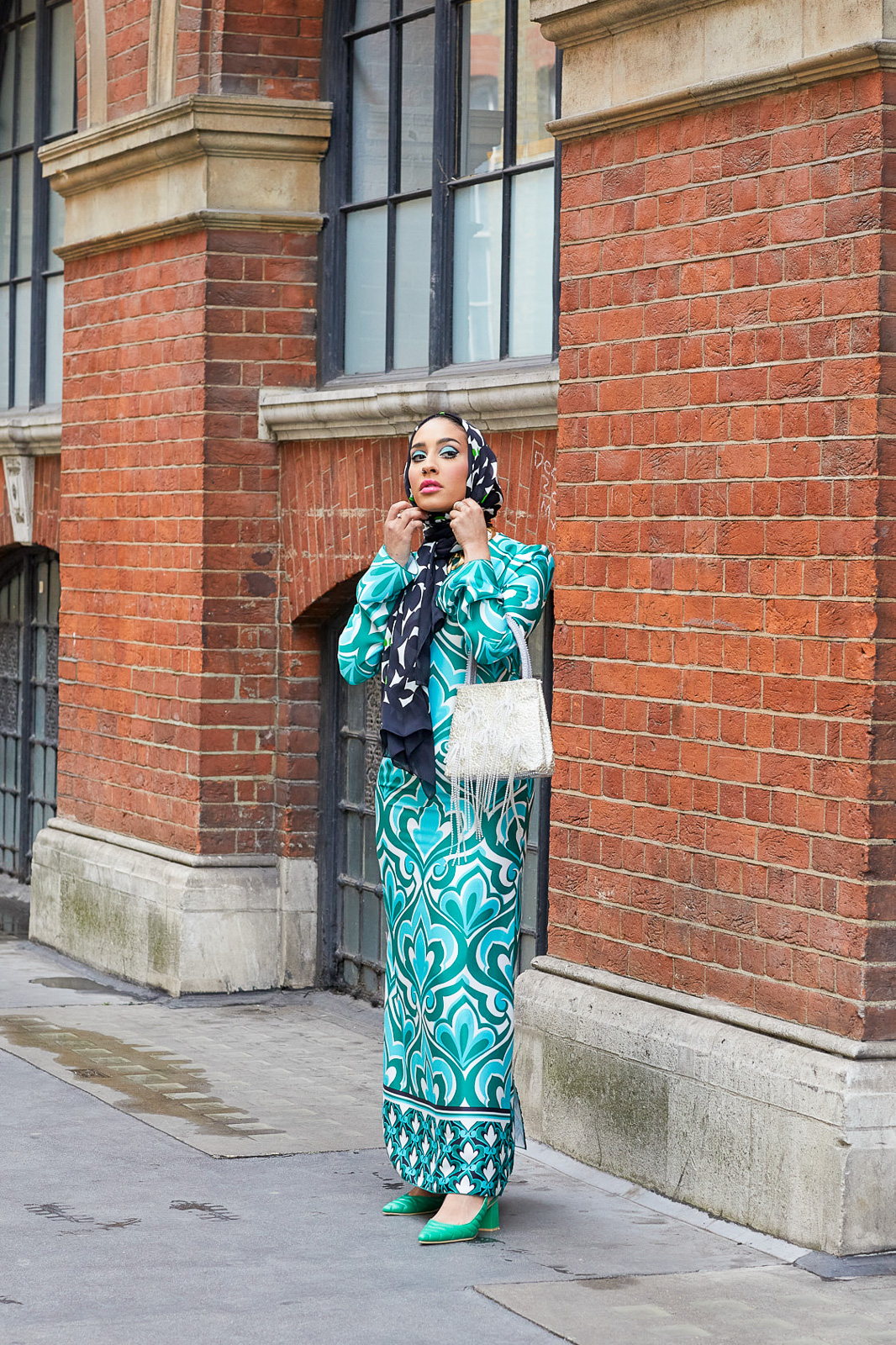 (Scarf: Gucci; necklace: Zara; dress: Mango; shoes: Raid; bag: Foam of the Days)
The hippy 1970s: Cowgirl fringes, tie-dye and flares! In the 1970s, fashion was largely a continuation of the late-1960s hippy style, with designs focused on handmade materials and accessories. I love this look, because clothes at that time were more than just things to wear. They represented music, rebellion, change and so much more. That's why it's one of my favourite eras for fashion and a big influence on my style today.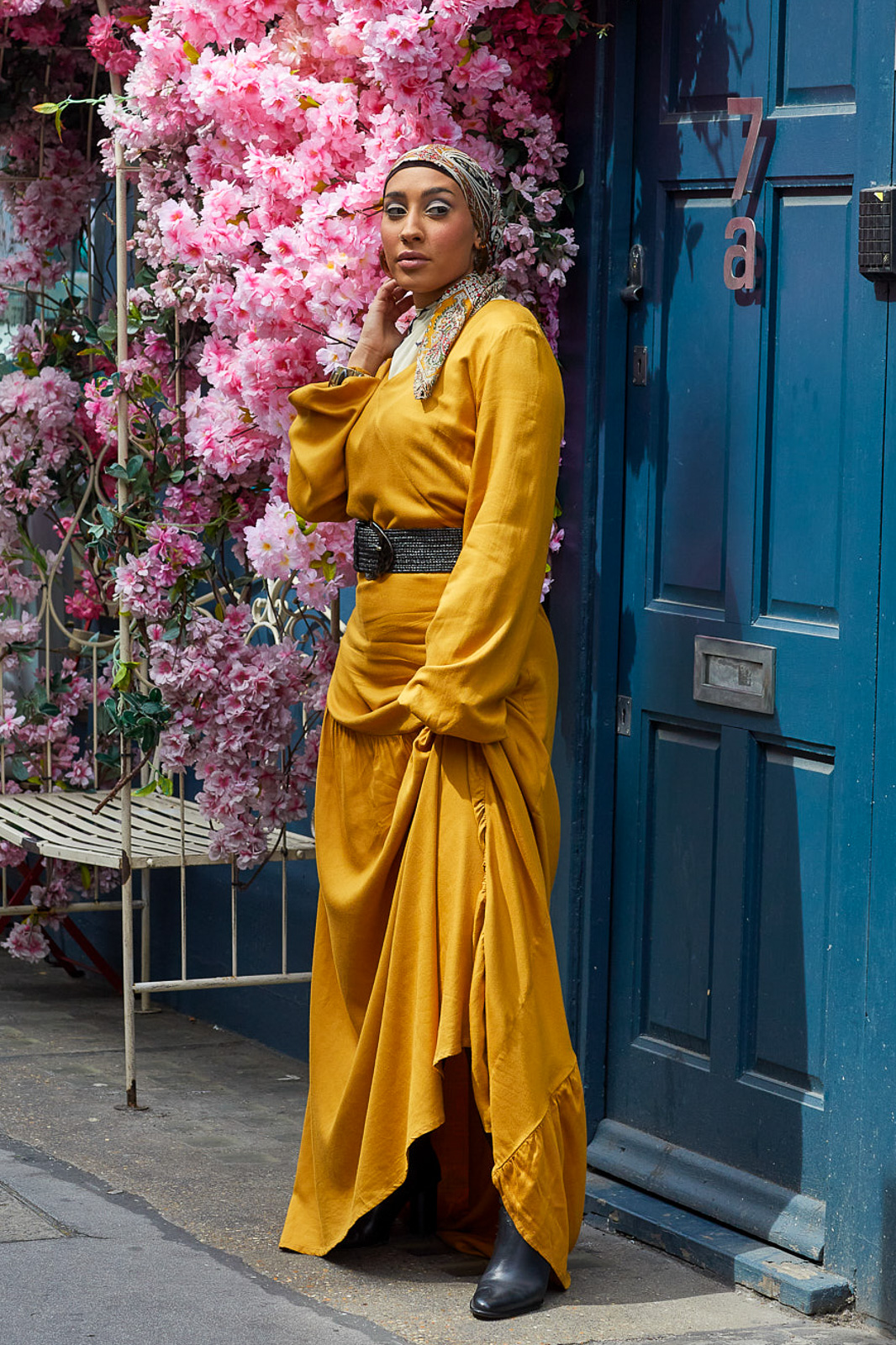 (Scarf: vintage; earrings: & other stories; top: Zara; dress: Lora Gene; belt: Mango; boots: Zara)
The material girl 1980s: Check out the leather, bold makeup and metallics. Madonna was one of the biggest stars of the 1980s and a huge inspiration for this look. There was also an explosion of visibility for women in the workplace — the UK even had its first female prime. That fuelled a rise in what became widely known as power dressing. Suits emerged from the office as social wear, with shoulder pads and oversized blazers creating a striking silhouette. I'm a big fan of denim, so we incorporated acid wash jeans, which were also hugely popular.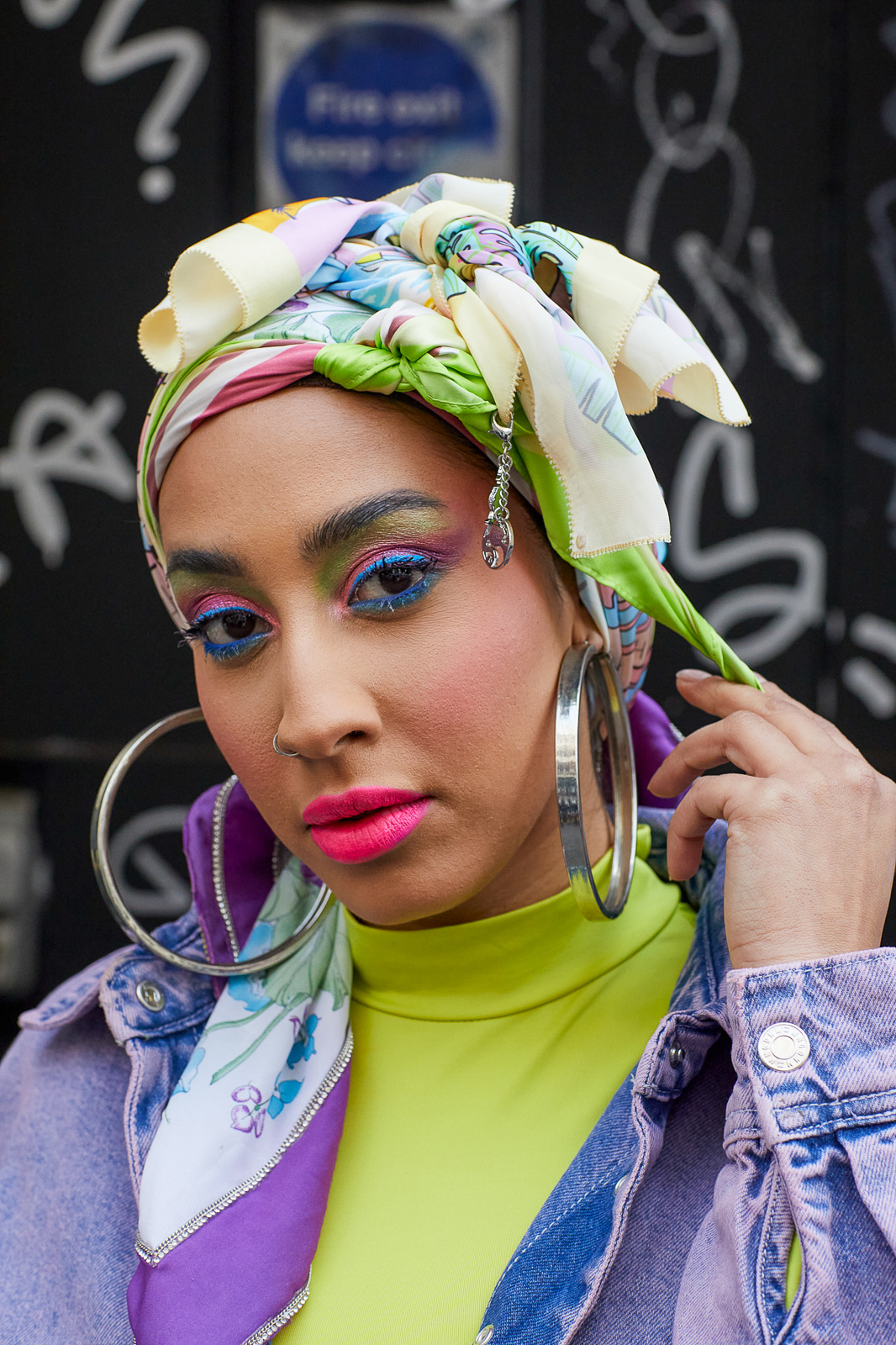 (Scarves: The Duck Group, Foam of the Days, Mango; earrings: model's own; top: Topshop; jumpsuit: Mango; belt: vintage Calvin Klein; jacket: Topshop; boots: Public Desire)
The streetwear-inspired 1990s: This decade was all about loose fits, bandanas and dark lipliner. As a 90s baby, this look represents the styles I saw all around me, growing up. Despite being misunderstood by many at the time, hip-hop was the dominant cultural force for me and an inescapable influence on fashion. This was reflected in a baggier-fitting aesthetic and a more minimalist approach to style. This look is definitely a real piece of me.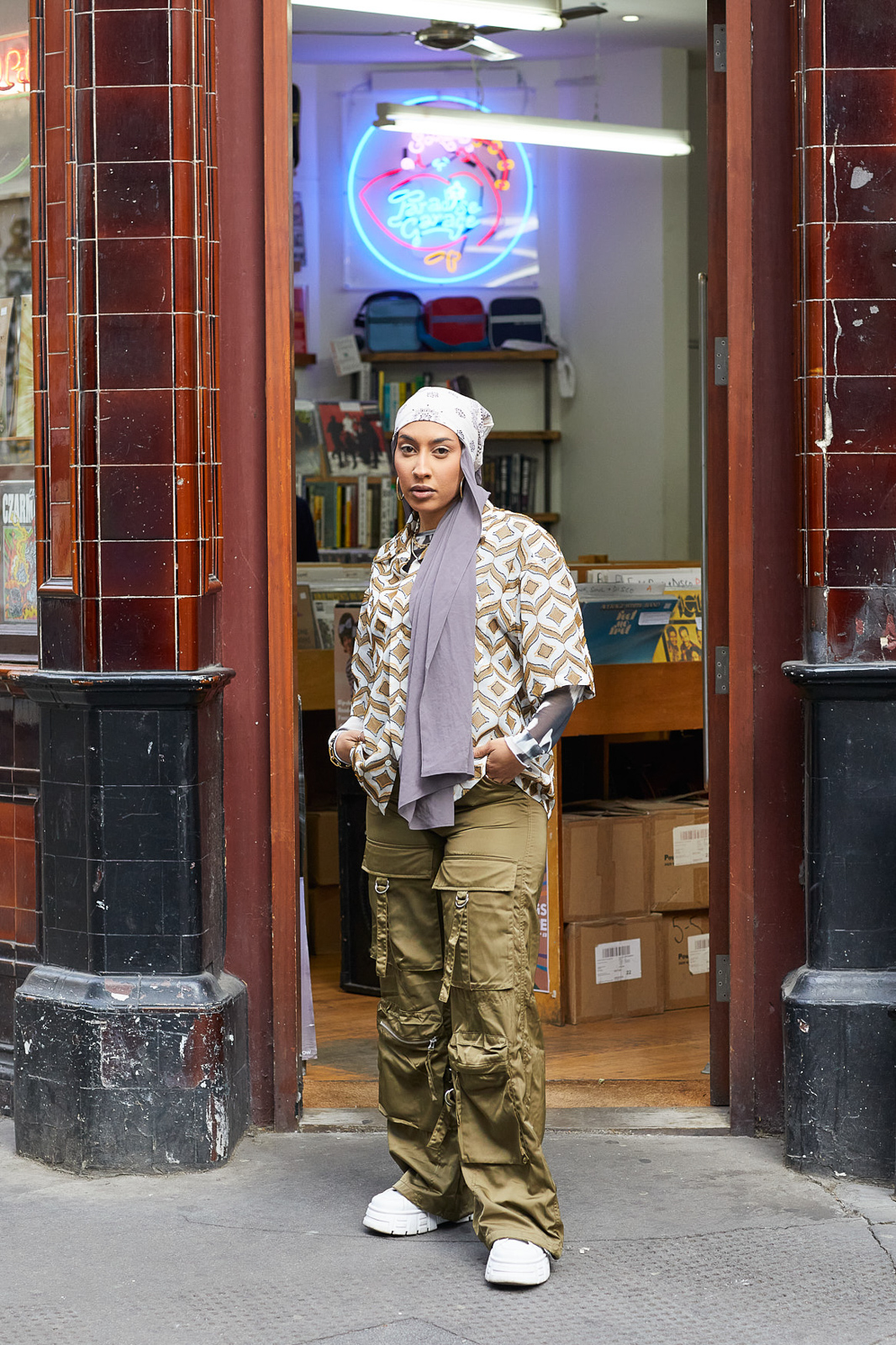 (Bandana: vintage; earrings and bracelet: Karat; rings: & other stories, Mango and vintage; long-sleeve top: Weekday; trousers: Bershka; trainers: Asos)
The present day: Fitted and flared, leather and lip gloss. This look represents my take on what modest fashion through the ages has evolved into. As style continuously recycles itself, I think it's important to understand where our influences have come from, because it helps us to appreciate where we are and what we wear today.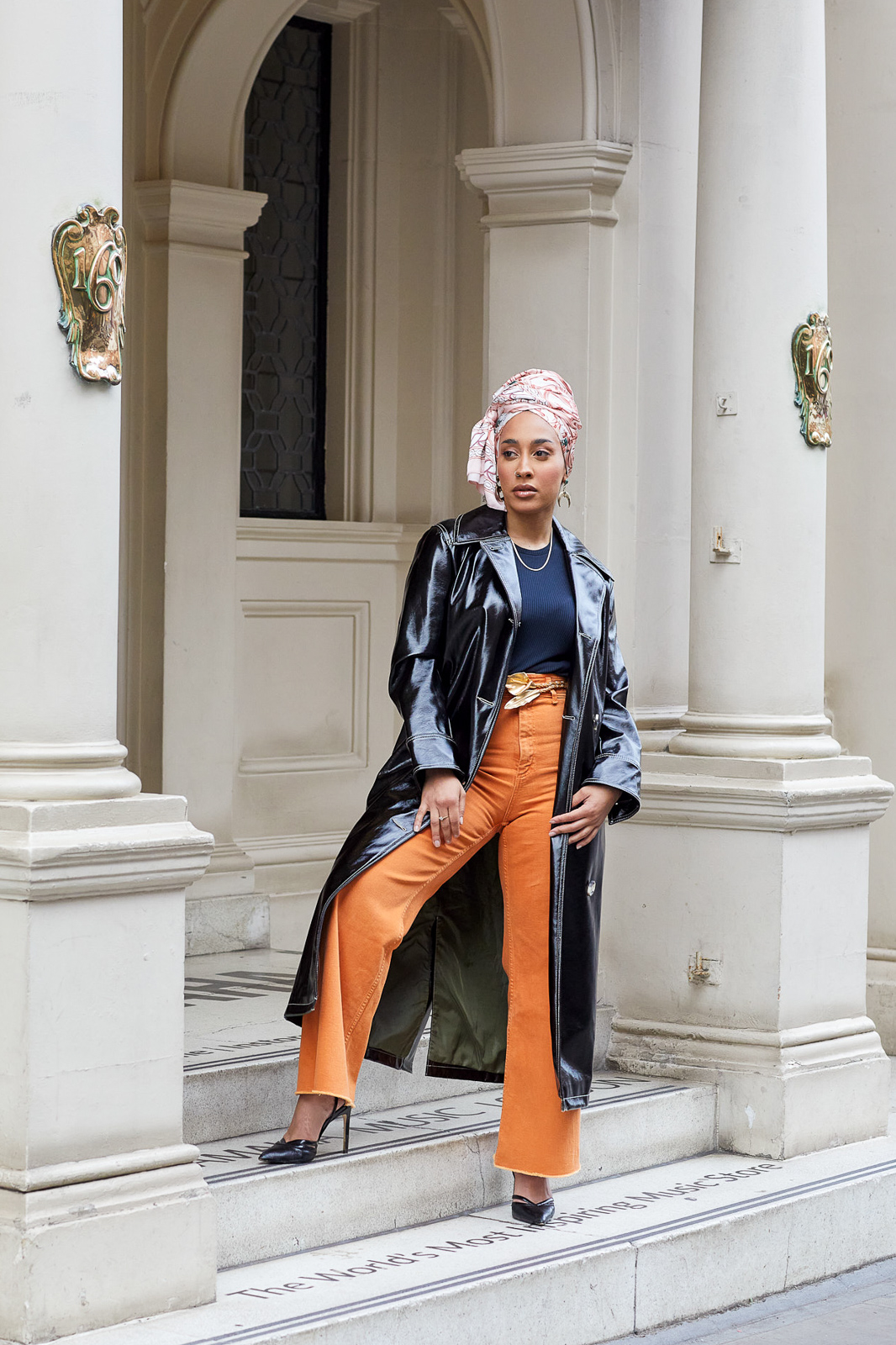 (Scarf: The Duck Group; earrings: Asos; jacket and top: Topshop; jeans, belt and shoes: Zara)
Topics
Selected stories
A new genre of writing is slowly establishing itself and painting a broader picture of what love can look like

The fashion influencer on faith, modesty and claiming a space for Black Muslim women

This week our panel assess what the Liberal Democrats offer Muslims and discuss the ongoing debate about definitions of Islamophobia. Plus, travel blogger Yara Abdelsamie on travelling solo and the best European destinations for Muslim women