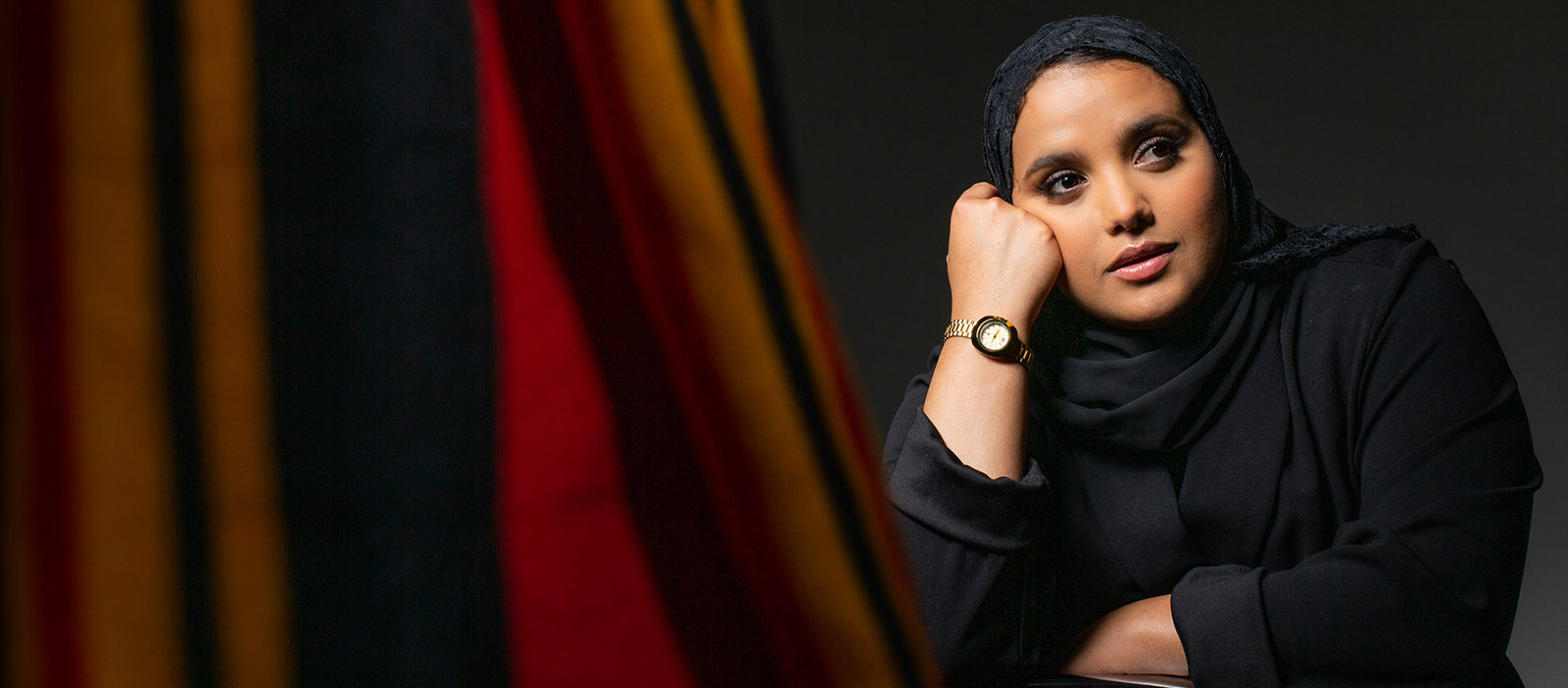 Amina Atiq Q&A: 'An artist's duty is to reflect the times'
Photograph courtesy of Amina Atiq/Robin Clewley
Yemeni poet and performance artist Amina Atiq uses the spoken word to explore immigration and growing up in Liverpool
Amina Atiq is a Yemeni poet and performance artist from Liverpool. She was a BBC Words First finalist in 2019, has spoken at TEDx Liverpool and been a writer in residence for the Imperial War Museum's One Story, Many Voices installation tour. In her multimedia project Scouse Pilgrimage, she takes a journey from her grandparents' corner shop to the Albert Dock, recalling her earliest memories of growing up in Merseyside.
Among her other credits is Unheard Voices, a short documentary featuring the stories of Yemeni shopkeepers in Liverpool, made in 2020. It was later translated into Arabic and screened by the Yemeni channel Belqees TV.
For her latest project, titled Poet's Gift, Atiq worked with young Muslims across Merseyside to produce collective and individual poems. A group work will be on display at Lodge Lane Library bus stop in the Toxteth district of Liverpool until 26 June 2022.
Hyphen: Why did you choose a bus stop to show work from Poet's Gift?
Amina Atiq: Bus stops hold significant meaning to working-class communities, migrants, and schoolchildren — they're places of coming together but also places of real potential risk. Through poetry, I have expressed feelings around Islamophobia and racism experienced at bus stops.
What did you learn in the making of Scouse Pilgrimage?
It's a project that asks the question: "What does immigration look like in Britain today?" It's for people who are curious about their own Scouse journey to celebrate immigration and free movement between borders. I wanted to research my family history but there were only fragments of information. There's a lack of research into Yemeni heritage, so I collected material and family stories — my grandmother is an amazing storyteller.
What's your personal Scouse Pilgrimage story?
My dad was born and brought up in Liverpool during the 1970s. He went back to Yemen where he met and married my mother. I was born in Yemen and came back to Liverpool when I was about four. We go back periodically to see family and friends.
How did your writing career start?
I'm not sure when I started, because I was constantly writing. By the age of 15, I was writing poetry with purpose and my activism started to creep in. I'm fuelled by social and political affairs, which are heartwrenching. I'm anti-war and anti-arms.
What's special about poetry?
It's very concise and very direct. It's one of the oldest forms of literature, so it's like oral history. I enjoy being a collaborator with others on poetry workshops. The more I share with them, the more I learn from them. An artist's duty is to reflect the times.
You appeared on BBC Bitesize, a series of short spoken-word films featuring poetry and performances from up-and-coming young artists, performing your poem A Letter to My Mother. It speaks of the importance of relationships, particularly with our parents. Can you explain more?
It's sometimes difficult to express how we feel about the people that are close to us. It's not necessarily about my own mother, so I changed the story to one that I think we can all relate to, whether it's a mother figure, or a caregiver or even Mother Nature. It's also about migration and memories.
How difficult was it to get your work performed in Liverpool theatres?
I came up with the idea of poetry workshops and how arts spaces can adapt to being turned into Muslim spaces. Often organisations want to work with marginalised voices but then are afraid of getting it wrong.
How can we help arts spaces become more inclusive?
It is so important to share the power and understand the cultural boundaries. I am a co-producer with the theatre or arts organisation I work with. I make sure the freelancers hired, such as the workshop engagement coordinator and designers, are Muslim.
How would you characterise your relationship with Liverpool?
One thing I've learned through writing is that the area of the docks is not only where our Scouse identity belongs. It belongs in our communities. Our stories can start anywhere.
Topics
Selected stories
Religious leaders from Spain, Germany and Sweden speak about events in the Middle East and the consequences for their communities

Is the Gaza truce a turning point in the Israel-Hamas war? Our panel discuss this and other topical issues. Plus, a look at the Muslim renters dealing with London's housing crisis

The filmmaker on her life, work and why telling women's stories is more important than ever